Click Here to Visit the College Center

Blogs are the opinions of the authors and do not necessarily reflect the opinions of BroadwayWorld. BroadwayWorld believes in providing a platform for open and constructive conversation.

Student Blog: Once More, With Feeling: The Musical Episode in American Television
Do musical episodes enhance television series, or do they halt storylines?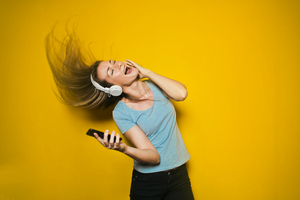 Hello BroadwayWorld readers! March has me, like most people for the past year, watching both old and new television favorites. While combing through Netflix and Hulu, I found a topic that I would like to discuss with you all; the Musical Episode in American Television.
Musical numbers on television are as old as television itself. From musical guests on variety shows in the 1950s to entirely musical television shows in the 2010s, musical numbers play a large part in many programs. In television shows where the music is part of the gimmick, such as "Glee", "Zoey's Extraordinary Playlist", and "Smash" musical numbers are used in the same way as musical theatre: to share information and emotion with the audience. However, there is another type of musical television show, one where songs are not the norm. I'm talking about the one-off musical episode.
Many popular shows use musical episodes to creatively gain publicity, especially when the show has been airing for quite some time. Take "Grey's Anatomy" season seven, episode 18, "Song Beneath the Song," otherwise known as "Grey's Anatomy: The Musical Event." Callie Torres, played by Broadway veteran Sara Ramirez, is injured and hallucinates everything happening in song. While inventive, it begs the question; what does this add to the story? Yes, it gives a chance for Ramirez and the cast to belt out several pop ballads, but what is the music for? Is there a purpose for the songs, or is it just there to have a song there?
Furthermore, in a show where no one normally sings, musical numbers feel off. Looking at the "Grey's Anatomy" example, the episode replaces what would have been scenes or monologues with group numbers and solos. For example, [spoilers] as the team fights to save Callie and her very premature baby, Lexie sings Anna Nalick's "Breathe (2 AM)". While yes, it makes logical sense to sing a song about breathing when all of the characters are terrified, as a "Grey's Anatomy" fan, I felt a little cheated. Instead of getting a deliciously dramatic and complex scene where Lexie comforts her boyfriend, who is terrified of losing his best friend and child, she sings a verse of the song to him. It makes sense, but not in the context of this show.
Musical episodes often do not even commit to being a musical. "Palentine's Day", the 15th episode of the second season of "Good Trouble", was hailed as a musical episode by many. However, it only featured one group number, in which most of the characters were drunk. Just like the "Grey's Anatomy" sequence, the music is part of a hallucination. Not to advance the plotline or story.
This is not to say that musical numbers in typically non-musical shows cannot be meaningful or fun. What "Scrubs" fan does not know the lyrics to J.D. and Turk's duet "Guy Love"? I also imagine that it would be difficult to find a devoted fan of "Buffy the Vampire Slayer" who only has bad things to say about "Once More, With Feeling". What makes these particular episodes so impactful is that they contained original songs. Rather than popular songs that make sense at the moment, these shows included songs written specifically for the characters singing them. "Guy Love" is such a hilarious song because it follows the typical relationship dynamic between J.D. and Turk that fans know and love. In "Grey's Anatomy" when the various couples sing Jesus Jackson's "Runnin' on Sunshine", one cannot help but question if the song truly applies to everyone singing.
In the end, I'm never going to turn down a good episode of my favorite television shows, and all of the episodes I talked about are good. Great, even. However, if a show is not typically a musical, the writing staff should consider why they are adding music in the first place. Television writers should use musical numbers and episodes when they will enhance the characters and storylines. If it does not add to the overall story or commit to the gimmick, there is no reason to add music in the first place.