Click Here to Visit the College Center

Blogs are the opinions of the authors and do not necessarily reflect the opinions of BroadwayWorld. BroadwayWorld believes in providing a platform for open and constructive conversation.

Student Blog: Finding Songs That Pop
How to embrace your inner Pop Diva.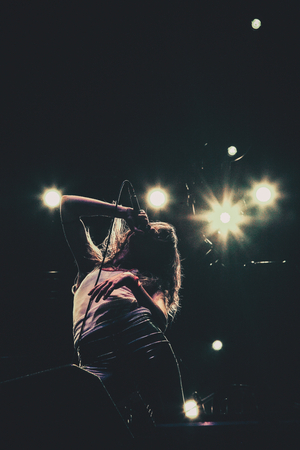 Until a few years ago, the only songs that I listened to were Showtunes and Glee covers. Yes, I was that girl who only knew songs because she had heard it on Glee the night before. How is a young theatre person supposed to keep up with all of the latest shows and the Top 40? Flash forward to a few years ago, and I would come to learn what every theatre person knows. Pop songs are important to know and not just as a pop-culture-savvy person on this planet. Performers need to be able to sing it all.
For a class this past week, I had to find two pop songs to perform. The only stipulations were that they had to be one-minute cuts that were not in a Jukebox musical. Cue my horror. How was I supposed to find a non-Showtune to sing that was not Abba or Carol King? A dilemma many actors have faced.
Well, I am proud to say that I found my two cuts and am very excited to perform them. Not to toot my own horn, but it's some of my best work yet. If I can do it, so can you. Here are some tips that helped me find my inner Pop Diva.
Look at your favorite movies and TV shows for music. Seriously. I found one of my songs because it was in a Disney Channel Movie. As long as it fits what the casting director or professor called for, go for it! Look at Spotify for your favorite film soundtracks and see if anything stands out. Even listen to TV theme songs. I'm not a casting director, but if someone brought the theme song to Zoey 101 to my casting call, I certainly would not complain.
Know that all songs tell a story. Yes, it may not be as obvious as in a story-driven show tune, but singers play a character with goals and objectives, even if it is themselves. Look at Taylor Swift's "Love Story". She fits an entire Shakespearean romance into one track! Analyze the lyrics and find tactics and goals. If those are not clear, try and seek out a general vibe. What message is the singer trying to convince the audience of? Who is the singer singing to? How do they go about getting their message across? How does the musical style support this? Asking yourself these questions can open up a whole new world of performance possibilities.
Have fun with it! It can be nerve-wracking diving into a new style of music. The best thing to do is just embrace it and enjoy performing. Dance around, sing it into a hairbrush microphone and get silly if you have to. Unleash your inner Cardi B and Katy Perry. More and more musicals are embracing pop music, so the sooner you do, the better.
I hope that this little list helps you embrace your inner Pop Diva. Have fun, rock on, and sing it out!