Dana Ivey, Marsha Mason, and More Lead Bucks County Reading of THE TORCH-BEARERS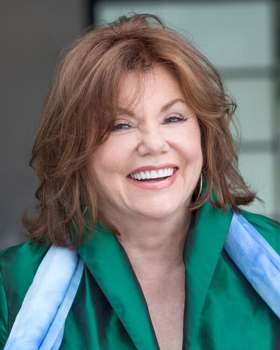 A star-studded cast led by Becky Ann Baker (HBO's "Girls."), 5-Time Tony nominee Dana Ivey (off-Broadway's original "Driving Miss Daisy"), 4-Time Oscar nominee Marsha Mason ("The Goodbye Girl") and Tony winner John Rubinstein ("Children of a Lesser God") will star in a benefit reading of "The Torch-Bearers" for Bucks County Playhouse. Performances will be held in New York at The Westside Theatre on Monday, March 11 at 7:00 p.m. and then two days later at Bucks County Playhouse in New Hope on Wednesday, March 13 at 7:00 pm. The reading is the first of three benefit readings that will mark the Playhouse's 80th anniversary.
The "Noises Off" of its day, "The Torch-Bearers" was first presented at Bucks County Playhouse in 1949 in a production that featured the playwright's niece, Grace Kelly. At the time, Kelly was making her professional acting debut at the age of 19. For the March readings, Ginna Le Vine will follow in her great aunt's footsteps and play the same role Grace played in the 1949 Playhouse production.
Tony and Emmy nominated stage and screen actor, Dylan Baker, will direct the star-studded readings of George Kelly's 1922 farce both New York City and Bucks County. Paul Mullins will co-direct. "The Torch-Bearers" continues Bucks County Playhouse's Play Discovery Reading Series, which launched late last year. The series is curated by Mason and is designed to expose audiences to lesser known classic plays, as well as new works. For the 80th Anniversary Season of Bucks County Playhouse, Mason has chosen to take a look at the Playhouse's storied history - and will feature plays that have significant meaning to the Playhouse. Additional titles will be announced shortly.
"Audiences embraced our first reading last November, so we went right to work on our 2019 series," says Mason. "Bucks County Playhouse has a long tradition of producing interesting plays featuring some of America's leading stage and screen artists. This series allows us to build on that tradition. I look forward to working with Dylan and Paul, and this extraordinary cast, as well as sharing this season of benefit readings with Playhouse audiences."
George Kelly's 1922 comedy "The Torch-Bearers" is a comedy of manners that focuses on a hapless group of amateur theatricals as they rehearse, and ultimately perform, a show-stopping new play.
"When I first directed 'The Torch-Bearers' in 2000 off-Broadway, it was a joyous experience that was not only embraced by audiences but also by critics. We had so much fun that I couldn't wait to do it again - so we did - at Williamstown Theater Festival in 2009," says Baker. "A decade later, I'm equally thrilled that Marsha has invited us to revisit this comedic gem and I can't wait to share it with Playhouse audiences in New Hope."
'The Torch-Bearers' has a special place in Playhouse history as it was the professional debut of a young Grace Kelly, who was an acting apprentice at the Playhouse for the 1949 summer season.
"The Playhouse launched the careers of an extraordinary group of actors - none more iconic than Grace Kelly," says Alexander Fraser, Producing Director. "We're thrilled to bring George Kelly's hilarious take on amateur theatricals back to the Playhouse, and continue our tradition of having a Kelly onstage in a Kelly play."
While Baker and Rubinstein will be playing Mr. and Mrs. Ritter, and Mason and Ivey the ladies in charge, Mrs. J. Duro Pampinelli and Mrs. Nelly Fell, they will be joined by John E. Brady ("Newsies") as Teddy, Sue Brady ("All In The Timing") as Jenny/Clara Sheppard, Philip Goodwin ("The Pink Panther 1 & 2") as Mr. Twiller, Ginna Le Vine as Florence McCrickett, Michael Rogers ("The Mosquito Coast") as Mr. Spindler, and Zachary Wyatt ("Red") as Mr. Hossefrosse. Justin Phillips plays the stage manager and handles stage directions.
The March 13 reading of "The Torch-Bearers" will take place on the stage of Bucks County Playhouse and will be followed by a post-show discussion with the cast. Tickets for the New Hope reading are $20. The March 11th reading in New York City will be held at The Westside Theatre. Tickets are $20 general admission. A limited number of VIP tickets are also available for the New York reading only for $75. VIP admission includes a post-reading reception with the cast. Tickets for the New York event must be purchased in advance. Tickets are not available for purchase at The Westside Theatre Box Office or at the venue the night of the show. Tickets for both evenings may be purchased at BucksCountyPlayhouse.org or by calling the Playhouse's Box Office at 267-740-2090.
George Kelly was a playwright, actor, and director whose dramas of the 1920s reflect the foibles of the American middle class with a telling accuracy. His first success on Broadway was "The Torch-Bearers" His next play, "The Show-Off" (1924), became an American comedy classic, made three times as a film (1926, 1934, 1946) and often revived on the stage. In "Craig's Wife" (1925), Kelly shifted his vision to the upper middle class and abandoned comedy to write a savage drama of a woman who sacrifices her husband to her possessions, ultimately losing both. "Craig's Wife" earned Kelly the Pulitzer Prize for Drama. Kelly wrote several other plays, but none was a popular success. He wrote film scripts, among them those for the motion-picture versions of his plays, including "Craig's Wife" (1936), remade as "Harriet Craig" (1950).

Related Articles View More Philadelphia

Stories

Shows
More Hot Stories For You