Bristol Riverside Theatre Produces THE PRODUCERS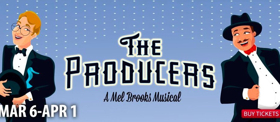 Bristol Riverside Theatre presents the ever-popular musical The Producers with book by Mel Brooks and Thomas Meehan and music and lyrics by Mel Brooks on March 6-April 1. The multiple Tony-award winning musical is directed by Keith Baker, music directed by Douglass Lutz, with choreography by Stephen Casey and starring Danny Rutigliano and Michael Doherty and featuring Nicole Benoit, Fred Inkley, Morgan Reynolds, Jo Twiss, and Danny Vaccaro. The ensemble features Luke Bradt, Kathryn Brunner, Nicole Calabrese, Zachary J. Chiero, John D. DiFerdinando, Becca Goebel, Louis Jannuzzi III, Lauren Krigel, Patrick Ludt, Niklaus Patrick Miller, James E. Ofalt, Dominick Sannelli, Erika Wasko, and Keith Watford.
Previews begin Tuesday, March 6 with opening night on Thursday, March 8. Performances run Wednesday through Sunday with a single Tuesday preview until April 1. Tickets start at $45, with discounts for students, groups and military personnel. Tickets are available by visiting brtstage.org or calling the BRT Box Office at 215-785-0100. Bristol Riverside Theatre is located at 120 Radcliffe Street in Bristol, PA.
The Producers opened on Broadway to historic, unanimous rave reviews, earning a record-breaking twelve Tony Awards. This laugh-out-loud musical is the story of scheming producer Max Bialystock and his mousy accountant Leo Bloom. They discover that under the right circumstances they could make more money producing a flop than a hit, never anticipating that their sure-to-offend musical will become a surprise sensation. This side-splitting tour-de-force spoofs grand, old-fashioned Broadway musicals while paying tribute to them all at the same time.
Keith Baker (Director) has directed more than 40 productions for BRT including Working and Jesus Christ Superstar last season, Man of La Mancha (nominated for three Barrymore Awards) and Rumors, Lost in Yonkers, Ragtime (nominated for nine Barrymore Awards), Gypsy starring Tovah Feldshuh, Chicago (nominated for six Barrymore Awards), The Balkan Women (winner of a Barrymore Award for Outstanding New Play), The Dresser (nominated for a Barrymore Award for Best Director of a Play) and Dear World (nominated for three Barrymore Awards). As an actor he appeared this season in Quartet, and has also starred in BRT's productions of Witness for the Prosecution, The Language Archive and Mountain: The Journey of Justice Douglas, as well as in Deathtrap, Inherit the Wind, Barrymore, A Raw Space, Old Wicked Songs, Defiance, Proof, Hamlet, A Little Night Music, Arsenic and Old Lace, and A Moon for the Misbegotten. Baker has been nominated eleven times for the prestigious Carbonell Awards, for which he was twice the recipient for Best Actor. Prior to coming to BRT, Baker was Artistic Director for the Kentucky Shakespeare Festival and the Florida Repertory Theatre.
Douglass Lutz (Music Director) recently music directed BRT's production of Jesus Christ Superstar and Working. He has conducting over 200 musicals in the United States and internationally including West Side Story at the Kennedy Center and the premieres of West Side Story in Peru, Brazil, Spain and Belgium. He also conducted the American premiere of Love Story at The Walnut Street Theatre, and is the recipient of Barrymore nominations for Les Miserables, The King & I, Miss Saigon, Peter Pen, and Carousel and the Carbonell Award for Best Music Director for The Most Happy Fella at Florida's Jupiter Theatre.
Stephen Casey (Choreographer) is a three time Barrymore nominee, twice for his choreography of BRT's Ragtime and Little Shop of Horrors, and for his direction of The Musical of Musicals at Montgomery Theatre. Other BRT credits include last season's Jesus Christ Superstar as well as Man of la Mancha, Pride and Prejudice, What a Glorious Feeling, and Rent. He has also worked at the Pennsylvania Shakespeare Festival where he recreated the Jerome Robbins dances in West Side Story and Fiddler on the Roof, as well as choreographed Oklahoma!, South Pacific, A Funny Thing Happened on the Way to the Forum, and 1776, and at Montgomery Theatre where he directed and choreographed The Great American Trailerpark Christmas Musical, Marry Me a Little, and last season's Forever Plaid.
Nicole Benoit (Ulla) recreates the role which earned her a BroadwayWorld Best Actress nomination at AZ Broadway Theatre. She has been seen on the international tours of Chicago and My Fair Lady. Regionally she has appeared in Chicago at Pittsburgh Civic Light Opera, A Funny Thing Happened on the Way to the Forum at Paper Mill Playhouse, Joseph and the Technicolor Dreamcoat and Beauty and the Beast, both at Artpark, and Mystery of Edwin Drood, City of Angels and She Loves Me, all at GEMMS Theatre.
Michael Doherty (Leo Bloom) appeared Off-Broadway in the Inish Nua production of Dublin By Lamplight. Regional theatre credits include starring roles in Hand to God at Berkeley Rep, Ragtime and Man of La Mancha at Milwaukee Rep, Noises Off at Connecticut Rep and several productions at Utah Shakespeare Festival. He has been seen regionally in multiple productions at Arden Theatre Company, The Wilma Theatre, People's Light & Theatre Company, Theatre Horizon, and 1812 Productions.
Fred Inkley (Franz) has starred on Broadway in Les Miserables, The Boys from Syracuse, A Tale of Two Cities, The Addams Family Musical and Annie, as well as in the national tours of The Little Mermaid and Beauty and the Beast. Making his Philadelphia area debut, he has appeared regionally at Paper Mill Playhouse, American Music Theatre, San Diego CLO, and North Shore Musical Theatre.
Morgan Reynolds (Carmen Ghia) recreates the role he played to great acclaim at Arizona Broadway Theatre. He appeared in the national touring productions of Wizard of Oz, Rudolph The Musical, and Hunter Bell's Villians Tonight. Off-Broadway he has performed in productions at New World Stages and Theater for the New City. He has starred regionally in Mary Poppins at Virginia Repertory Theatre, Life Could Be A Dream at both Laguna Playhouse and Hudson Theatre, The Full Monty at Third Street Theatre, Hairspray at Sierra Repertory Theatre, and Beauty and the Beast at Landis Performing Arts Center.
Danny Rutigliano (Max Bialystock) earned a Barrymore nomination for Outstanding Supporting Actor in a Musical for his role as Sancho in BRT's production of Man of La Mancha and appeared last season as King Herod in the highly acclaimed production of Jesus Christ Superstar. He has been seen on Broadway in Billy Elliot and The Lion King, which garnered him an Ovation Award as Best Featured Actor as well as in multiple productions at Center City Encores! Series including the title role of Fiorello! Off-Broadway credits include Hollywood Pinafore at York Theatre, Topper at Musical Theatre Works, Daydreams-The Music and Magic of Doris Day at Intar Theatre, and Godspell at La Mamma E.T.C.
Jo Twiss (Hold Me, Touch Me) returns to BRT after a remarkable run in Lights Out: Nat "King" Cole at People's Light & Theatre Company. She has previously appeared at BRT in Up, which earned her a BroadwayWorld.com nomination for Best Actress, as well as in Always Patsy Cline, Pride and Prejudice, Deathtrap, Steel Magnolias, The Spitfire Grill, and Mrs. Bob Cratchit's Wild Christmas Binge. She starred in Rabbit Hole at both Pittsburgh Public Theatre and Hartford's Theatre Works, The Roommate at Florida Studio Theatre, Romeo and Juliet at Pennsylvania Shakespeare Festival, and The Travels of Angelica at Cincinnati in the Park. On Broadway she appeared as Big Mamma in Cat on a Hot Tin Roof, a role she reprised in St. Louis and Cincinnati where she won an Acclaim Award for her performance.
Danny Vaccaro (Roger DeBris) has been seen earlier this season in Time Stands Still and has also appeared at BRT in Man of La Mancha, Rumors, Lost in Yonkers, Tuesdays with Morrie and Little Shop of Horrors. He appeared on Broadway in La Cage Aux Folles and starred in the national tour of The Diary of Anne Frank. Regional credits include several productions at Barter Theatre including leading roles in Sweeney Todd, Singin' in the Rain, and The Last Five Years, as well as productions at Goodman Theatre, Fulton Opera House and the Walnut Street Theatre.
The Producers brings together a creative team of BRT veterans including set designer Charles Morgan, costume designer Linda Bee Stockton, lighting designer Ryan O'Gara, and sound designer Liz Atkinson.
BRT's Mainstage season concludes with the farcical period-piece musical Triumph of Love on May 1-20.
Since 1986, BRT has continued to bring critically acclaimed professional theatre to Bucks County. The theatre is the recipient of over 68 Barrymore Award nominations for Excellence in Theatre, given annually by Theatre Philadelphia. Under the direction of Artistic Director Keith Baker and Founding Director Susan D. Atkinson, the theatre serves as a cultural hub for the community. In addition to its Mainstage productions, BRT offers four concerts including the holiday tradition An American Christmas Songbook, the new play development series America Rising, and the summer theater arts camp ArtRageous. For information, visit www.brtstage.org
More Hot Stories For You