Latest News on Tom Postilio
Tom Postilio News
Photos: Clive Davis, Donna McKechnie, Norm Lewis, Attend Clint Holmes at 54 Below
by Stephen Sorokoff - Sep 29, 2022
Celebrities and Clint Holmes' fans filled every seat in 54 Below last night for the final performance of "Between The Moon and New York City".   Check out the photos from 54 Below and the after party!
Photos: On The Red Carpet with the New York Pops Gala
by Genevieve Rafter Keddy - Apr 26, 2022
Last night, the best of Broadway gathered at Carnegie Hall to join The New York Pops, led by Music Director and Conductor Steven Reineke, for its 39th Birthday Gala, For the First Time In Forever: The Songs of Kristen and Bobby Lopez.
BWW Review: Al Roker, Deborah Roberts, Clive Davis, and More Attend Michael Feinstein's Show at Feinstein's/54 Below
by Stephen Sorokoff - Aug 16, 2019
Michael Feinstein's genius is not only exemplified by his voice, his piano, his wit, his encyclopedic knowledge of show business, and his remarkable ability to entertain an audience. He also has an astute talent for choosing the type of guest artist to have in his shows who will create a special magic when paired with his musical personality. Melissa Manchester the Grammy Award winning singer, songwriter, actress was on stage with him last night and the combination of these two icons unleashed a chemistry that produced a spectacular event that had a celebrity filled Feinstein's/54 Below enthralled from start to finish. Al Roker, Deborah Roberts, Clive Davis, Brenda Vaccaro, and Michael Riedel among others were in the club for this exciting opening night.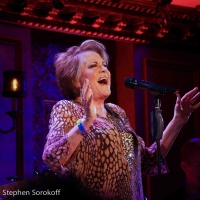 BWW Review: Barry Manilow, Michael Feinstein, Marilyn Maye Attend Lorna Luft's Opening at Feinstein's/54 Below
by Stephen Sorokoff - Aug 9, 2019
Entertainment royalty came out to see show biz royalty last night at Feinstein's/54 Below. Lorna Luft thoroughly enthralled a celebrity filled audience as she shared the music that was a part of her early years. The Beatles were very present in her song list and we learned that Lorna had a major crush on George Harrison. As Lorna related, "coming from a show biz family has it's perks". She was able to meet them back stage after a concert she attended with her friend Leslie Bogart and her mother Lauren Bacall. Ms. Bacall warned the two youngsters that daughters of celebrities are not supposed to jump up and down and scream, consequently Lorna and Leslie were the only girls in the stadium quietly sitting with a stern look on their faces during The Beatle Concert!
Photo Coverage: Michael Feinstein's Musical Soiree To Benefit The Great American Songbook Foundation
by Stephen Sorokoff - May 21, 2019
There are many organizations that have been established to preserve our musical heritage and at the forefront of those that specialize in The Great American Songbook, Michael Feinstein's foundation is one of the most important and influential.  Last night at a private event Michael entertained for a Park Avenue apartment full of generous New Yorkers who had gathered to help support The Great American Songbook Foundation founded by Michael in 2007.

Photo Coverage: Marilyn Maye Returns to Feinstein's/54 Below with 90 AT LAST
by Kevin Alvey - Apr 16, 2018
Marilyn Maye proudly celebrated her 90th birthday on April 10th by starting the run of her latest show at Feinstein's/54Below. It would be an understatement to say she blew the roof off the sold out room on opening night. (people said it was the loudest cheering they'd ever heard in the club).

Photo Coverage: New York Pops Auction Item Raises Money For POPS/ED Programs
by Stephen Sorokoff - Oct 18, 2017
The winning bidder at The New York Pops Silent Auction, whose proceeds help finance The Pops/Ed Programs of The New York Pops, got something way above the original listed value. The auction item was for one pianist to play at your private party. However not only did the pianist show up at the appointed time, he was joined by some of the world's greatest pianists and entertainers for the special evening.
Photo Coverage: John Pizzarelli Brings Sinatra & Jobim @ 50 to Birdland
by Stephen Sorokoff - Aug 9, 2017
It was a memorable eventing of music in New York City last night as John Pizzarelli with Daniel Jobim and Special Guest Jessica Molaskey opened at Birdland on 44th street and Michael Feinstein opened on 54th street.
Photo Coverage: Gov. Cuomo, Harry Belafonte, and Others Join Friars In Saluting Mayor David Dinkins on His 90th
by Stephen Sorokoff - Jun 30, 2017
The security was tight in the Monastery last night as politicians, tennis legends, celebrities and Friars gathered in the Frank Sinatra Dining Room to pay tribute to David Dinkins on his 90th birthday.   The security protection wasn't good enough however to stop one of the greatest comedians on the planet, Dean Emeritus Freddie Roman (MC) to have some fun with the former Mayor.  As a matter of fact Gov. Andrew Cuomo, who made a special trip down from Albany to be at the Friars got some laughs himself during his heartfelt tribute to Mr. Dinkins.  There was much love, laughter, joy, and a few tears in the club during the evening, as there always is in the Friars Club.  I couldn't help thinking as I watched all the Democrats and  Republicans in the room enjoying each others camaraderie, how great it would be if all our representatives in Washington would become Friars, meet in The Monastery, feel the love, and solve the nations problems. 
Photo Coverage: Allyson Briggs & Fleur Seule Band Play The Penthouse
by Stephen Sorokoff - Jun 29, 2017
When you're marketing a spectacular SoHo Penthouse that has a Steinway B piano and you come from the world of cabaret what do you do?  Super Real Estate impresarios Tom Postilio and Mickey Conlon filled it with the music of songstress Allyson Briggs with her band Fleur Seule, (a favorite of The Rainbow Room) and have a party for your eclectic group of friends.