Review: MOJADA: A MEDEA IN LOS ANGELES Brings Greek Tragedy to the Modern Immigrant Experience, at Portland Center Stage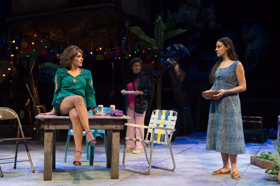 I first saw Luis Alfaro's MOJADA: A MEDEA IN LOS ANGELES at the Oregon Shakespeare Festival in July, and I think I'm in the minority, but I didn't love it. At that time, I felt that the ending wasn't adequately justified by the rest of the play.
But a lot of things have changed in the last five months. The Trump administration ended protections for undocumented immigrants. I've personally learned a lot more about the struggles facing this community. And director Juliette Carrillo changed one of the scenes that I found problematic the first time. As a result, this time around, I found MOJADA to be a much more powerful, much more poignant portrait of a desperate woman driven to do the unthinkable.
In the Greek myth, Medea, a sorceress, falls in love with Jason, who she helps obtain the Golden Fleece, which he needs to claim his rightful throne. They get married and have children. Then, in one version of the story, Jason, who apparently never learned not to make a sorceress angry, abandons Medea for the king's daughter. Things don't end well for any of them.
In MOJADA, Medea and Jason have immigrated to California from their hometown of Michoacán, Mexico, to pursue a better life, joined by their son, Acan, and Tita, a servant to Medea's family. Medea works as a seamstress from their home while Jason finds a job in construction. Armida, Jason's boss, has taken note of him and wants to elevate him, and not just for his work on jobsites. Meanwhile, Acan becomes more and more American, shrugging off his connections to Mexico. Clearly, things aren't going to end well here either.
Portland Center Stage's MOJADA was transplanted almost directly from the Oregon Shakespeare Festival -- actors, set, and all. It features some of the original cast members from earlier productions, including Sabina Zuniga Varela in the role of Medea and VIVIS as Tita, as well as OSF veterans Vilma Silva and Nancy Rodriguez. All of them give fine performances, especially Varela, who gives new meaning to the phrase "hell hath no fury like a woman scorned," and Silva, who is an excellent villain.
I still felt that there were some weakness in the script. Namely, the characters work so much in service of the plot that they lack internal consistency. There are also some major plot points that Alfaro chooses to portray via narration rather than action, which seems like a missed opportunity.
Overall, I do recommend MOJADA. It's a painful, very timely play that provides a human context for a lot of things going on in the news right now. Also, Christopher Acebo's set is fabulous. If you go, find your seat early so you can spend a few minutes admiring it before the show starts.
MOJADA: A MEDEA IN LOS ANGELES runs through November 26. More details and tickets here.
Photo credit: Jenny Graham