Latest News on Minka Wiltz
Minka Wiltz News
The Old Globe and La Jolla Playhouse to Co-Sponsor San Diego Rep 'We Are Listening'
by A.A. Cristi - Aug 25, 2020
The leadership teams of San Diego Repertory Theatre (San Diego REP), The Old Globe and La Jolla Playhouse announced today a new partnership between the three theatres to co-sponsor San Diego REP's successful series, a?oeWe Are Listening,a?? a live online salon about Black artists' experiences in the theatre industry hosted and curated by San Diego REP's Development Coordinator Ahmed K. Dents.
BWW Review: LAG Reminds Us to Breathe
by Ashley Elliott - Jun 7, 2020
This show is such a good vessel for the message that reminds us to inhale and exhale, despite the fact that 'our whole lives are lagging.'
VIDEO: Out of Hand Theater Presents LAG: A Zoomsical Comedy
by Stephi Wild - Jun 4, 2020
Out of Hand Theater presented Lag: A Zoomsical Comedy online!
Out Of Hand Theater Presents World Premiere of LAG, an Original Zoomsical
by Chloe Rabinowitz - May 21, 2020
During this current time of uncertainty, Out of Hand Theater will present a new and exciting surprise addition to their current season. An original Zoomsical! -- a 10-minute, musical comedy featuring 8 new songs composed for and performed on Zoom.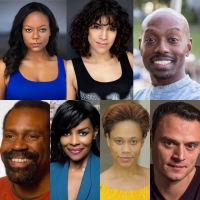 Out Of Hand Hosts Atlanta Theater Dinner: A Conversation About Race And Equity
by Stephi Wild - Jan 15, 2020
Out of Hand will produce Atlanta Theater Dinner, a facilitated conversation about race and equity in the Atlanta Theater community launched by an original short play created for the event. Atlanta Theater Dinner will be held on February 10, 2020 at 6:30pm in partnership with One Small Change/Both And. The evening will be hosted by The Bakery in their brand-new space in Underground Atlanta, New Square, at 76 Wall Street SW.

Photo Flash: Horizon Theatre Company Presents HOW BLACK MOTHERS SAY I LOVE YOU
by A.A. Cristi - Aug 13, 2018
Second in Horizon's New American Dreams Series, How Black Mothers Say I Love You is a powerful, funny and touching tale of a Jamaican mother and her daughters back home together - laughing, shouting and searching for love. How Black Mothers Say I Love You makes its U.S. premiere at Horizon Theatre Company with an all-star cast and creative team, with performances beginning July 13. Ottawa Tonite says, "Playwright Trey Anthony's love letter written to those women in her family that had to leave their children behind has both a whimsical and a hard edge to it. This play is good - standing ovation good.  Sweet, touching and funny, ample in its raw emotion, How Black Mothers Say I Love You can't help but work its way into your heart." The play is sponsored by the family and friends of Denise McLaughlin in honor of her milestone birthday.   Performances begin July 13 and run through August 26 (press opening on July 13) on the intimate Horizon Theatre stage in Little Five Points/Inman Park.
FREAKY FRIDAY, SUMMER & More Earn San Diego Craig Noel Nominations
by Stephi Wild - Jan 2, 2018
The San Diego Theatre Critics Circle has announced the nominations for its 16th annual Craig Noel Awards for Theatrical Excellence, which will be presented in a ceremony on Feb. 12, 2018, at the Jacobs Center for Neighborhood Innovation in San Diego.
BWW Review: 17 for 2017: The Best Shows & Performances of the Year in the Tampa-St. Petersburg Area
by Peter Nason - Dec 26, 2017
A look back at the very best local productions that 2017 had to offer.
BWW Review: BLACK PEARL SINGS
by E.H. Reiter - Dec 4, 2017
BLACK PEARL SINGS at the San Diego Repertory Theatre, is a story of Pearl and Susannah, two women who are opposites in every way that find a path to their goals through history and music. This production is a beautiful play that is enhanced by the songs that are woven through it.

Synchronicity Theatre Announces Winners of 2017-18 'STRIPPED BARE' Project
by BWW News Desk - Nov 3, 2017
Atlanta's Synchronicity Theatre has announced the three works that will be produced as part of this season's Stripped Bare: Arts Incubator Project.