BWW Review: NAMING TRUE at Urbanite Theatre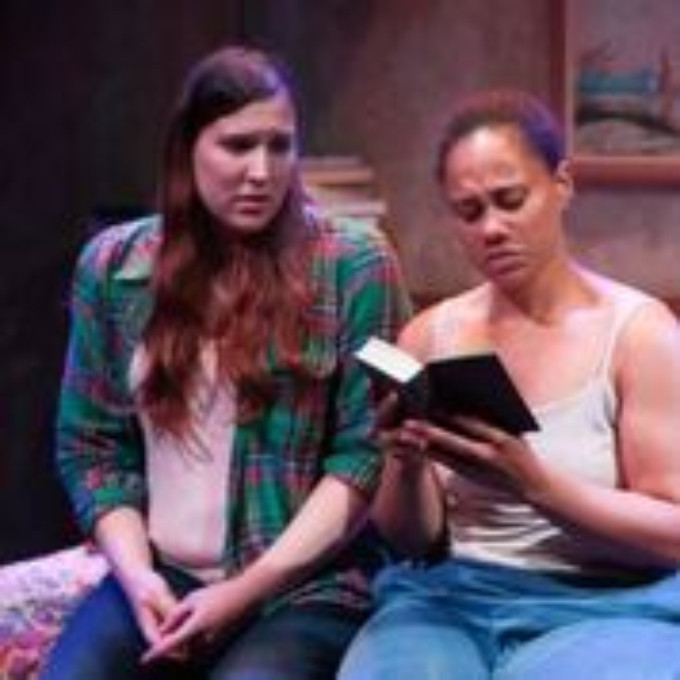 Natalie Symons' play NAMING TRUE, presently playing at Urbanite Theatre, hits some heart strings in a real way yet misses the mark in believability. The play opens in a run-down motel room somewhere in Florida in the midst of a severe thunderstorm. We join Nell, passionately played by Minka Wiltz, in her room banging on the keyboard of a laptop. She is an African-American woman suffering from liver disease who has her sites set on finishing her memoirs before an eminent death takes her. Her disease is exacerbated by generous swigs of alcohol she downs like bottled water.
A sudden knock at the door ushers in from the storm a dripping wet Amy, a younger Caucasian female who works for a company that publishes e-books in Seattle. It's hard to believe that street-wise Nell would let this stranger in her room. But I guess we are to accept this because of an impending hurricane warning from a radio we hear overhead from time to time. As their stories unfold between them, we come to know that Nell had a very brutal upbringing along with her brother Truman, (short for True), who is currently serving time in jail. Nell is working on her memoirs as a tribute to her brother and the horrific life they lived and survived. Amy discloses she was the subject of a reality show as a transgendered female. She also discloses to Nell that they spoke in the past, revealing she is the person that works for the self-publishing company about to broadcast Nell's completed memoirs. Nell claims she doesn't remember any conversation with her. Amy tries to convince Nell the reason she hunted her down and came all the way to Florida from Seattle was to stop her from killing herself. Amy learns it's not suicide that may take Nell's life, but cirrhosis of the liver. We get the feeling there is something more going on here and it is revealed to the audience in bits and pieces through intermittent cell phone conversations Amy has with her grandfather. These two have a deeper past and it's worth staying to the end of this 90-minute drama (with no intermission) to see what happens.
The rough backgrounds of both characters are emotionally charged. Minka Wiltz is believable and focused with intent on her portrayal as the oppressed Nell. Ms Wiltz puts everything she has into this hard-edged character and delivers her quick-witted lines like a sword. Abve all, it is worth seeing her in this role. Alexia Jasmene as Amy doesn't quite display the level of believability or emotion. There are a few scenes where they connect and the playing field for both actresses is leveled out, but not carried throughout the entire production.
The end of the story comes a bit swiftly and to a happy sort of conclusion, which makes this play all the more unbelievable. There are some poignant lines that provoke deep thoughts about humanity and compassion or the lack thereof, but overall NAMING TRUE just needs a more credible storyline in order to give this production a chance.
NAMING TRUE runs through July 2, 2017 at Urbanite Theatre. For more information visit www.urbanitetheatre.com.