Latest News on Maureen Taylor
Maureen Taylor News
Maureen Taylor to Release 'Cosmic Connections: The Lyrics of Michael Colby'
by Marissa Tomeo - Apr 5, 2022
Brainstorm Records announces the April 23rd release of Vocalist Maureen Taylor's recording: Maureen Taylor: Cosmic Connections – The Lyrics of Michael Colby. The collaboration between Taylor and Colby will feature nineteen Colby songs. The album will be available for streaming and purchase on all the major music outlets (as well as a limited number of CDs for purchase at the release party).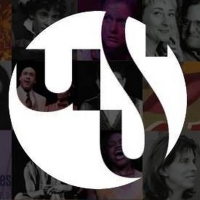 Urban Stages to Present WINTER RHYTHMS With Steve Ross, Richard Skipper & More
by Chloe Rabinowitz - Nov 23, 2021
Urban Stages has announced its 13th annual awarding-winning cabaret series, Winter Rhythms, returning live to its 30th Street theater December 7th through December 19th and benefiting Urban Stages' Outreach, Arts in Education programs.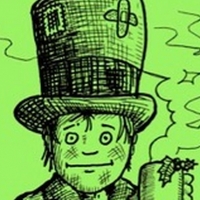 Ludlow Ladd In Concert Joins Urban Stages WINTER RHYTHMS Lineup
by A.A. Cristi - Nov 18, 2021
Tickets are now available for Gerald Jay Markoe and Michael Colby's comic Christmas tale, Ludlow Ladd in Concert, part of the Winter Rhythms series at Urban Stages.
BWW Feature: Cabaret and Concert Artists Flock To Polls For Early Voting
by Stephen Mosher - Oct 29, 2020
See the family in action as the artists of the club community stand up, speak out, and work for change.
VIDEO: Watch the 30th Annual MAC Awards!
by Nicole Rosky - Mar 30, 2020
With the Coronavirus stopping all social gatherings and causing the closing of Don't Tell Mama for the duration, MAC has made a change from the previously announced event which was to be held at the club.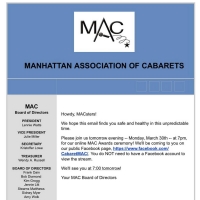 BWW Feature: MAC AWARDS Will Be Announced Live Via Facebook Monday. March 30th at 7 pm
by Stephen Mosher - Mar 29, 2020
The MAC Awards were scheduled to be celebrated on March 30th at Sony Hall. Instead they will be announced via Facebook Live from Lennie Watts' home. The times are a little different now, but the celebration of art is the same.
Andrea McArdle and Donna McKechnie, Max von Essen and More Nominated for MAC Awards
by Chloe Rabinowitz - Feb 25, 2020
The Manhattan Association of Cabarets (MAC) has announced the 2020 MAC Award nominees. The nominees were determined by votes cast by the active MAC membership, except for the four song and recording categories, which were determined by special committees.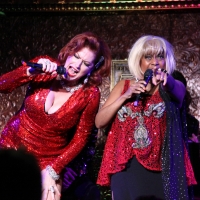 BWW Feature: A Thousand (Or More) Words About Cabaret in 2019
by Stephen Mosher - Dec 31, 2019
Stephen Mosher looks back at the cabaret scene, as captured by his camera in 2019
BWW Review: Maureen Taylor Casts A Spell With COSMIC CONNECTIONS at Don't Tell Mama
by Stephen Mosher - Dec 29, 2019
Popular soprano Maureen Taylor has returned to the cabaret stage with a very personal tribute to lyricist Michael Colby, and COSMIC CONNECTIONS bonds her to her audience in the process.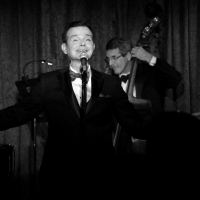 BWW Review: HOLIDAY CHESTNUTS Showcases Richard Holbrook's Heart at Don't Tell Mama
by Stephen Mosher - Dec 23, 2019
The crooner and staple of the cabaret community returns with one of his favorites - his Christmas show, and there's not an empty seat in the hose.