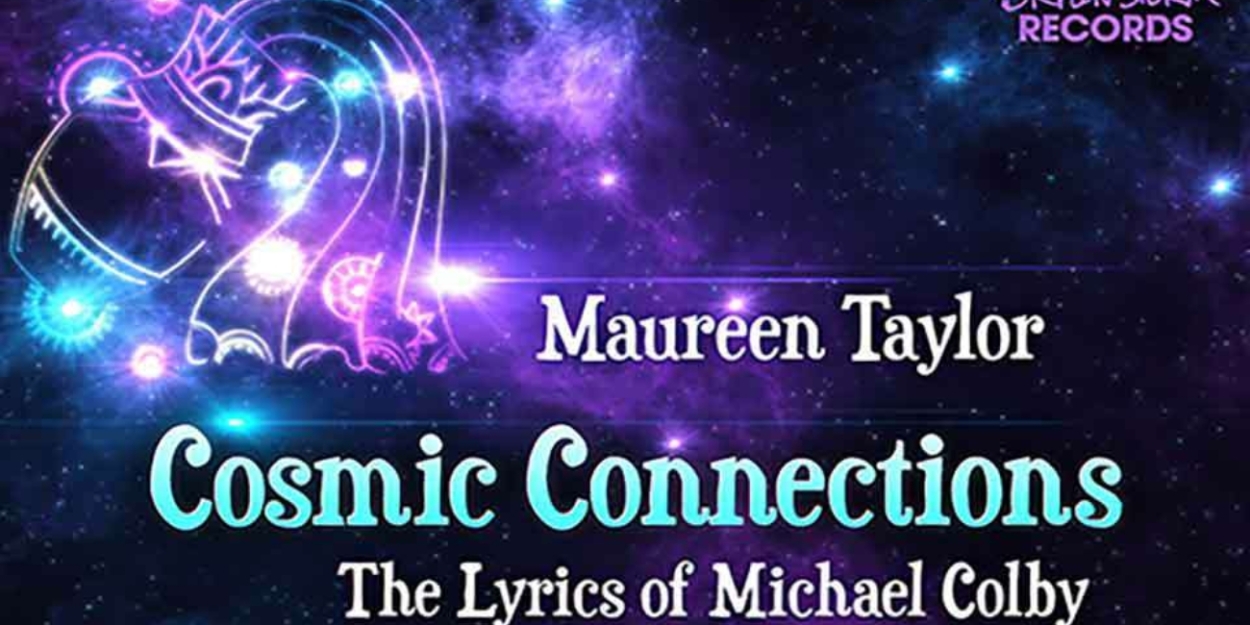 Album Review: Maureen Taylor Brings Her Cabaret Show To All By Recording Her COSMIC CONNECTIONS
Pretty Lady, Pretty Voice, Pretty Music.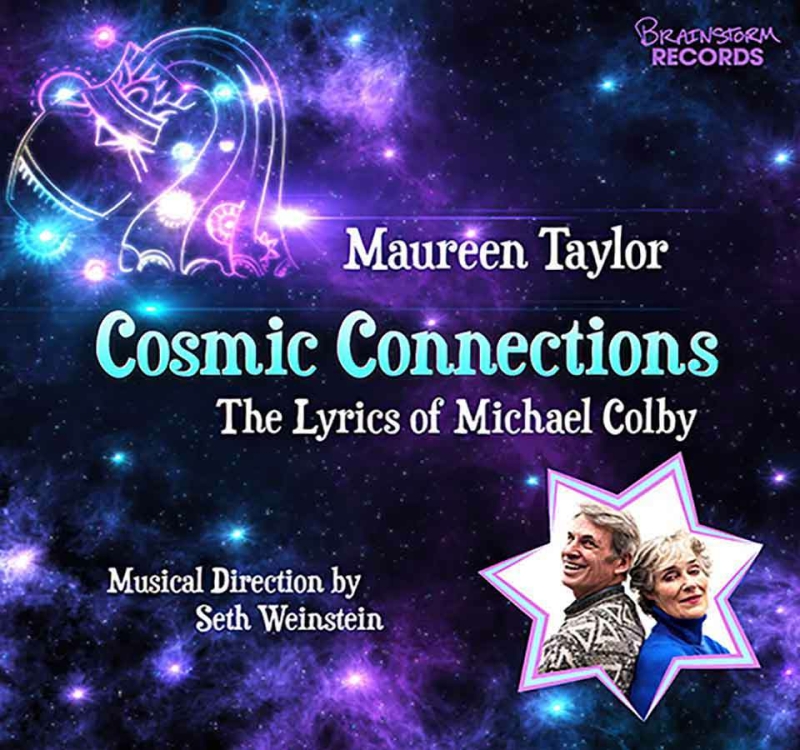 Heigh Ho, dear lovely rainbow tribe, welcome back to Bobby's CD sandbox where we offer our broken-down breakdowns of new music releases. So, strap in and get ready, as Bobby goes on the record ABOUT the record.
This week's album entry in the BobbyFiles comes from cabaret chanteuse Maureen Taylor, a singing actress possessed of a fine soprano that conveys a lot of heart in the messages of her songs. These particular songs, all with lyrics by Michael Colby - librettist, lyricist, and writer of such known theatrical commodities as TALES OF TINSELTOWN, CHARLOTTE SWEET, and LUDLOW LADD - are a mix of Colby's work that Maureen has stirred in her magic cauldron to create COSMIC CONNECTIONS - her album as well as her state of being. In December of 2019, before our global Pandicament, the Marvelous Mister Mosher, attended a performance of Taylor's MAC Award-winning COSMIC CONNECTIONS cabaret at legendary Don't Tell Mama and what he had to say about it is HERE. Having read that review, my boss and I are in full agreement with his statements that the beauty of Maureen Taylor's voice cannot be overstated - a lovely, high lyric soprano that is never overstated or underplayed. Taylor uses all of her voice when she sings, sometimes in the space of a single number, BUT her phrasing and intonations carry you along without ever tugging at you or assaulting your cabaret ear with grand opera. Her notes land lightly and her messages on this album are all optimistic and tell of a future that is bright... Or should we say, FORE-tells of that future?
A few times on this studio-recorded album Taylor puts in some talkie bits - mercifully they are all short and, so, not enough to completely annoy Bobby, since talkie bits recorded in a studio on a music album can get way tedious, in our humble O... Live in-concert recordings - YES; In the Studio - Just sing, Child. But Taylor gives her listeners these tiny talking tidbits to let us know touchpoints in the story that her music is telling, and that she is someone possessed of cosmic beliefs, and that those universal principles are what brought her to COSMIC CONNECTIONS and the words of Michael Colby. I KNOW EVERYBODY'S BUSINESS is a funny sort of psychic's lament, the problem of how to get along in the world when you see everybody's future but your own is actually made funnier by the range in which Maureen sings. The formality of her trained voice next to these funny lyrics juxtaposes comically throughout... add to that the personal layer, since she shares in her prelude that she herself has studied with psychics and esoterics. WHERE CAN I GO is a story song that springs from Taylor, telling of a time she went to see a seer who told her she saw that Taylor's life wouldn't really begin until her 40s - see? So, there she was, waiting to come into her own ... later, rather than sooner. This time, Taylor's voice emanates a certain measure of desperation - the kind that people get in their middle years, before something truly happens, and that something is love. In BETTER LATE THAN NEVER, her spoken word portion talks about the parade of men that come in and go out, with wonderful lyrics about finding true love later in life... In her 40s, presumably...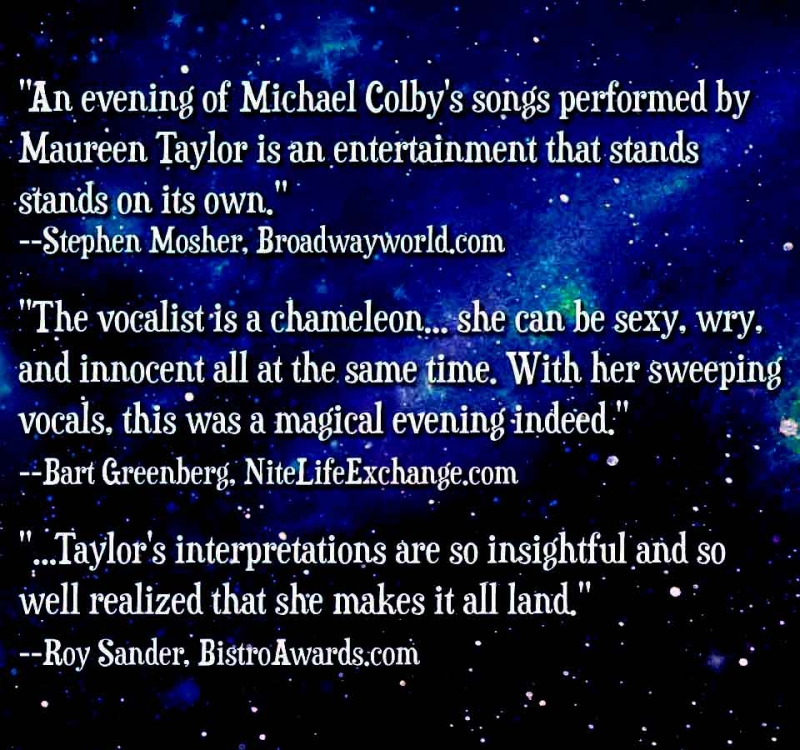 Now, not all is rainbows and sunshine, and there are some tunes where we have to add a touch of critic to this critique. Interestingly, Colby's Holiday treat, CHRISTMAS EV'RY DAY, is included on the album and stands alone in its seasonal cheer. It's the only Christmas song on a non-Christmas album, which seems a little funny, but it is a beautiful yuletide number and Maureen's soprano trills make it even more gorgeous, dare we say... Truly cosmic in their sound. We do have to take aim at a couple of questionable inclusions regarding Taylor's song choices. FUNNY BUNNY, a paean to Easter and a white chocolate "happy, hoppy" bunny that we think should hop off this album, is a clinker for us, and while one might think of childhood whimsy, we get more childhood sugar coma. Taylor takes out time to tribute another card-giving money grab on A DAUGHTER OF VALENTINE'S DAY. TBH, dear Bobby readers, we are just not sure why this one was included on this album at all - it's a cute 47 seconds, but no more.
The 17 songs of COSMIC CONNECTIONS (plus 2 somewhat questionable reprises) wind up making a patchwork quilt of words and music that stitch together into the story of a woman who sought out the layers of life, the universe, and everything, and found (after loads of learning and trial and error) that they all equal love. Well, if you ask Little Bobby, that's a fine story to tell and Taylor tells it in some beautiful ways. This one is fine listening for an afternoon of reading, reflecting, and tuneful contemplation. The humor, the message, the voice are all light on the ear and the soul, and so...
This one gets 3 ½ Out Of 5 Rainbows - You can put this one in your collection today.
Can Connect To COSMIC CONNECTIONS On Michael Colby's Webbysite: HERE
Pick It Up & Support The Artists With An iTunes Purchase: HERE
COSMIC CONNECTIONS
Produced by Michael Colby
Co-Produced by Maureen Taylor & Frank Galgano
Arrangements by Matt Castle
Piano/Arrangements by Seth Weinstein
Recorded & Mixed by Peter Millrose (Millrose Music, NYC)
Mastered by Jeffrey Lesser
Artwork by John Narun