Latest News on Caitlin Taylor
Caitlin Taylor News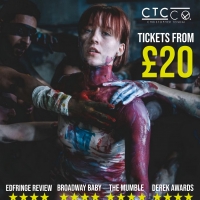 CTC Dance Company Presents IDENTITY At The Turbine Theatre
by Stephi Wild - Feb 3, 2020
Have you ever looked into the mirror and don't like what you see?
See What's On this Month at the Wild Project
by BWW News Desk - Apr 7, 2017
Avant Media's Tangets Series, NY No Limits Film Series, The CURRENT SESSIONS, and Spotlight On fest included the East Village venue's April programming.
The Current Sessions Announces World Premiere of THE BIG BALLOON
by BWW News Desk - Mar 20, 2017
???????The CURRENT SESSIONS is pleased to present the world premiere of The Big Balloon by Iranian-Hispanic artist and choreographer Roya Carreras, held Friday to Saturday, April 14 and 15, 2017 at the wild project, an 89-seat, eco-friendly theater located in the East Village.
A.C.T. Sets Spring 2014 Repertory: OUR LADY OF 121ST STREET, THE GIRL FROM MAXIM'S & TEACH FOR AMERICA
by Tyler Peterson - Apr 23, 2014
American Conservatory Theater announced today the Spring 2014 Repertory featuring students from A.C.T.'s acclaimed Master of Fine Arts (M.F.A.) Program, as well as a coproduction featuring students from A.C.T.'s Young Conservatory (YC) Program. The three works in repertory this May are Stephen Adly Guirgis' scorching comedy, Our Lady of 121st Street; Georges Feydeau's madcap farce The Girl from Maxim's; and Rob Ackerman's hilarious and heartbreaking Teach for America. Tickets for each performance are $20 and are available online at www.act-sf.org or by calling the A.C.T. Box Office at 415.749.2228. Two and three-show packages are available. Pick any two shows for $30 (a savings of $10) or purchase all three shows for $40 (a savings of $20). Packages are available for purchase by visiting https://tickets.act-sf.org/online/ (select M.F.A. Program Spring Repertory Package).
Photo Flash: NYCDAF's Destiny Rising Benefit
by Kelsey Denette - Jan 23, 2012
The NYC Dance Alliance Foundation (NYCDAF) celebrated its first anniversary at The Joyce Theater with a dazzling evening of dance artistry "Destiny Rising" featuring outstanding NYCDA alumni, the dynamic choreography of NYCDA faculty and special guest performances by stars of prominent dance companies all to benefit the NYCDAF College Scholarship Program.