Latest News on Anna Khaja
Anna Khaja News
BWW Interview: Playwright/Director Sharon Yablon of A GARDEN OF TERRIBLE BLOOMS
by Shari Barrett - Feb 2, 2022
Interview with award-winning playwright/director Sharon Yablon whose love of surrealism, noir and the darker side of Los Angeles led to the creation of A GARDEN OF TERRIBLE BLOOMS, which offers a dreamlike tour of short plays led by characters through a city that is vanishing, even as they move through it. Each play is set in a different part of L.A., or in nearby places where locals go to escape the city, but find themselves still haunted by it.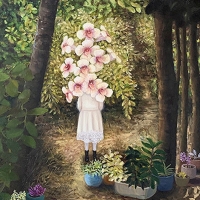 A GARDEN OF TERRIBLE BLOOMS Podcast Series Features Short Plays Of The Weird And Surreal Set In Los Angeles
by A.A. Cristi - Jan 14, 2022
Dear Marie, the newest episode in award-winning playwright/director Sharon Yablon's A Garden of Terrible Blooms "short plays of the weird and surreal set in Los Angeles" podcast series, is set to launch on Valentine's Day. To date, ten episodes are available for listening at www.terribleblooms.net.
BWW Review: West Coast Premiere of EARTHQUAKES IN LONDON Addresses the Causes and Realities of Climate Change
by Shari Barrett - Jan 18, 2020
Directed by Hollace Starr, an associate professor of theatre at Pepperdine University, a designated Linklater Voice teacher, and a lifetime member of the Actors Studio, with an innate understanding of feminine emotional turmoil, and John Perrin Flynn's keen eye for multimedia effects, EARTHQUAKES IN LONDON tackles our chronic inability to act in the interest of our future generations. At the center are three very different sisters who are left to raise and care for one another after their mother dies and their father abandons them. Now adults, the sisters find themselves navigating a 21st century London that is at the precipice of both an existential and an all-too-real environmental crisis.
BWW Review: THREE DAYS IN THE COUNTRY - A Time Well-Spent
by Gil Kaan - Jul 15, 2018
The west coast premiere of Patrick Marber's THREE DAYS IN THE COUNTRY receives a sturdy mounting by the always dependable Antaeus Theatre Company. Marber's adaptation of Ivan Turgenev's classic A MONTH IN THE COUNTRY has been smartly condensed and updated from its original five-act length to a much more manageable (and most witty and enjoyable) two-and-a-half-hour running time.
THREE DAYS IN THE COUNTRY Receives West Coast Premiere At Antaeus
by A.A. Cristi - May 31, 2018
Full of wit, folly and heart, a tale of unrequited passion unfolds over the course of three days in the sunny Russian countryside as men and women, both young and old, learn the tender and ridiculous lessons of love. Antaeus Theatre Company presents the West Coast premiere of Three Days in the Country by Patrick Marber, a fresh, breezy update of Ivan Turgenev's classic comedy A Month in the Country. Andrew Paul directs the partner-cast ensemble for a July 12 and July 13 opening (one opening night for each cast) at the Kiki & David Gindler Performing Arts Center in Glendale, where performances continue through Aug. 26. Low-priced previews begin July 5.

Full Cast Announced For Celebrity Reading Of ALL THE PRESIDENT'S MEN at City Hall
by Rebecca Russo - Jan 23, 2018
Final casting has been announced for the all-star reading of William Goldman's screenplay for All The President's Men scheduled to take place this Saturday, Jan. 27 at 7:30 p.m. in the John Ferraro Council Chamber of Los Angeles City Hall.
The Roustabouts Theatre Co. Launches First Season with the World Premiere of MARGIN OF ERROR by Will Cooper
by A.A. Cristi - Mar 20, 2017
The Roustabouts Theatre Company will launch their first season with the World premiere of MARGIN OF ERROR by Will Cooper directed by Rosina Reynolds playing at the Lyceum Theatre, Horton Plaza from April 14 to May 7, 2017. Over the course of an evening, a famous scientist, two of his students, and his wife confront each other in that margin of error where reason goes blind and passions incandesce. A fast-moving drama of twists and turns, MARGIN OF ERROR unveils what can happen when the arrogant, the ambitious, and the vengeful bring love and deceit down to a science.
BWW Review: East West's FREE OUTGOING Effectively Posits A Subject Matter No Parent Ever Wants to Face
by Gil Kaan - Feb 16, 2017
East West Players' new Artistic Director Snehal Desai ambitiously tackles the US premiere of playwright Anupama Chandrasekhar's FREE OUTGOING as his directorial debut. FREE OUTGOING centers on a single mother and her two teenagers living in a very conservative Chennai, India. Strong performances from the talented cast of five vividly illustrate the consequences of a video of the 15-year-old daughter engaged in a sex act going viral.
East West Players Announces Cast and Creative Team of FREE OUTGOING by Anupama Chandrasekhar
by A.A. Cristi - Dec 14, 2016
East West Players (EWP), the nation's longest-running professional theatre of color in the country and the largest producing organization of Asian American artistic work, is pleased to announce the cast and creative team for the US premiere of Free Outgoing, which Time Out, London has praised as "…a gripping and insightful story", and The Independent has called "…profoundly affecting." Written by Anupama Chandrasekhar and directed by Snehal Desai in his directorial debut as EWP Artistic Director, Free Outgoing begins performances on February 9 and runs until March 12, 2017, with opening night on February 15.