Strike Up The Band! From Bernstein To Carmen, THE MCCALLUM THEATRE CONCERT BAND Takes The McCallum Stage Once Again By Popular Demand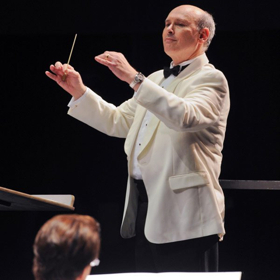 It's time to strike up the band, for our 6th annual concert by the McCallum Theatre Concert Band on Sunday, March 25, at 3:00pm. The McCallum's own Chad Hilligus will sing music by Leonard Bernstein, and virtuoso tubist John van Houten will play the haunting "Gabriel's Oboe." Plus, music from Bizet's "Carmen," "Yiddish Dances" by Adam Gorb, and marches from the U.S., Canada, New Zealand and more. And there's free ice cream for everyone after the concert! This season's McCallum Theatre Band Concert, led by McCallum President and CEO Mitch Gershenfeld (Conductor), will feature Chad Hilligus (Tenor), John Van Houten (Tuba), and Patricia Bosley (Guest Conductor).
The McCallum Theatre Concert Band brings together great musicians, most of whom live in the Los Angeles area. "There was a time in this country when towns had concert bands," Mitch commented, "and I thought the McCallum Theatre should honor that tradition with our own concert band." In bringing together the Concert Band, Mitch says, "We have an ensemble of such skill and experience that even John Philip Sousa himself would be in awe! You're heard these musicians in countless movies and television shows and we're thrilled they will be on our stage again this year for this concert."
Mitch Gershenfeld (Conductor) began his career as a musician in his hometown of Philadelphia, and performed with symphony orchestras, Broadway road companies and in recording studios. He taught music at the University of Wisconsin-Madison and the University of Denver. He has conducted orchestras and theatrical productions, and was the Music Producer for the Cultural Olympiad of the 1996 Olympic Games in Atlanta. "I loved playing in concert bands growing up," Mitch says, "and that led me to a career in music, which led to arts management and, ultimately, to the McCallum Theatre." Mitch joined the McCallum Theater in 2000 as Director of Operations and Presentations and has been President and CEO of the McCallum Theatre since 2012.
John Van Houten (Tuba) has recorded hundreds of television shows and motion pictures, including Mission Impossible 1, 3, and 4; Crimson Tide; Dracula; Mars Attack; Men in Black; X-Men; Pearl Harbor; Planet of the Apes; Dawn of the Planet of the Apes; Pirates of the Caribbean 1-4; The Incredibles; Ratatouille; UP; Cars 2; Star Trek; Star Trek - Into the Darkness; Tomorrow Land; Inside Out; Jurassic World; Zootopia; Rogue One; and The Incredibles 2. Television work includes "Alias," "Futurama," "King of the Hill," "Family Guy," "The Cleveland Show," and "American Dad." He has performed with a wide variety of music ensembles, including Los Angeles Philharmonic, Chicago Symphony Orchestra, Los Angeles Opera, Long Beach Opera, Long Beach Municipal Band, and the Joffrey Ballet. John teaches at Azusa Pacific University, The Bob Cole Conservatory of Music at California State University Long Beach and California Polytechnic University of Pomona.
Chad Hilligus (Tenor) has produced, directed and performed in over 250 shows in more than twenty different countries across North America, Europe, Asia and Australia. He is a former member of the multi-Platinum crossover group The TEN Tenors and gained international acclaim starring as Tony in the 50th Anniversary World Tour of West Side Story. Chad has served as Resident Artist at Sarasota Opera, Nashville Opera, Tulsa Opera, San Diego Opera and frequently appears as a solo artist at concert venues across the country. As a producer, Chad has directed and collaborated with icons such as Lucie Arnaz, Alan Cumming, Florence Henderson, Gavin MacLeod, Lily Tomlin, and a long list of Broadway mainstays. Highlights include producing and directing "Carol Channing's 95th Birthday: In Celebration of a Broadway Legend" at the McCallum Theatre, and an upcoming concert version of West Side Story with The Boston Pops. Chad currently serves as a Senior Development Manager at the McCallum Theatre, and as the Programming Consultant for the Old Town Temecula Community Theater.
Tickets for this performance are $57, $37, $27 and $22. Tickets are available at the Theatre's website at www.mccallumtheatre.com or by calling the McCallum Theatre Box Office at (760) 340-ARTS.