First Annual Palm Springs International Comedy Festival Begins On A High Note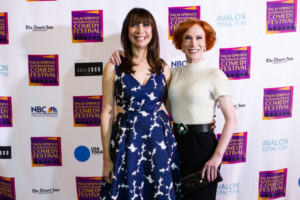 The inaugural Palm Springs International Comedy Festival www.palmspringscomedyfest.com celebrated the top names in comedy at a special awards gala held on November 10 at the Hotel Zoso & Spa in downtown Palm Springs. The star studded, black tie event honored the best comedic celebrity talents in stand-up, film and television. Comedian Kathy Griffin was presented with the "Comedian of the Year" Award, while Illeana Douglas received the "Pioneer in Comedy Award" for the first ever branded Web series "Easy To Assemble." The award-winning cast and production team of Paramount's summer blockbuster "Book Club" were presented with the "Stanley Kramer Mad World Comedy Award."
Celebrities in attendance included Kathy Griffin, Illeana Douglas, Ed Begley Jr., KAREN SHARPE KRAMER, Kat Kramer, Geoffrey Mark, 'Book Club' Director/Producer Bill Holderman, Writer/Producer Erin Simms, Wayne Federman (Curb Your Enthusiasm) and Festival Director/Founder Paul Cruz. Veteran performer Tommi Rose hosted the gala.
The festival continues on November 17-18 with a special celebrity Q&A event at 12:30 PM on November 17, hosted by Geoffrey Mark and featuring Alison Arngrim, Ruta Lee, Dawn Wells and Joyce Bulifant.
Photo: Danielle Mathias