BWW Review: CVRep Presents an Excellent Production of a Disturbing Play

It's Halloween, so expect scary stuff from local theatres. Coachella Valley Repertory's (CV Rep's) first offering of its 2017-18 season is David Ives' Tony-nominated VENUS IN FUR, an absorbing blend of THE EXORCIST, HEDDA GABLER, DEATHTRAP, WHO's AFRAID OF Virginia Woolf, FIFTY SHADES OF GREY, and a few other plays and movies. The director (Ron Celona) and the two actors do a top-notch job with the difficult play, which is presented in one long scene, without intermission.
VENUS IN FUR, which is primarily a drama, hooks the audience with comedy in the early minutes. Later, as things get more serious - and more disturbing - the script introduces a mystery, and eventually, a thriller. Towards the end, the plot veers towards the supernatural.
The story involves a play (an audition actually) within the play, with an actual nineteenth century novel forming the framework. The controversial novel, Venus in Furs (plural), spawned the word "masochism" to refer to the subject matter because of its author's name, Ritter von Leopold Sacher-Masoch. In VENUS IN FUR (singular), Thomas (Patrick Zeller), a not-too-successful playwright, has adapted Sacher-Masoch's novel for the stage, but cannot find someone suitable to play Wanda, whom protagonist Severin considers his Venus. As Thomas is preparing to leave his dingy office for the evening, Vanda (Angela Sauer), a not-too-successful actor, runs in, drenched from a thunderstorm. She badgers Thomas into letting her audition while he reads Severin's lines. As they work through the script, Thomas forms an attachment to Vanda as Wanda, which increases to the point where he appears ready to place everything on the line for her. The tension climbs as the questions mount. How does this coarse, uneducated actor know so much about the nineteenth century? How did she get a full copy of the script? How has she learned which electrical switches in the dingy building's switch box control which bank of lights? How does she know so much about Thomas's fiancee? Is she merely emotional, or is she dangerous?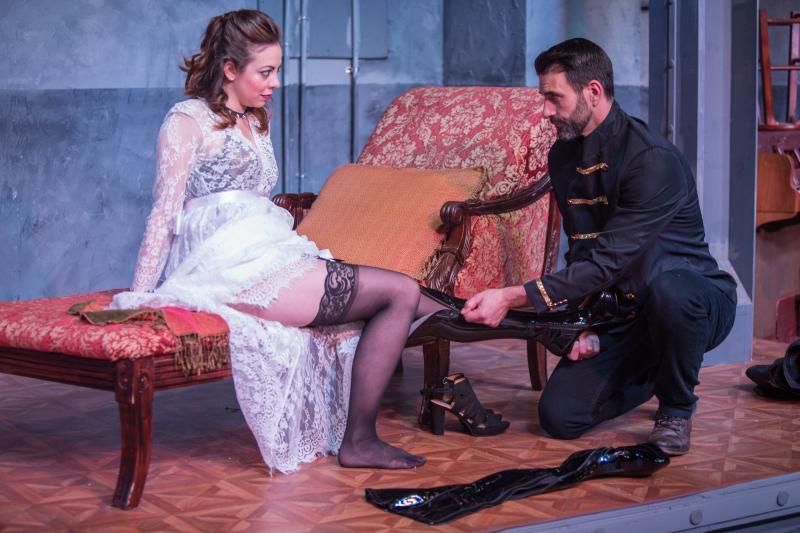 Although the CVRep production is excellent, there are spots in the middle where the script slows down; because it draws much of its dialogue from a Victorian era novel, the play is verbose. Despite its being only 95 minutes in length, I believe it is nonetheless too long by a few minutes.
I found it a pleasure to watch the two highly accomplished Equity actors engage in their cat and mouse game. In one scene, Ms. Sauer, as Vanda playing Wanda, holds a dog-eared script in one hand and an imagined cup of coffee in the other. She casually opens the coffee cup hand while she turns the page, and immediately closes it again around the imagined mug. I, as an amateur trying to learn "method" acting, would probably kneel to put the "cup" on the floor first, calling too much attention to the page turn. Instead, Ms. Sauer's simple, unobtrusive gesture is perfect; in a two-second span, she successfully navigates between Wanda (the nineteenth century widow) and Vanda (the actor), and back.
This is hardly the only moment Ms. Sauer must keep the two characters separate - and thanks to her expertise and Ron Celona's top-notch direction, the audience can tell immediately who is talking; Vanda, who brims with hyperactivity, speaks rapidly, in a high-pitched voice, while Wanda moves languidly and gracefully, speaks in a low, sultry register, and wears different facial expressions. In contrast, Mr. Celona has Mr. Zeller start out with a great deal of contrast between Thomas's and Severin's voice, pronunciation, and expressions. As Thomas begins to act more and more like Severin, Thomas retains Severin's voice and mannerisms, signaling that he is beginning to merge with the character he has written.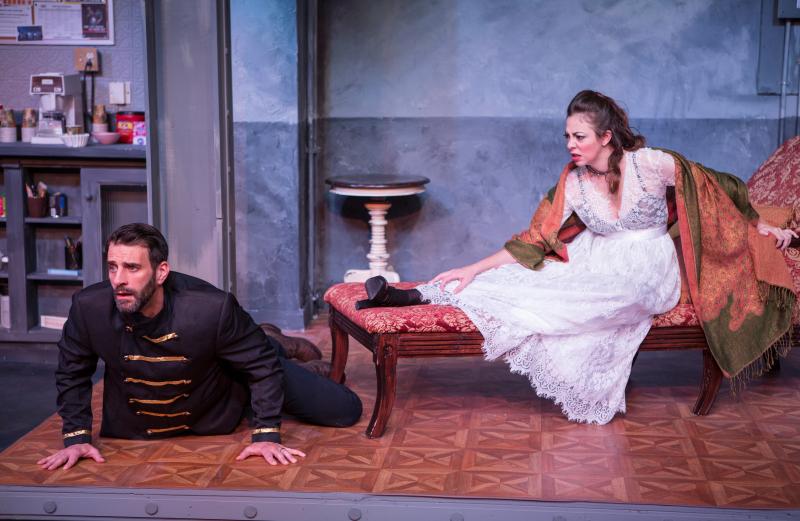 Not only are the performances and direction excellent, but set designer Jimmy Cuomo and assistant Doug Morris have once more demonstrated their considerable talent. This time, the set isn't beautiful, but it is rich in details - a utilitarian New York office with the obligatory coffeemaker, fuse boxes, drab concrete walls, and accumulated dirt on the skylights. The creepy, disquieting set makes clear from the moment the audience walks in that this play won't be a comedy.
The lighting and sound are important to this production, and designers Moira Wilkie Whitaker and Randy Hansen, respectively, deliver. Julie Oken and Lynda Shaeps also do a fine job with costumes, hair and make-up; there are no weak technical spots.
VENUS IN FUR is certainly for mature audiences only - there is no nudity, but I would still give it an "R" rating. The subject matter of this play will prove uncomfortable for many - masochism has not gone mainstream, even though the public has become more aware of BDSM thanks to pop culture. Nonetheless, unless someone has a strong aversion to the subject matter, I suggest attending this fine production.
VENUS IN FUR will run through November 19, 2017. CVRep's 2017-18 runs are now four weeks long instead of three, and include some Tuesday evening performances and an additional Saturday matinee. Evening shows start at 7:30 pm, and matinees (Sat. & Sun.) start at 2:00 pm. Ticket prices are $48 for previews, $63 for opening night, and $53 for all other performances.
CVRep is located in The Atrium, at 69-930 Highway 111, Suite 116, in Rancho Mirage. Tickets for individual shows can be purchased by telephone at 760-296-2966; online at www.cvrep.org/tickets/; or in person at the box office. Box office hours are Mon-Fri 10:30-2:30 and two hours prior to each performance.
VENUS IN FUR is part of CVRep's 2017-18 theme of Romance: Real or Imagined. The other three plays in the series are:
ROMANCE ROMANCE (January 17-February 11, 2018)
Two one act musicals take varied looks at romance seekers. The first is a delightful romp through the sexual ennui of turn of the century Vienna based on Schnitzler's tale The Little Comedy. Act 2 is a modern look at affection and disaffection in a two couple summer house in the Hamptons based on the Jules Renard play Summer Share.
Edward Albee's THE GOAT, OR WHO IS SYLVIA (March 7-April 1, 2018)
Martin-a hugely successful architect who has just turned fifty-leads an ostensibly ideal life with his loving wife and gay teenage son. But when he confides to his best friend that he is also in love with a goat (named Sylvia), he sets in motion events that will destroy his family and leave his life in tatters.
2 ACROSS (April 25-May 20, 2018)
Two strangers board a San Francisco BART train at 4:30 a.m. They're alone in the car, each is married, both are doing the New York Times crossword. She's an organized, sensible psychologist. He's a free-spirited, unemployed ad exec. She is a crossword pro, he always quits. When he tosses his puzzle away, she snaps, "Crosswords are a metaphor for life, those who finish, succeed, those who don't, fail." This starts an eighty-minute ride described by critics as "Hilarious," "Witty," "Romantic," "Poignant," and "Wonderfully entertaining."
CVRep, a 501(c)(3) organization, is the only theatre in the Coachella Valley that has Small Professional Theatre status with Actors' Equity. As well as presenting its main stage productions, CVRep operates a conservatory and a children's program. CVRep is currently raising funds through a $6-million capital campaign to purchase the IMAX theater in Cathedral City, at the corner of Route 111 and Cathedral Canyon Boulevard, and to construct a 200-seat, modern theatrical venue on the site.
To contribute to the capital campaign or for CVRep's annual operations, contact:
Barbara Wolser, Director of Development
(760) 296-2966 ext 103
barbara@cvrep.org
PHOTO CREDIT: Jim Cox