BWW Review: Attend a Hilariously Funny Funeral, Southern-style, at Desert Theatreworks, in SOUTHERN FRIED FUNERAL.
Desert Theatreworks has opened its 2018-19 season with a hilariously funny production of SOUTHERN FRIED FUNERAL. A clever script, great acting by the ensemble cast, great direction, and great set and costume designs ensure that audiences will have a great deal of fun at the dysfunctional Frye family's send-off for their husband and father.
Mississippi resident Dewey Frye is giving a Rotary Club speech when he keels over into the mashed potatoes. Newly widowed Dorothy Frye (Shirley LeMaster) and her daughters must plan the funeral while dealing with the antics of Dorothy's mentally ill, or perhaps intellectually disabled son (Steve McMillen), well-meaning friends (Stacy Casaluci-Grenrock, Patricia West Del-Ruth, and Stan Jenson), and the church lady from Hell (Laura Ortega). The daughters, Harlene (Daniela Ryan) and Sammy Jo (Heidi Hapner), can't stop fighting; Dub, Dewey's brother (Ron Young), wants to steal the land on which Dorothy and her son live; Dub's lawyer (David Brooks) would rather represent Harlene; Sammy Jo's husband (Gregg Aratin) is tired of her screaming at him; and no one knows where to store the casseroles - enough to feed an Army - that friends and neighbors keep dropping off.
I would not exactly refer to J. Dietz Osborne's and Nate Eppler's script as farce, but it comes pretty darned close, especially with the physical comedy in which director Lance Phillips-Martinez specializes. There is pathos in the script, delivered mostly by Ms. LeMaster, who plays Dorothy as a nice, sophisticated Southern lady who tries not to give into grief or anger, but can't quite manage being stoic. Hers may be the toughest role - interrupting all that fun and laughter to remind us that there is a widow who must suddenly adjust to a life without her beloved mate - and she pulls it off perfectly. Most of the others get to run back and forth energetically, doing goofball things, delivering over-the-top lines, and generating numerous laughs in the process. The sendup of Southern names, such as Fairy June and Ozella, are themselves worthy of a chuckle or two.
Steve McMillen manages to walk the tightrope between being funny and insulting towards people with mental or intellectual disabilities, and comes close to stealing the show in the process. Ms. Hapner and Ms. Ryan, as his sisters, are also fabulous, as their resentments simmer and eventually erupt. Mr. Young, who usually plays good guys, manipulates the audience with his teddy bearish appearance and inoffensive manner to make Dub deliciously odious. Stacy Casaluci-Grenrock is the perfect straight woman to Patricia West Del-Ruth's airhead. Their main purpose in the script is to generate laughs, and they sure succeed. Broadway World colleague Stan Jenson, as the friend who was with Dewey at the time of his death, is hilariously over-the-top with his constant snacking, and Laura Ortega's Ozella Meeks turns pop-eyed, pursed lip expressions into an art form. Gregg Aratin and David Brooks play straight characters who are key to the story. Their characters' presence allows the playwright to mitigate the otherwise relentless lunacy with moments that remind the audience that the Frye family has suffered a devastating loss. Mr. Aratin and Mr. Brooks achieve the perfect balance in their acting between seriousness and comedy.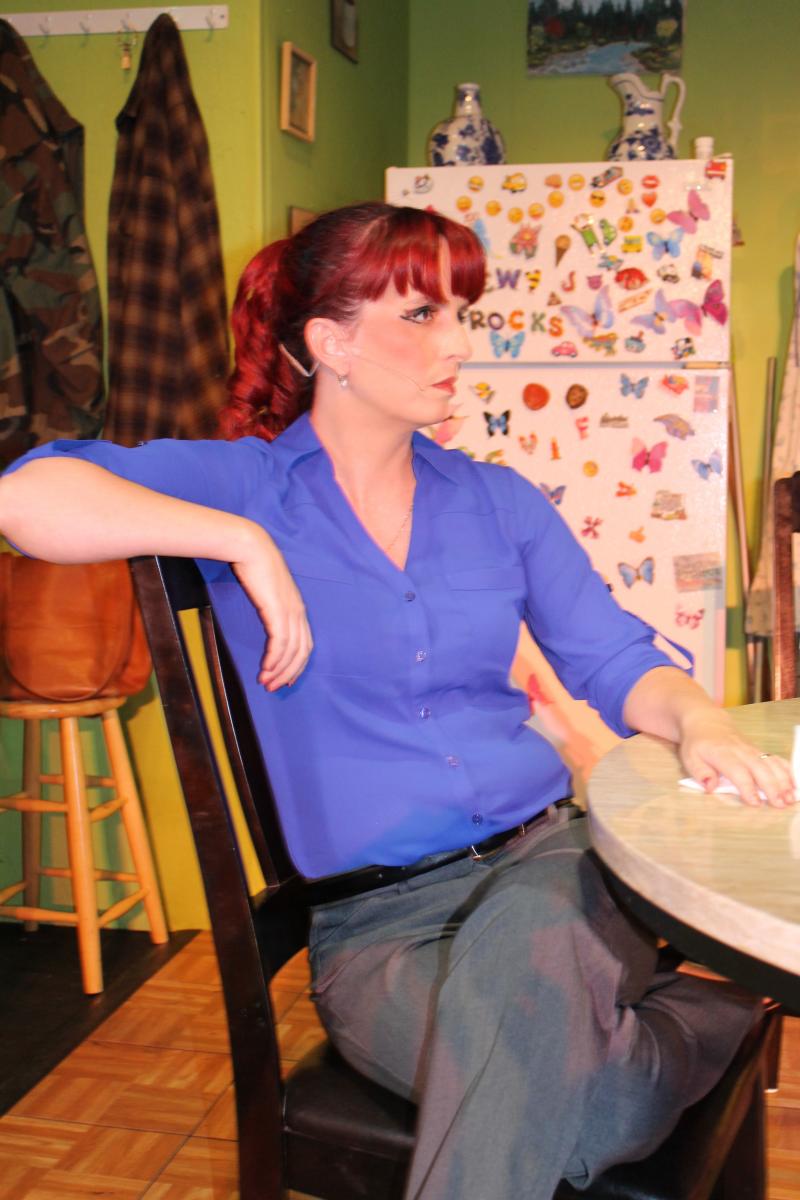 Director Lance Phillips-Martinez, assisted by Stephen Blackwell, is known for his physical humor. He has undertaken a difficult play in that, without the physical craziness, there are places, especially in the first act, in which the script, despite its clever jokes, suffers from verbosity and bogs down. Mr. Phillips-Martinez keeps things zipping along and adds what appear to be his own, brilliant touches; watch especially for Steve McMillen's mini-scenes that take place in the Open Window. An energetic scene between the sisters in the second act that grows to include Laura Ortega is howlingly funny. As an aside, will someone old enough to remember GOMER PYLE USMC please laugh when one character says, "Surprise, surprise, surprise!" and another responds with a snarky Gomer Pyle reference? I thought it was hilarious, but the rest of the audience - many of whose members were old enough to catch on - seemed mystified.
In addition to Mr. Phillips-Martinez's top-notch directing, he also designed the set. He and Michelle Mendoza, who designed the costumes and props, have put together a feast for the eyes. The extraordinary details in the Frye kitchen - modern appliances and old-fashioned cabinets, mixed with haimish touches such as a tissue box - tell the audience before anyone ever walks onto the stage that the Frye family members have one foot in the modern world and one in the traditional South. The costumes, too, are perfect for each character. I especially liked Ms. Del-Ruth's funeral costume - black with silver glitter, and glittery shoes - a fitting outfit for bubble-brained Fairy June.
In short, do not miss this show, unless you are as much of a sourpuss as church lady Ozella.
The rest of the crew consists of Ron Phillips-Martinez (producer), Tessa Walker (stage manager), Phil Murphy (lighting design), Miguel Arballo (sound design), Billy Franco (ASM/sound operator), Laura Martinez (light operator), Brianna Eylicio (stage combat), Shirley LeMaster (dialect coach), and the set builders: Miguel Arballo, Phylicia Mason, Tessa Walker, Mari Harris-Sparti, Preston Janis, Kaylyn Bernal, Stephen Blackwell, and Claudia Gomez.
SOUTHERN FRIED FUNERAL runs for one more weekend, from Friday, September 21st through Sunday, September 23rd. General admission ticket prices are $30.00.
The rest of the 2018-19 season consists of:
INTO THE WOODS
Music by Stephen Sondheim, Book by James Lapine
October 5-21, 2018
This modern twist on The Brothers Grimm brings together Cinderella, Little Red Riding Hood, Jack (of beanstalk fame), a baker, his wife, and a dancing cow. The beloved storybook characters take on startling complexity as they discover that wishes come with a price, and things aren't as simple as "happily ever after." RATED PG
MURDER ON THE NILE
By Agatha Christie
November 2-18, 2018
Adapted for the stage by Agatha Christie herself from her similarly-named novel, MURDER ON THE NILE whisks the audience away aboard a luxury steamer as it travels up the Nile River. What a lovely setting for a honeymoon cruise ... at least until the bride turns up dead! RATED PG
THE SOUND OF MUSIC
Music by Richard Rodgers, lyrics by Oscar Hammerstein II, book by Howard Lindsay and Russel Crouse.
December 7-23, 2018
Featuring classic favorites like "My Favorite Things," "Edelweiss," "Sixteen Going on Seventeen" and "Do-Re-Mi," the story is based on the actual life of Maria von Trapp, who leaves an Austrian convent to serve as governess to the children of a widowed naval officer. The final collaboration between the famous Rodgers & Hammerstein, THE SOUND OF MUSIC won 10 Tony Awards in its original Broadway run, and inspired the Academy Award-winning film starring Julie Andrews. RATED G
BRIGHTON BEACH MEMOIRS
By Neil Simon
January 11-27, 2019
Puberty is confusing enough without having a Great Depression and a cramped Brooklyn apartment full of family members to worry about. But those are the turbulent waters Eugene finds himself navigating in Neil Simon's semi-autobiographical coming-of-age comedy BRIGHTON BEACH MEMOIRS. The first play of his Tony Award-winning Eugene Trilogy, this classic redefined the late master of comedy's career as he mined his own past growing up Jewish during the Depression. RATED PG-13
SOME ENCHANTED EVENING: THE SONGS OF RODGERS AND HAMMERSTEIN Music by Richard Rodgers, Lyrics by Oscar Hammerstein II, concept by Jeffery B Moss.
February 8-17, 2019
The legendary musical theater duo Rodgers and Hammerstein provide the inspiration for this intimate night of beautiful songs. You'll hear more than 30 tunes created by the 20th century Broadway icons, including numbers from CAROUSEL, THE KING AND I, OKLAHOMA, SOUTH PACIFIC, THE SOUND OF MUSIC, CINDERELLA, and more. RATED G
HAIRSPRAY
Music by Marc Shaiman, Lyrics by Scott Wittman/Marc Shaiman, Book by Thomas Meehan/Mark O'Donnell Music.
March 8-24, 2019
Set in 1960s Baltimore, this Tony-award winning smash musical tells the story of lovable plus-sized teen Tracy Turnblad, a misfit who becomes a local celebrity by dancing on TV's Corny Collins Show, and whose passion for justice transforms her into an unlikely heroine, triumphing over snotty teen queens and racial segregation. And she does it all without denting her 'do. RATED PG-13
LOVE, SEX, AND THE IRS
By Billy Van Zandt and Jane Milmore
April 5-14
Back by audience demand! A comedy of mistaken identities and hilariously tangled subplots, LOVE, SEX, AND THE IRS centers on Jon and Leslie, two heterosexual roommates. In an attempt to save money, Jon has filed income tax returns for years listing the pair as married - but men cannot yet legally marry other men. When the IRS comes to investigate, Leslie must pretend to be Jon's wife. Meanwhile, Jon's mother comes to meet her son's fiancée, and the landlord objects to the idea of an unwed couple living in the apartment. LOVE, SEX, AND THE IRS is a guaranteed laugh-fest! RATED PG-13
All performances take place at the Indio Performing Arts Center, 45175 Fargo Street, Indio, CA 92201. Individual ticket prices are $30.00 (general admission-musicals), $28.00 (general admission-plays), $20.00 (ages 13-18), and $16.00 (ages 12 and under). Flexible season packages and group rates are available. Seating is reserved.
Evening shows are at 7:30. Matinees are Sundays at 2:00 p.m. Most shows include at least one weeknight performance. Some run for three weekends, and others for two. Check the ticket purchase information for specific schedules.
For tickets and further information, go to the Web site at www.dtworks.org or call (760)980-1455.
Photo Credit: Ron Phillips-Martinez