Photo Flash: First Look at LES MISERABLES at Maltz Jupiter Theatre
Experience the passion of LES MISERABLES. For four weeks only (March 10 - April 5), the epic Broadway blockbuster will transform the stage at the Maltz Jupiter Theatre into 19th century France. Survival of the human spirit prevails in this larger-than-life tale of compassion and destruction. Seen by over 70 million people in more than 42 countries, LES MISERABLES has received over 76 awards internationally, including eight Tony Awards and five Drama Desk awards. Scroll down for a first look at the cast in action below!
Based on the beloved novel by Victor Hugo, LES MISERABLES is set against the backdrop of a France still roiling from the effects of the French Revolution, where escaped convict Jean Valjean spends decades on the run from relentless policeman Javert. This smash hit musical features unforgettable songs, including "I Dreamed a Dream," "One Day More" and "On My Own."
This thrilling musical has been translated into 21 languages since opening on London's West End in 1985, where it remains onstage to this day. Currently on Broadway in New York City, theatergoers in five other countries (England, Australia, Japan, Korea, Spain) currently have the opportunity to experience this sweeping story of revolution and redemption.
Directed and choreographed by Carbonell Award winner Mark Martino (The Music Man, Joseph and the Amazing Technicolor Dreamcoat and Crazy for You), the musical will feature a cast of acclaimed actors, including Aloysius Gigl as Javert (recently seen in the title role of Sweeney Todd at Portland Center Stage); Gregg Goodbrod as Jean Valjean (whose Broadway and tour credits include Thoroughly Modern Millie and Dolly Parton's 9 to 5); Margaret Kelly as Fantine (recently seen in the off-Broadway production Hereafter Musical) and Siri Howard as Cosette (seen on PBS in Sweeney Todd starring Emma Thompson and Bryn Terfel at Lincoln Center and on Broadway in LES MISERABLES and The Sound of Music).
The cast of 26 also features Joshua Charles Skurnik as Marius (Perchik in the Theatre's recent production of Fiddler on the Roof); Richard Vida as Thenardier (who performed in the original Broadway production and US Tour of LES MISERABLES) and Margot Moreland as Mme. Thenardier (a four time Carbonell Award winner for her performances in Ruthless! Heartbeats, Tomfoolery and Annie). The cast will be backed by a 13-piece orchestra.
The production will showcase the artistry of other designers known for their recent work at the Theatre, including associate director and choreographer Elise Kinnon (recently seen in the Theatre's productions of Annie and Crazy For You, and who is also serving as dance captain, fight captain and a member of the ensemble); music director and four time Carbonell Award winner Eric Alsford (The Wiz); set designer and Carbonell nominee Paul Tate DePoo III (The Wiz); lighting designer and Carbonell nominee Paul Black (A Chorus Line); costume designer and Carbonell nominee Gail Baldoni (Fiddler on the Roof) and Carbonell winner and resident sound designer Marty Mets.
Visit www.jupitertheatre.org for showtimes; tickets start at $54. For tickets and additional information, call (561) 575-2223.
Photo Credit: Alicia Donelan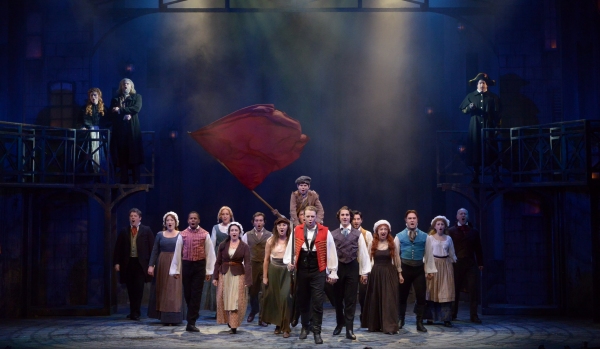 Enjolras (Matt Farcher) leads the pack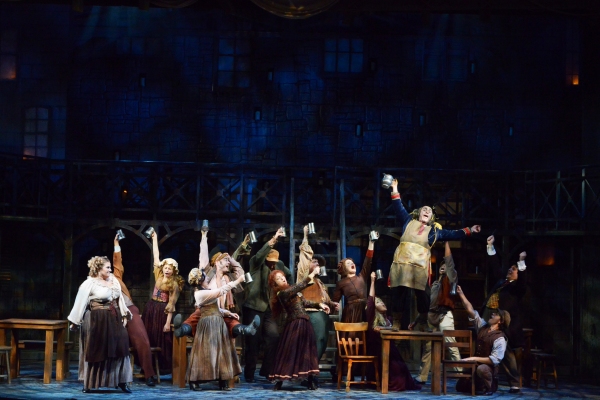 Thenardier (Richard Vida), fourth from right, and Mme. Thenardier (Margot Moreland), far left, lead Inn customers in a rousing rendition of 'Master of the House' (The Innkeeper's Song)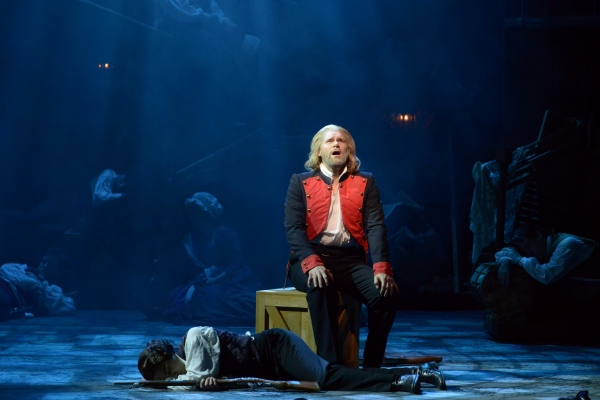 Valjean (Gregg Goodbrod) sings as Marius (Joshua Charles Skurnik) sleeps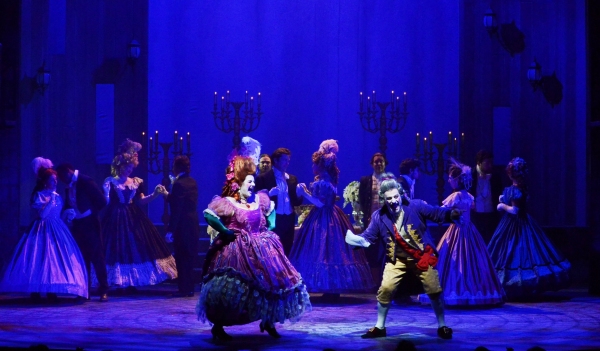 Mme. Thenardier (Margot Moreland) and Thenardier (Richard Vida) dance and sing while crashing the wedding of Cosette and Marius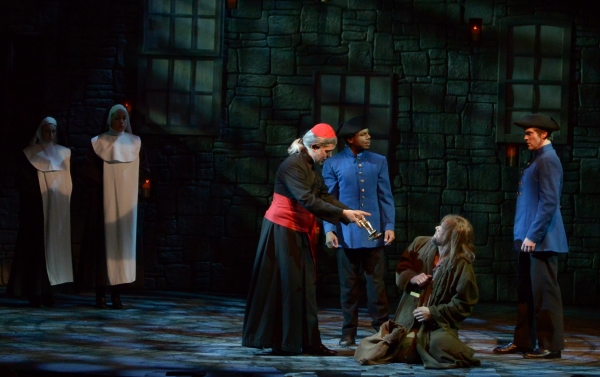 The Bishop (Gabriel Zenone) offers a gift to Valjean (Gregg Goodbrod), seated, as the constables (Cornelius Davis and Chris Crawford), right, and nuns (Emily Rynasko and Anna Kelly), left, look on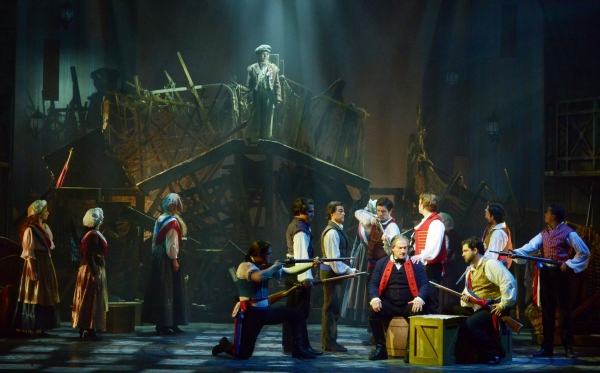 Citizens surround Javert (Aoysius Gigl), seated, as he is caught in a lie in the Maltz Jupiter Theatre's production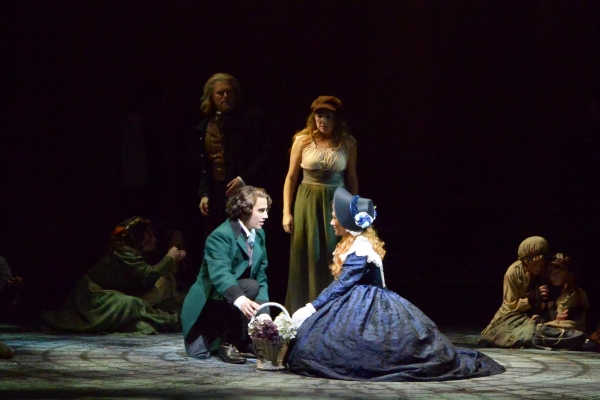 It's love at first sight for Marius (Joshua Charles Skurnik) and Cosette (Siri Howard) as Eponine (Elizabeth McMonagle) and Valjean (Gregg Goodbrod) look on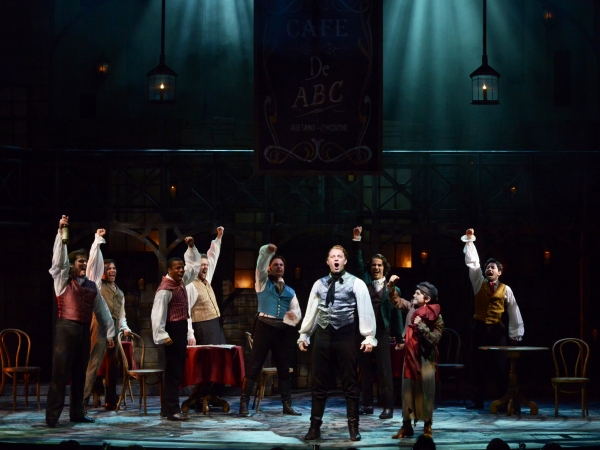 Enjolras (Matt Farcher) leads plans for an uprising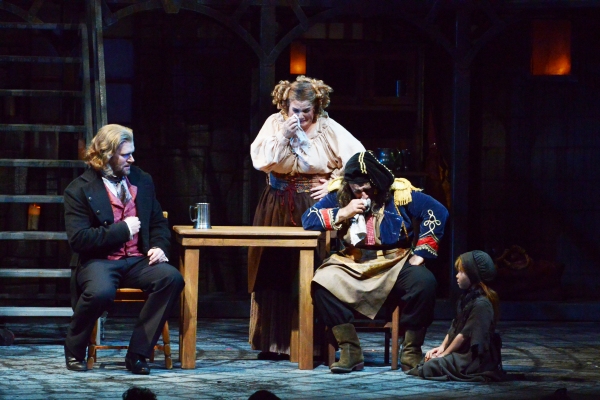 Valjean (Gregg Goodbrod), left, consults with Mme. Thenardier (Margot Moreland) and Thenardier (Richard Vida) about little Cosette (Sofia Dow)

Valjean (Gregg Goodbrod) and Cosette (Siri Howard)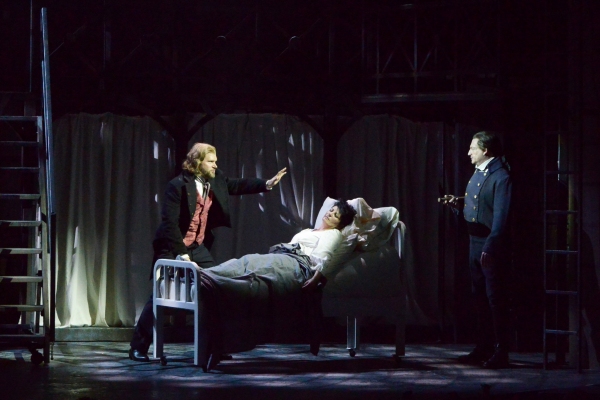 Valjean (Gregg Goodbrod), left, and Javert (Aoysius Gigl), right, argue in the hospital room of Fantine (Margaret Kelly)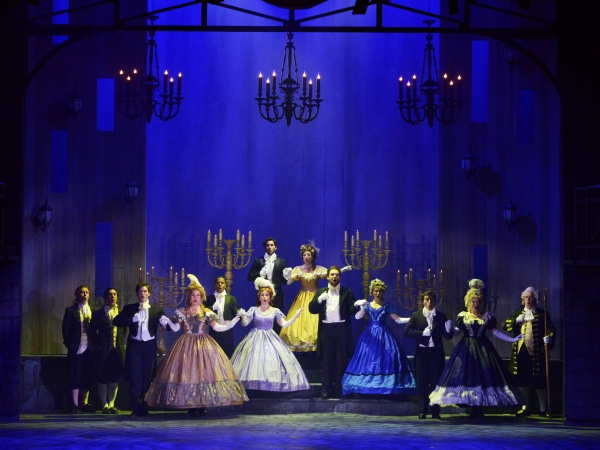 Wedding guests dance at the wedding of Cosette and Marius
More Hot Stories For You