BWW Review: Orpheus Musical Theatre's FALSETTOS at Ottawa's Gladstone Theatre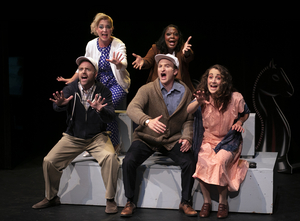 I was invited to attend Orpheus Musical Theatre's opening night performance of Falsettos at the Gladstone Theatre.
Falsettos was originally performed on Broadway in 1992, where it was nominated for seven Tony Awards and won two. It was then revived to high acclaim in 2016, where it was nominated for five Tonys, including Best Revival of a Musical.
The story is set in 1979, at a time when a family unit was deemed to consist of a man, a woman and one or more children. A wife was expected to keep the house clean, prepare meals and offer up sex whenever her husband wanted it. Anything outside of this traditional family unit would have been considered abnormal.
The opening number, "Four Jews in a Room Bitching", introduces most of the main characters: Marvin (Joseph Stone), Marvin's ten-year old son, Jason (Cooper Dunn), Marvin's "friend", Whizzer (Michael Smith) and Marvin's psychiatrist, Mendel (Adam Moscoe).
We find out that Marvin left his wife, Trina (Julie Séguin), for his lover, Whizzer. As a consequence, Trina begins seeing Mendel, Marvin's psychiatrist (at first professionally and, later, personally). We learn that Marvin and Whizzer's relationship is mostly physical and that Mendel has fallen for Trina, creating an odd love triangle, where Marvin is jealous of Trina and Mendel's relationship (even though he told her he did not love her and then left her for someone else). Marvin treats Whizzer in much the same way that he treated Trina ("make the dinner, set to screw, that's what pretty boys should do").
Meanwhile, Jason is torn, wondering whose side to take as he questions whether he, too, will become like his father. Remarkably, despite being the cause of his broken family unit, Jason likes Whizzer more than either of his parents and eventually agrees, after consulting with Whizzer, to be treated by Mendel, the shrink.
By the end of the first act, Mendel and Trina get married and Marvin and Whizzer break up.
The second act fast forwards two years, with Trina and Marvin obsessing about Jason's upcoming Bar Mitzvah. Jason, as usual, seems to be the most mature person in the room.
Marvin and Whizzer get back together, but their relationship is still not strong. Trina and Mendel are now married, but the honeymoon period has worn off. We are also introduced to two new characters, the next door neighbours, Cordelia (Andréa Black) and Dr. Charlotte (Jerusha Lewis), who are also a couple. Cordelia seems dissatisfied with the fact that she stays home and cooks all day while Dr. Charlotte saves lives for a living, but she keeps doing it because Charlotte is a rich doctor.
In the second half, it still seems as though the only one holding the group together is Jason, who only really wants to play chess by himself - and, with this cast of characters, who can blame him?
I won't go any further and risk spoiling the ending for anyone unfamiliar with the story.
Personally, I couldn't connect with any of the characters. They are all shallow, selfish and spiteful except for, perhaps, Jason. There is little character development and, ultimately, I didn't care what happened to any of them. No one ever apologized for treating the others badly, even at times when it could have made a real difference.
Some of the lyrics were clever, but the music was repetitive and at two and a half hours, the show seemed much longer than it had to be in order convey a rather weak message.
Performances were good: Stone and Smith were convincing as a couple and Séguin provided consistently strong vocals. Two songs stood out for me: in "I'm Breaking Down", Séguin was excellent and balanced humour with increasing levels of neurosis perfectly. During "The Baseball Game", the characters mostly put their selfishness aside to be there for Jason. Both songs were catchy and well performed by the cast.
Dunn and Moscoe performed their roles with gusto, particularly the chuckle-worthy, "Everyone Hates His Parents". I look forward to seeing Dunn in Orpheus' upcoming production of Matilda the Musical this fall. I really enjoyed Lewis in Orpheus' Sister Act earlier this year, but her character, as well as Black's, didn't have enough substance to let either actress showcase her talent.
The "tiny" band (Wendy Berkelaar, Pierre Huneault, John McGovern and Mike Tremblay) did a great job with the score, with some members playing multiple instruments.
Emmett Workman's set used its simple props effectively, allowing the ambiguous looking pieces to be moved around and placed on various areas of the stage, much like chess pieces.
The characters also seemed like chess pieces, moving around and about each other, interacting but never really going anywhere. Of course, I can fault neither the production nor the cast for this, but the characters just didn't resonate with me. This is despite the fact that the show's authors, William Finn and James Lapine, deserve high praise for creating what was clearly a ground-breaking show when it was originally performed on Broadway.
I should point out that it is quite possible that I was alone with my impressions. The audience laughed out loud several times during the performance and most of the house was on their feet at the curtain call. It was nominated for multiple Tonys for a reason, so go see it and judge for yourself.
Falsettos is playing at the Gladstone Theatre now through September 7, 2019. For more information or to buy tickets, head to https://www.orpheus-theatre.ca/falsettos.