BWW Review: Orlando Phil's CANDIDE is Delightful Antidote for Disheartening World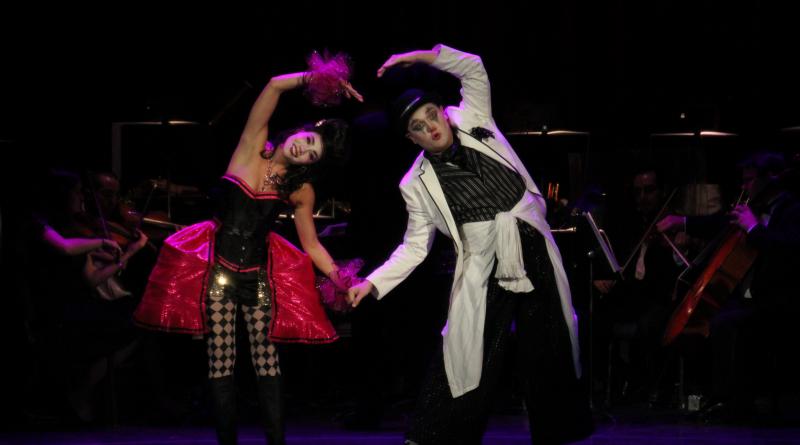 Lately, it seems that no matter where you turn you are assaulted with frightening news, disheartening images, and arguing politicians. It's gotten so upsetting that no one would fault you for thinking that this is the worst of all possible worlds. However, if you are tired of thinking the worst of society and your fellow man, there is no better antidote than the Orlando Philharmonic's joyous and playful production of Leonard Bernstein's light opera CANDIDE, running through Sunday, October 16th at Plaza Live Orlando.
Based on the 18th century satiric novella of the same name by French writer and philosopher Voltaire, this work blends opera and musical theatre in ways that only the legendary composer and conductor could. The story centers on the illegitimate nephew of a German baron in Westphalia, who, despite not being considered of equal stature to his family, is overcome with an all-encompassing optimism that guides every moment of his life. Candide (played by the wonderful tenor Miles Mykkanen) has come to his appreciation of life having been tutored by Dr. Pangloss (the delightful Evan Jones) alongside the Baron and Baroness' children and servants.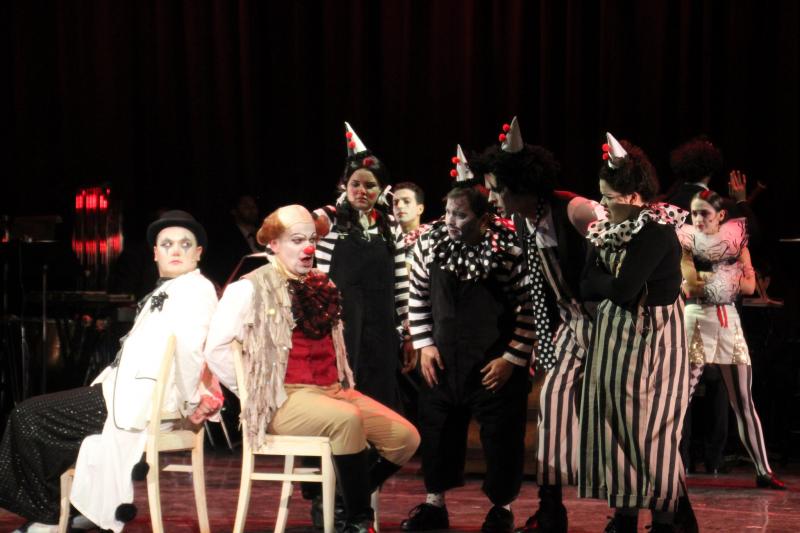 All of Pangloss' pupils share in his philosophy that "Life is Happiness Indeed." This is the theme that guides the title character throughout countless absurd plot machinations; through wars, across continents, and against foes. The action that upsets our otherwise happy characters is the fact that Candide and the Baroness' beautiful daughter Cunegonde (played by the stunning soprano Sharleen Joynt) are secretly in love and plan on marrying. When the Baron finds out, Candide is exiled, leading to a years-long quest to find the good in all of the bad in his life.
The production, directed for the stage by Alison Moritz, employs a circus clown, commedia dell'arte approach that plays well with the wonderfully silly cast. Amanda Seymour's lovely costumes only serve to enhance the motif, with a bit of assistance from the Walt Disney Creative Costuming and Cosmetology Departments.
CANDIDE has famously been drastically revised multiple times since it's premiere in 1956, and the Orlando Phil has settled on Hugh Wheeler's 1989 version, which has become the most accepted in recent decades. Richard Wilbur is credited as the show's lyricist with additions coming from Stephen Sondheim, John Latouche, Dorothy Parker, Lillian Hellman, and Bernstein himself.
Despite the Job-level catastrophes that befall him on his path, Candide clings to his innate optimism. Throughout, Mykkanen maintains a formidable brightness that allows his character to believably fight off the understandable despair that he feels at each more demoralizing turn. When he delivers the show's final song, "Make Our Garden Grow," all of the earned emotion comes seeping out of his voice in an overwhelmingly affecting way. His voice is strikingly pure, but also powerful, allowing the audience to accept that his otherworldly innocence is in fact authentic.
While Cunegonde does not maintain the purity of her beloved throughout her journey, her love for him never fades. Joynt, who was a contestant on Season 18 of ABC's THE BACHELOR, has a crystalline soprano and is fantastically funny, especially on the show's most famous song, "Glitter and Be Gay." In this satirical rumination on having to debase one's self for material gain, Joynt displays a marvelous coloratura. While her lower notes are not as strong (perhaps because of the poor acoustics at the Plaza), she soars on the iconic upper notes that have aided in building the legends of Barbara Cook, Madeline Kahn, and Kristin Chenoweth. With her breath-taking talent and beauty, it is no wonder that Candide would suffer through so much to be with her.
Most of the show's other cast members play multiple characters (or do they?). Chief amongst them is Jones who is both narrator, inspiration, and plot expeditor. His good-humored persona gives the audience the feeling that they are in on the joke that he is playing, even if they didn't quite know what it is.
Margaret Gawrysiak, Gabriel Preisser, and Alex Mansoori were all phenomenal as various hysterical characters. Gawrysiak's duet with Joynt on "We Are Women" is especially charming. Preisser is great as the baron's pompous, but surprisingly forgiving son Maximilian, and Mansoori slays as nearly every bad guy in the show!
Moritz's production also makes use of two brilliantly talented dancers (Courtney Lopes and John Eirich), who move in and out of the action as either ensemble members, interpretive dancers, or dream alternates. At times it was difficult to keep focus on the actors and not listen to the wonderful music while being swept away by the dancing, choreographed by John Heginbotham.
In addition to the immensely talented cast and beautifully clever and creative staging, conductor Eric Jacobsen's musicians were top-notch, providing an appropriately bouncy and opulent score.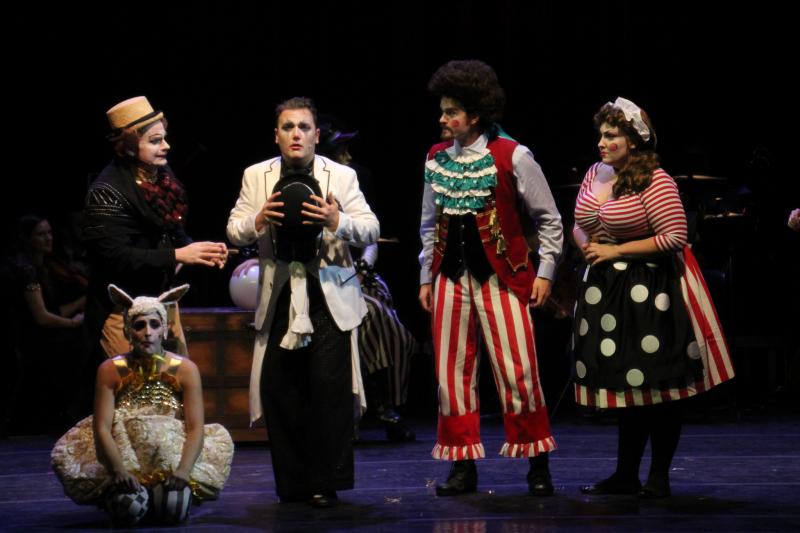 The only substantive issues with the production come with the Plaza's barn-like interior. As previously mentioned, the venue's less than ideal acoustics necessitated that the actors wear microphones for their dialogue to be heard. However, on Thursday night, the mics often got in the way, fell off of the actors, or caused noticeable audio issues, all a disservice to this otherwise wonderful experience.
CANDIDE is not only a well-deserved tonic for all that troubles our society today, but it serves as a reminder that it is up to each of us individually to make this "The Best of All Possible Worlds." After seeing the devastatingly powerful production of Bernstein's WEST SIDE STORY at Orlando Shakespeare recently, CANDIDE provides a needed tonal contrast from the iconic maestro.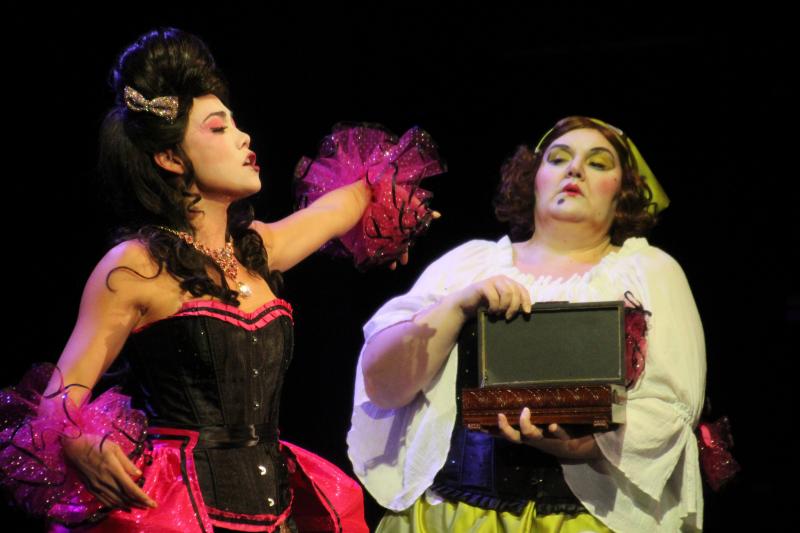 CANDIDE plays Friday, October 14th at 8:00pm and Sunday, October 16th at 2:00pm. To purchase tickets, visit the Orlando Philharmonic website or call 407-770-0071. It is a unique treat that you won't soon forget.
---
Did Candide's optimism change your outlook on the world? Let me know on Twitter @BWWMatt. And, "Like" and follow BWW Orlando on Facebook and Twitter using the buttons below. You can listen to Matt on BroadwayRadio or on BroadwayWorld's pop culture podcast Some Like it Pop.
Banner Image: Sharleen Joynt and Miles Mykkanen. Photo Credit: Orlando Philharmonic
Matt is a Senior Editor and Administrator at BroadwayWorld, regularly writing about Broadway real estate, TV, and film. He is a proud graduate of The (read more...)