BWW Review: Lyric's A CHRISTMAS CAROL Brings Holiday Magic to Life on its Plaza Stage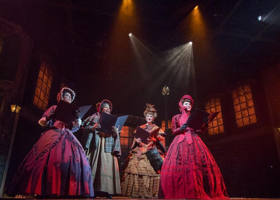 The holidays are an undeniably magical time for many people. Whether it's the bright, twinkling holiday lights, the music of holiday carols, the traditional foods of the season, giving and receiving gifts, or spending time with friends and loved ones, there is something special, something magical, about the holiday season. A theatrical stage is also a magical place, where our imaginations come to life, live and in color. Where anything, it seems, is possible and anything can and often does happen. So it's fitting that in a theater is where some of the most spectacular and entertaining holiday magic can and will be found. Lyric Theatre of Oklahoma's annual production of A Christmas Carol, as flawed as it may be, proves just how impressive and spectacular that theatrical holiday magic can be.
A Christmas Carol is, of course, the beloved work of Charles Dickens which has been adapted, produced and presented countless times in a wide variety of iterations. The familiar story of Ebenezer Scrooge and his life-changing Christmas Eve is presented by Lyric in a very traditional way, with the Dickensian setting, time and place all intact. In some ways, the production is holiday comfort food, exactly the kind of Christmas Carol that audiences want to see every year, it's like seeing an old friend or distant family member every December, and remembering again why you love them.
It's a double-edged sword of sorts, since something as familiar and beloved as A Christmas Carol is also going to be even more scrutinized or even more open to potential disappointment. Lyric's production balances on the tip of the sword, having both disappointing flaws and elements worthy of love and praise. On the negative side is the adaptation by Michael Baron, which is frustrating at best and insulting at worst. This is due to the fact that this version often feels like a dumbed-down or watered-down facsimile of Dickens' work. Many moments feel like dialogue has been changed or added to make it easier to understand, as if today's audiences need it all explained or spelled out for them. For example, when Ghost of Christmas Present says that he has over 1800 brothers and sisters, does he really need to then explain what that means? Is the audience really unable to figure it out on their own? Much of the script here feels like that, as if it's written with the assumption that the audience is stupid and can't figure things out or fill in the blanks. At other times, there's extra dialogue for no good reason at all, except maybe to add a joke or laugh line. These don't typically work, and when you're dealing with something like Dickens, it's usually better to not try to add, especially when the additions are really unnecessary.
Unlike some adaptations, Baron does do a good job of making sure we see the important parts of Scrooge's journey. Ample time and focus are given to certain scenes which are often truncated or cut out completely and some scenes, like the breakup of Young Scrooge and Belle, are given the time to develop and play out that they deserve. While he focuses on the scenes that he should, Baron also does a nice job at times of bringing out smaller details, such as one minor character from the scene at Scrooge's Nephew's Christmas party who provides one of the few comic highlights in this production.
Along with writing the adaptation, Baron also directed and appears to have really focused on the spectacle and the magic at the expense of any kind of character development or depth. Make no mistake about it, this is a beautifully realized and gorgeous production (more on that later) but it's all spectacle with little substance, it's all bright and shiny exterior, with little to nothing going on underneath. This may have been a conscious choice by Baron, which is fine to make that choice, but it will disappoint those audience members looking for a certain kind of Christmas Carol. Anyone looking for the story to really tug at their heartstrings and touch them emotionally will likely be left dissatisfied. More frustrating than disappointing, and not necessarily Baron's fault, are the accents. The idea seems to be that low-class people have big, over-the-top accents while upper-class people have little to no accent at all. Whether that was the intent or not, it doesn't work out, with accents that are all over the place, some well-executed, others barely there, still others that seem to come and go. Either have everyone in the cast perfect an accent and use it fully, all the time, or don't bother using accents at all.
Most frustrating of all is the portrayal here of Ebenezer Scrooge by Dirk Lumbard. This may be due to Baron's directing choices, Lumbard's acting choices or a combination of both, but the end result is a Scrooge who is nothing more than a caricature, so much of a cartoon character that he might as well be animated. Lumbard's performance is all surface and superficiality, lacking in any genuine or believable depth of feeling or emotion. He really seems too young for the part, which may be why his Scrooge never comes across as an old miser or curmudgeon. Never really mean or threatening, he's at times silly, at other times snarky or sarcastic, and his journey is never particularly engaging or believable, it never feels real or earned. He doesn't really even change that much from beginning to end and at times during the story he completely disappears, upstaged by everything else going on around him.
Part of that upstaging is because everyone else in the cast is uniformly excellent, with a few particular standouts. It's little surprise that one of those standouts is Lexi Windsor as Belle and one of the Solicitors who approach Scrooge looking for a holiday-time donation. Windsor has a great comic ability but also brings true, believable emotion to the role of Belle. Her scene with Young Scrooge, when they part ways, is one of the real highlights of the play, largely due to Windsor's performance. The other reason that scene is so good is because Young Scrooge is played by Andi Dema, who is outstanding in both that role and the role of Fred. Dema's Fred is all charisma, joy and energy, just how Fred should be, and his performance as Young Scrooge manages to reveal the emotional changes and turmoil in the young miser-to-be. Windsor and Dema also have great chemistry together, which makes the Young Scrooge/Belle moments crackle even more.
Another standout is Thomas E. Cunningham in three different roles, all excellently portrayed. His Marley looks like the leader of a rock band and is an imposing, intimidating force of nature. As Mr. Fezziwig, he switches from scary and intimidating to delightful, lively and fun, and then he switches again to creepy, downtrodden Old Joe, while never missing a beat. It's always exciting to see how the spirits will come to life on stage and this is one area where Lyric's production truly excels. Natalya Ferch is wonderful as Ghost of Christmas Past, with a personality, energy and charisma that sparkle as brightly as her costume. She also earns kudos for spending her entire time on stage in a way that can't be particularly comfortable, but she handles it with grace and ease (at least, she makes it look easy). Mateja Govich is just as perfect as Ghost of Christmas Present. This ghost is traditionally presented as larger than life and Govich creates that effect using only his stage presence, voice and charisma. He is both jovial and frightening, and equally believable at both, and always a pleasure to watch.
The Cratchit family gets more stage time in this version than in others, which is as it should be, as they are such important characters to the story. Here, Bob Cratchit is played wonderfully by Charlie Monnot, who gives the character truthful emotions throughout the highs and lows. As his wife, Mrs. Cratchit, Nakeisha McGee brings a lot of talent to the role, also providing the character with the necessary emotional depth and not wasting the moments when the focus is on her. Rounding out the adult cast are the always-excellent Mathew Alvin Brown as Topper and one of the narrators, Brenda Williams, who is hilarious and adorable as Mrs. Dilber and the other narrator, Jennifer Teel, who isn't given much to do but makes the most of it as Mrs. Fred and Charwoman, and Susan Riley who creates two very different characters in the Solicitor and Fred's sister-in-law. As the sister-in-law, especially, Riley is excellent, her antics at Fred's Christmas party are hilarious, her performance is among show's highlights.
There is also a young cast, of course, filling the roles of the Cratchit children and other young characters. In the opening night cast, the "Holly Cast," they are Camille Matlock, Lily Voth, McCall McCarty, Ethan Wells, Myles Currin-Moore, Reese Freund, and Emma I.X. Wells. Tiny Tim is the most well-known of all of the young characters, of course, and Myles Currin-Moore is adorable in the role.
Most of the best parts of this production occur when most or all of those talented actors are onstage together. When they sing Christmas carols together, led by Music Director Brian T. Hamilton, they sound absolutely gorgeous. The scene at Mr. Fezziwig's, which includes great choreography by Ashley Wells, is perfectly realized and executed and a lot of fun to watch. The main thing, though, that makes this production entertaining and fun to watch is the technical elements, which are nothing short of spectacular.
Kimberly Powers' scenic design is gorgeous and impressive. She perfectly creates the setting and puts us right onto the streets of London, with a huge clock face to remind us that for Scrooge, and for us, time is ticking away. Her use of a revolve at center stage allows for some really fantastic transitions from one scene to the next, especially going into Marley's appearance, and going out of Ghost of Christmas Present and into Ghost of Christmas Yet to Come. Speaking of that third and final ghost, it is represented by a fantastic giant puppet, designed by Penny Benson, that is wonderfully and perfectly utilized. Also perfect are the stunning costumes designed by Jeffrey Meek. There is an endless array of gorgeous dresses and other perfectly fitting period outfits. The spirits are also decked out perfectly in wonderful costumes. Not to be outdone, Weston Wilkerson's lighting design is also colorful, spectacular and perfectly utilized throughout every moment of the production.
Even with its flaws, Lyric's A Christmas Carol is undeniably remarkable in its production value and ability to create breathtaking moments on stage. For anyone wanting to see Dickens' timeless and beloved tale brought to life, this is an excellent choice.
Performances are November 29th through December 24th at Lyric's Plaza Theatre, 1725 NW 16 St. Showtimes are Wednesday and Thursday at 7:30pm, Friday at 8pm, Saturday at 2pm and 8pm, and Sunday at 2pm and 7pm. There is no Sunday 7pm show on the 24th but there is an added Tuesday show on the 19th at 7:30. Tickets start at $25, to purchase tickets to the production, or for more information, visit LyricTheatreOKC.com, or call Lyric's box office at (405) 524-9312.
Pictured: (from left) Jennifer Teel, Nakeisha McGee, Lexi Windsor and Susan Riley. Photo by KO Rinearson
Related Articles View More Oklahoma

Stories

Shows
Robert Barossi has worked in just about every possible job in professional theater, from actor to stage manager to company manager to box office and (read more...)