BWW Review: Lyric Theatre's MILLION DOLLAR QUARTET Is A Rock-n-Roll Hit You Can Bank On
Lyric Theatre kicks off its summer season with this rollicking concert of golden oldies - the finale medley alone is worth the price of admission, but Lyric's production serves up nearly two hours worth of your favorite hits from Elvis, Johnny Cash, Carl Perkins, Jerry Lee Lewis.
Loosely based on the true story of December 4th, 1956, when Presley, Cash, Perkins, and Lewis all gathered at Sun Records in Memphis, TN - the studio where they all got their start. There is an actual recording of this session, though most of the numbers in this particular show weren't recorded that day. Instead, the musical's writers use this as an opportunity to showcase many of the hit songs of each of these iconic artists.
The record producer Sam Phillips, ably portrayed here by Jeff Jeffers, is the glue that holds these musical geniuses together. In this fictionalized version of the story, Phillips' Sun Records is undergoing some financial struggles, and he is banking on discovering the next number-one single that will take his artists' (and his own) career to the next level. What he doesn't know is some of these men are looking to move on and up in the world, which sets up some dramatic tension throughout the evening.
Admittedly, the plot of this show is not necessarily its strong suit - the real point is to feature these quintessential tunes, and for good reason. Tried-and-true hits like "Blue Suede Shoes", "Great Balls Of Fire", "Fever", "Hound Dog" and many more each get their moment in the spotlight.
What's most exciting is every note of music you hear is being played live by the actors: piano, guitar, drums, upright bass, even a harmonica and tambourine thrown in now and again. These performers are musicians first and foremost, and it shows, yet none of them fall into the trap of impersonations...each actor brings his character to life with a crisp vitality that keeps the show nimble and appealing.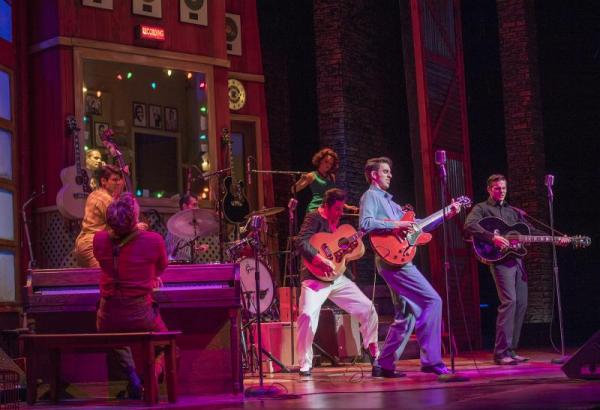 Billy Cohen as Carl Perkins brandishes his exemplary guitar skills and crystalline voice; his performances of "Matchbox" and "Who Do You Love" kick off the show with the perfect mix of nostalgia and contemporary sensibilities. Corbin Mayer's Johnny Cash delivers the ideal blend of suave and sheepish, and his lush bass-baritone is perfectly suited for Cash's acclaimed hits "Folsom Prison Blues" and "I Walk The Line" - the latter song's descending key changes prove one of the evening's highlights. Elvis Presley is played by Cole, who has performed in multiple productions of the show before as both Presley and Cash. Cole's Elvis is pitch-perfect: with your eyes closed, you couldn't distinguish his voice from the original. His rakish swagger shows why Presley became America's first musical superstar - his performance of "Hound Dog" left quite a few ladies swooning in the audience. Yet Cole also reveals Elvis' down-home boyish charm, especially in his interactions with his girlfriend Dyanne. Dyanne, a fictionalized version of Presley's girlfriend at the time, is played here by Emily Farr, who relishes the opportunity show off her splendid voice, especially on "I Hear You Knockin'." The most eye-catching performance of the night belongs to Gavin Rohrer as Jerry Lee Lewis. Granted, Lewis' over-the-top personality allows a performer to "go big or go home" and Rohrer does just that... his piano skills are unrivaled, and his brash certainty provides some of the funniest moments of the night (especially in his interactions with the session band: Adam Egizi on upright bass and Zach Yañez on drums...the unsung heroes of the show.)
Director Dave Steakley wisely steps back and lets his boys go to town when necessary, yet his subtle guidance of the tone and flow of the show does not go unnoticed. The costumes by the reliably-proficient resident designer Jeffrey Meek are period-perfect yet fashion-forward. Helena Kuukka's lighting and Adam Koch's sets work hand-in-hand seamlessly - the colors and patterns playing off each other consummately. Important to note: the musical performances wouldn't be as impeccable as they are without Anthony Risi's sound design, which subtly yet perfectly enhances the recording studio vs. live performance effects throughout the evening.
MILLION DOLLAR QUARTET serves as the ideal onset to the excellent summer season Lyric Theatre is offering to Oklahoma City audiences. Be sure to catch this show (playing through Saturday, July 1st) and the rest of their spectacular season. Tickets can be purchased here or by calling 405-524-9312.
Photo by KO Rinearson
Related Articles View More Oklahoma

Stories

Shows