Click Here for More Articles on STUDENT CENTER - COLLEGE EDITION

BWW PREVIEW: CENDRILLON - My First Real Opera, My First College Show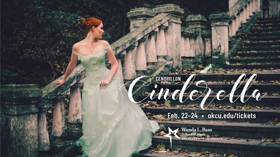 Jess here. So I've been in rehearsals for my first college show, and all I've wanted to do is write about it. Basically, I haven't been in an opera since I was... 11. And I played a little boy. In "Tosca." In one scene. So this show I'm in now is like, the real thing.
This production is called "Cendrillon." Now, if you're thinking that this title looks awfully similar to Cinderella, that's because it is. "Cendrillon" (Cinderella) is a four-act opera by Jules Massenet (music) and Henri Cain (libretto) that I love more than I love the color yellow. And that's a lot of love.
My paranoia about how terrifying this experience was going to be was way off. I enjoy scaring myself into thinking that things are going to be Doomsday, but this show is anything but that. I'll be part of the alto army, a streak I began in May of 2018. Let me just say, being an alto? Great. The best. To be honest though, a lot of the alto lines in this piece make my head hurt. But the AWESOME way you feel after finally getting that tri-tone or abnormal scale makes it all worthwhile.
I don't know how anyone can see Cinderella and not feel the slightest bit nostalgic. Being part of a fairy tale that toddler Jess used to sit in front of the TV and watch on VHS makes every rehearsal... a ball.
My time management has been... slightly unsuccessful. I always manage to get things done for school, work and the show, but sometimes I do this cute thing where I forget that I'm a human who needs food, sleep and trivial things like that. This production, however, is anything but a chore.
I love the cast. There are so many people in this show whom I've admired since I first set foot on the campus of Oklahoma City University, and having the opportunity to work with them makes my heart soar. Some of these students happen to be in my studio, and going from gushing about their performance in a masterclass to gushing from their performance in a show brings it all full circle.
And I don't know WHAT is in the water for the Class of 2022 but, my goodness. Every one of them is... otherworldly. They are an incredibly talented group, and I am so excited to see where they all go. And of COURSE it's an honor to get to perform with my colleagues of 2021! After spending a year and a half with these beauts, it's, once again, humbling, to see them in action.
And then, there are the adults in the room. Let me just say, I am an authority-fearing woman, and going from seeing a professor from like, across the hall, to being in the same room with them for three hours every night has changed my perspective greatly. Professor Karen Coe Miller is the coolest lady ever, Dr. Matthew Mailman is the "punniest" man around, and Professor Fitzgerald is the master of the keys (so much so that the strings tremble in fear).
Come see these amazing cast members perform in "Cendrillon." It runs from February 22-24, 2019 in the Kirkpatrick Auditorium.
Cendrillon: Jordan Knapick and Tessa McQueen
Stepmother: Caroline Hawthorne and Nadjalie Santos
Noemie: Hallie Schmidt
Caroline Allen (understudy)
Dorothee: Sabrina Brush
Taylor Stephens (understudy)
Fairy Godmother: Elina Moon and Solveig Neseth
Pandolfe: Yu He and Marcus Lonardo
Prince: Taylor Thomas
Sydney Claire Valaer (understudy)
King: Colton Stricklin
Dean/Tutor: Kevin Howery
Master of Ceremonies: Christopher Richie
Ensemble Women: Bailey Bovenschen, Caroline Carter, Annelise Harlan, Delanie Kinney, Emma Licata, Allie Milburn, Taylor Moran, Jessica Vanek
Ensemble Men: Evan Couch, Simon Gomez, Nathan May, Charlie Turner, Brandon Dallman, Austin Jones, Nathan LeBlanc, Nasir Panjwani
"To arrive at a ball is exciting and all - once you're there though, it's scary. And it's fun to deceive when you know you can leave, but you have to be wary." -Stephen Sondheim