Radiotheatre's KING KONG at St.John's Sanctuary
Dates

5/25/2022 - 6/4/2022

Theatre

Radiotheatre

radiotheatrenyc@aol.com
New York CIty,NY 10014
Twitter Facebook Instagram

Tickets Info

$15-30
Phone: 212 929 5213




Now in its 19th season in NYC, critically-acclaimed, multi-award winning Radiotheatre presents the greatest adventure tale of all time, KING KONG, live on stage! In 2006, Radiotheatre was the first theater group to perform the original version of KING KONG. Only in its unique presentation can they stay true to the tale's historical and cultural importance, as well as, to the influence which the 1933 film has had on cinema history. Like Beauty and the Beast, it's a tale as old as time. But, as a product of 20th Century Hollywood...it's about an independent film producer during the Great Depression who sails to prehistoric Skull Island to find a new subject for his next motion picture. Instead, he and his crew encounter a legendary 60 ft. gorilla, vicious dinosaurs and an unfriendly native tribe. With him is a beautiful starlet hoping to become world famous! When both Beauty and the Beast do open on the stage to a packed Radio City Music Hall, well, all Hell breaks loose and...Even if you know the story by heart, you've never experienced it like this. Please join us for a rousing adventure complete with great cast, award winning sound design, fabulous projections and original orchestral score...just bring your imaginations! "THIS SEASONED PRODUCTION COMPANY HAS DONE QUALITY OF WORK CONSISTENTLY ENOUGH TO BE CONSIDERED ONE OF NY'S BEST IN THE OFF OFF, INDIE AND BLACK BOX THEATER CATEGORY...they keep you engrossed with a kickass storyline, a lighting crew that specializes in mood control and of course a flawless sound effects professionalism that has become their signature statement at all of their shows." ROLLING STONE

News About Radiotheatre's KING KONG at St.John's Sanctuary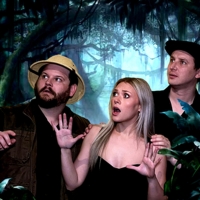 Radiotheatre's KING KONG Returns To NYC
April 13, 2022
One of its fans' all-time favorite shows, Radiotheatre's KING KONG has been produced several times in NYC since 2006. Now, they pull out all the stops for this great adventure classic with award-winning audio design, video projections, a fabulous cast and fantastic original orchestral music...all within 200 yrs old St.John's Sanctuary in historic Greenwich Village, NYC.

Radiotheatre's Annual EDGAR ALLAN POE FESTIVAL Returns To NYC
April 16, 2019
In celebration of its 16th Season in downtown NYC, the critically acclaimed, award-winning troupe of performers RADIOTHEATRE presents its 4th Annual EDGAR ALLAN POE FESTIVAL MAY 16-JUNE 1. A favorite event with its legion of fans, the last three POE fests SOLD OUT quickly filling the 192 yrs old ST.JOHN'S SANCTUARY in the heart of historic Greenwich Village. Amidst the flickering candlelight and foggy mist, the RT players will once again present LIVE ON STAGE a challenging repertory of the greatest of terrifying stories penned by the Master of The Macabre, Edgar Allan Poe (1809-1849) who once lived but a few blocks away and attended this very church.