TNC Presents JOSH: THE BLACK BABE RUTH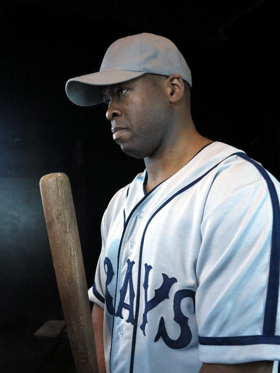 Theater for the New City (TNC) presented a highly successful developmental production of "Josh: The Black Babe Ruth" by Michael A. Jones last Spring in its small Cabaret Theater. In honor of Black History Month, TNC will re-mount the drama February 8 to 25, 2018 in its larger Cino Theater. Bette Howard directs. The play dramatizes the life, loves and ultimately the tragic decline of Josh Gibson, who was perhaps the greatest slugger of the Negro leagues and who, some say, died of a broken heart in 1947.
The play, based on real events, shows Gibson struggling heroically to make it into the Big Leagues with emotional support from his good friend, the legendary pitcher Satchel Paige, and from the two women who are rivals for his heart--his common law wife and his mistress. Despite his majestic on-field performance, there are immovable obstacles, including resistance to Black players by Major League club owners and Gibson's own personal demons, which suffocate his chances. Josh Gibson was born in Georgia in 1911 and moved north with his family to Pittsburgh, where he started playing baseball in the sandlots of the city's North Side. Recruited for the Negro Leagues, he proved to be a stout catcher but ultimately became legendary for his powerful bat. His lifetime batting average may have been as high as .384--the stats are unreliable--which was by far the best in Negro league history. He swatted 962 career home runs and died of a brain tumor--some said, a hemorrhage--at age 35 in 1947. Gibson was inducted into the National Baseball Hall of Fame in 1972, 25 years after his premature death. He was the second Negro Leagues player to achieve this honor; the first was the genius pitcher Satchel Paige. Gibson and Paige dominated the Negro Leagues from the depression through World War II. They were magnetic personalities whose star power drew fans to the ballparks and inspired African-American kids with their prowess. Legend has it that Gibson was the only batter ever to hit a ball completely out of Yankee Stadium. He was 6' 1", cheeky, garrulous and amiable, with mammoth forearms and supernatural upper-body strength long before steroids made such bodies suspicious in ball players. He was only 31 when chronic headaches led to his being diagnosed with a brain tumor in 1943. Observers blamed his heavy drinking and possible drug abuse. He died in Pittsburgh, at his mother's house, on January 20, 1947. Three months after his death, Jackie Robinson broke
Major League Baseball
's color barrier. A champion by temperament, Gibson was uncompromisingly determined to make it into the Major Leagues. There was never any doubt of his abilities. "I played with
Willie Mays
and against
Hank Aaron
," remembered Hall of Famer Monte Irvin. "They were tremendous players, but they were no Josh Gibson." The possibility of not breaking into the Majors was illogical and terrifying to Gibson and it turned into a paralyzing fear. In Jones' play, this fear is made palpable in his relationships with the other principal characters: his lover, Grace, his common law wife, Hattie, and his friend and affable companion, Satchel Paige. Their interactions reveal Gibson as a man made vulnerable by the onus of family obligations, personal vices, and the effects of racism in sports. Gibson becomes sort of a Black Philoctetes of Baseball, exploited by three forces: his tumultuous relationships, the Major League team owner's designs to maintain the color barrier, and the uncertain medical condition that affected his mood and personality. The production's soundtrack includes music of the pre- and post-WWII period. Throughout the play a Guitar Man, played by Perci Prince, provides musical underscore and performs a variety of ensemble parts. Featured are Dave Roberts as Josh, Daniel Danielson as Satchel Paige, Daphne Danielle as Josh's wife, Hattie; and Charletta Rozell as Grace, Josh's mistress. Costume design is by Katherine Roberson. Lighting design is by Michael Bell. Set and graphic design are by
Marlon Campbell
. Sound operator is Leila Wright. Co-producer is Janele Lester. Playwright Michael A. Jones is author of "It Takes a Village to Raise...Hell," produced by The Marian Holding Theatre; "Family Matters," produced at Pittsburgh Playwrights Theatre Company and "Angela's Justice," a play about
Angela Davis
that was presented by Theater for the New City's 2014 Dream Up Festival. His play, "The Skin I'm In," is touring the New York City public schools. He is a founding member of the Uptown Playwrights' Workshop. As an actor, Jones' credits include "A Night with
August Wilson
's Women," presented by Juneteenth Legacy Theatre at Nuyorican Poets Cafe (2010 AUDELCO winner, Outstanding Ensemble) and "Fences," presented by Morningside Players (2016 AUDELCO winner, Best Revival). "I am grateful for the opportunity to be welcomed by
Crystal Field
and TNC," said Jones. "In a city where playwrights and actors are on just about every corner, my plays have had a place to get footing, to expand, and to grow. The support for playwrights and artists at TNC is invaluable!" Director
Bette Howard
is an original member of the
Negro Ensemble Company
. She was awarded the
Lloyd Richards
' Directorial Award at the 2003 National Black Theater Festival in Winston- Salem for her direction of
August Wilson
's "The Piano Lesson." She also directed the AUDELCO Award winning hit play, "Kingfish, Amos and Andy" at the festival in July/August 2007. She created the role of Adele
Louise Parker
in the original Off- Broadway production of "Ceremonies in Dark Old Men," in which
Billy Dee Williams
played her brother. She also directed "Indigo," the longest-running black musical in the history of Canada. She is an Instructor/Director/ Artist-in-residence at the Black Spectrum Theatre, where she has directed "Flying West," "The Blacks," "A Raisin In The Sun," "One Monkey Don't Stop," "Five on the Black Hand Side," "Gypsy Cab" and "The Magic Crown." She received the
Lloyd Richards
Directorial Award from Black Spectrum and is a three time AUDELCO winner for directing.
Photo: Dave Roberts as Josh Gibson. Photo by Jonathan Slaff