BWW Review: Shopping Is Serious Business in Cheryl Stern's Hilarious and Poignant SHOES AND BAGGAGE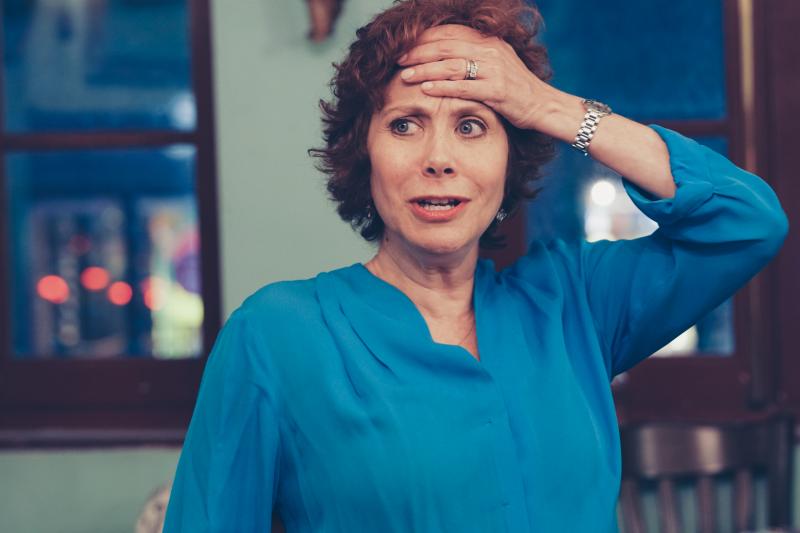 Broadway veteran Cheryl Stern's SHOES AND BAGGAGE, incubated at Nancy Manocherian's The Cell, is a sharply-written musical comedy gem about a woman's lifelong obsession with shopping. The autobiographical tale by the Jonathan Larson award-winning writer (who also wrote the lyrics for the fine music by her Drama Desk nominee and Emmy winning-composer husband, Tom Kochan) is punctuated both by moments of genuine self-awareness and tragedy--from 9/11 to her best friend's death from cancer. Under Joe Barros' direction, the result is a ferociously honest show that doubles as a memoir about a "working [stage] actor" (not to be confused with a "star"), whose Jewishness lovingly and palpably informs every scene.

Someone lacking in empathy and humor might dismiss the show with the hashtag #whitepersonproblems or #firstworldproblems. But a theatrical work need not tackle Liberian sex trafficking (Eclipsed!) or economic despair and racial conflict in a dying Pennsylvania steel town (Sweat) to have artistic value. And while the quest for a marigold clutch or pants to match an unflattering, but expensive, cobalt blue blouse may not be consequential, it feels that way to someone, like Stern, "literally bred to shop."

The show opens with Cheryl in a panic because bills are due from "the three Bs: Bergdorf, Barneys, and Bloomingdale's, plus Saks, Am Ex and two Visa's." "Five crisp shopping bags full of tissue paper-wrapped loot" sit in the closet, and she is, once again, unemployed.
Taking a deep breath, she reaches for her "happy pink Simple Abundance book on the nightstand." Anyone at least twenty in the early 1990s remembers those daily meditation books modeled on Alcoholics Anonymous' One Day At A Time, which popped wherever books were sold. Everyone and their mother seemed to be in a 12-step program (even if just one of the companion groups, like Al-Anon), and even those who weren't, bought books like Daily Meditations for Women Who Love Too Much.

SHOES AND A BAGGAGE is full of small details like this silly--and clearly useless--self-help book that evoke a small avalanche of associations which make us smile at her plight. (If these books worked, she wouldn't have been neck-deep in debt.) And even if, like me, you were raised by an extremely frugal (gentile) mother ("cheap," joked my Jewish father, who was actually far nuttier than she when it came to money), and therefore the model of fiscal restraint, you've known women like Cheryl.
The breathless cycle of buying and returning ("you can always exchange at Nordstrom!") is insane, but you don't get frustrated (well, not too frustrated), because apart from this maddening self-destructive conduct, she's otherwise a together, cool broad you regret not knowing all your life. Cheryl's relationship to Rena, her chic Upper East Side best friend from Northwestern, serves as the show's emotional anchor. Rena admires Cheryl for pursuing her dream, though she's horrified by her "meager income" and modest Upper West Side life (before the UWS was as expensive as the UES).

Now debt is debt, whether incurred through gambling or shopping. But shopping is about beauty, at least in part. Gamblers try to fix their lives by winning money they can't earn. They thrive on the rush, but not for anything in particular. Gamblers rarely gain anything tangible (and if they do, they soon lose it). Shopping addicts are misguided in believing that the perfect coat or newest color Cole Hahn flat will cure all life's troubles, but they're not wrong to endow those objects with value. A closet full of flattering clothes, beautifully-crafted bags, and eye-catching shoes does yield pleasure. One of the show's best songs, "High From the Buy" drives the point home nicely.

We learn, through a series of flashbacks, how Cheryl came to believe in the mystical power of a Louis Vuitton bag or a Chanel suit. For her Jewish mother, who naturally thinks her daughter has "a much better voice than that Kristin Chenoweth," shopping was the answer to life's problems, whether large or small.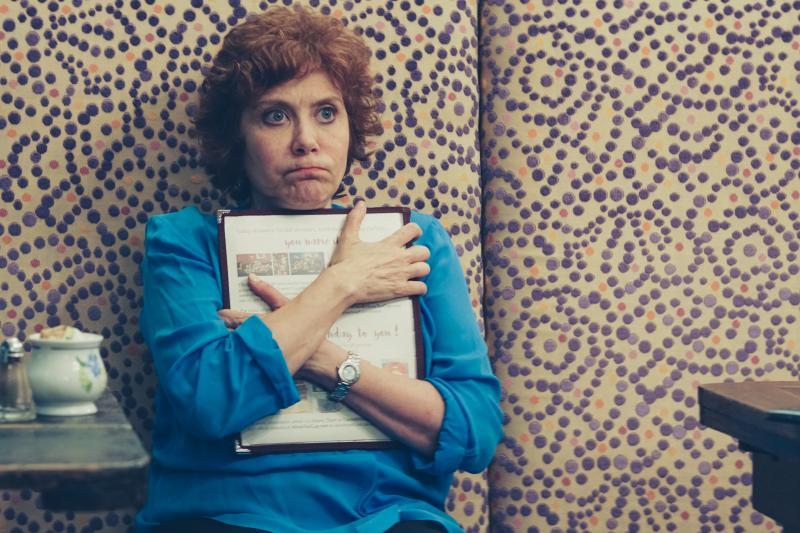 At 12, Cheryl is diagnosed with scoliosis and the doctor says she will need to wear a brace for four years. No, it's not cancer, but the pain her parents feel at the disfigurement of their daughter cannot fail to elicit tears. And in fact, it is young Cheryl who summons the strength not to let this disability defeat her. The flashbacks are both vivid and artfully placed; each one deepens our empathy and affection for Cheryl.
And while her mad acquisitiveness is humorously presented, debt is no joke. The fate of her good friend, once high up at Vogue and Marie Claire, whose desperate financial picture at 59 forces her to leave New York and take a job a Home Depot (in Virginia, no less) is grim.

Some of the funniest material centers on Jennifer Tilly, Cheryl's co-star in the 2001 Broadway revival of The Women, which also starred Cynthia Nixon (at the height of her Sex and the City fame) and Kristin Johnson (a household name from her years on Third Rock from the Son). A exceptional mimic, Stern gets Jennifer Tilly's distinctive voice and over-the-top affect just right.
The vignette about opening night is another highlight. There has been a mistake: the dress, made for her by Alvin Valley, "has no room for [her] boobs." "You can't wear that out of the house," her husband states matter-of-factly. Valley tells her to tape them in (like all the models do, he assures her). Her mother has shipped a mink to the city, but in all the chaos, Stern has forgotten that Cynthia Nixon is a big-time PETA activist. She rushes to check the coat, then nearly freezes to death on the red carpet during pictures.

Rehearsals for The Women began shortly before 9/11. After every legitimate catastrophe, Cheryl vows never to shop again. She calls director Scott Elliott, worried about mounting a show about catty rich women who shop and sleep with each other's husbands when New York had been "murdered." The show did indeed go on--as did shopping. In Tilly's words, "It's your civic duty to help the economy." Tilly makes another appearance in the scene about the "butterscotch mink." Cheryl's Russian accent is on point as she morphs into Arlene, the furrier Tilly insists they visit.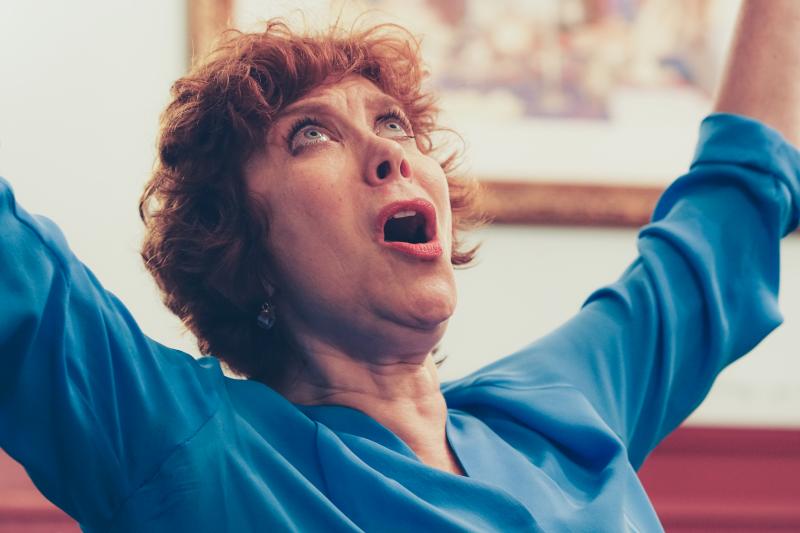 After The Women, Cheryl becomes a coach for shoe mogul Beverly Feldman, an insecure, older "Jewish tigress" who needs help with her Home Shopping Network appearances. By 2008, this cash cow is empty, with retail reeling from the financial crisis. Cheryl, via her friend Karen, finds her way to Debtors Anonymous, and learns that one can rock a 100 dollar dress and shoes that don't cost as much as a week's pay at the Roundabout Theater.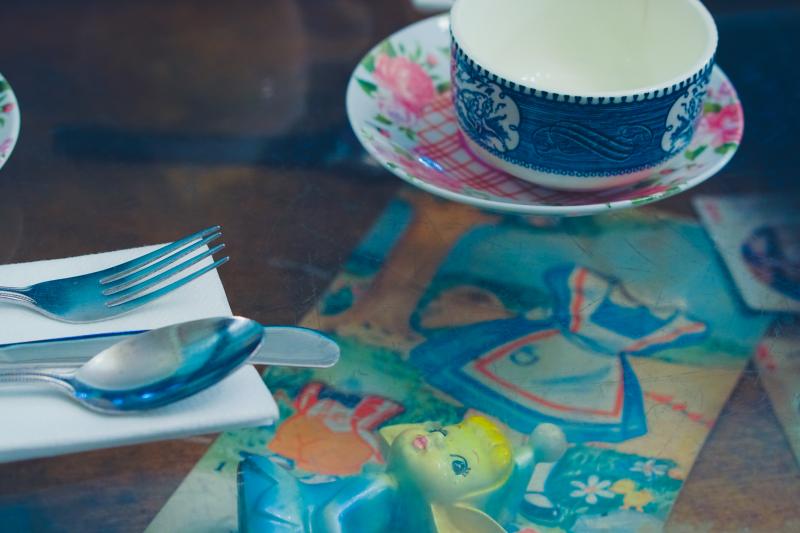 An audience clothing swap follows the show produced by Out of the Box Theatrics and resourcefully staged at Alice's Tea Cup, Chapter II. It's a lighthearted reminder that clothes need not be expensive or new to provide a rush. I brought a never worn, badly cut Coldwater Creek floral linen maxi-dress (read: potato sack) from Mom. The consensus: donate it to Housing Works. But I walked away with a sexy, sheer pink top to add to my closet full of resale and consignment finds.