Wheelhouse Theater Company Presents The New York Premiere of Aaron Posner's LIFE SUCKS.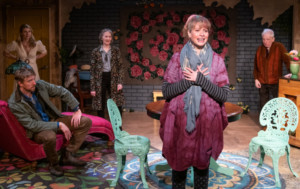 Wheelhouse Theater Company is continuing its red-hot streak as rave reviews pour in for its New York premiere of Aaron Posner's LIFE SUCKS,which is sort of adapted from "Uncle Vanya" by Anton Chekhov.

Fresh off the heels of their critically acclaimed revival of Happy Birthday, Wanda June, Wheelhouse and its Founding Members, Matt Harrington, David Kenner, Michael Schantz, and Jeffrey Wise, are presenting Life Sucks., through April 20th at The Wild Project (195 East 3rd Street). The cast features Jeff Biehl, Nadia Bowers, Kimberly Chatterjee, Barbara Kingsley, Stacey Linnartz, Austin Pendleton, and Michael Schantz. Wheelhouse's Jeff Wise directs the production.
"The women are all exceptional too," she continued. "They express their feelings adeptly and as each exposes herself to the audience, you just want to love and comfort them. Nadia Bowers, as Ella, the eternal beloved, is artistically multi-faceted and physically so facile that it tears your heart that she's stuck with such a schmuck. Wait a minute. He's old and sick. May her next selection be better! It certainly can't be worse. Kimberly Chatterjee's Sonia has an excess of misguided faith in her future, but an ability to face the truth and go on with the cards she's been dealt. Stacey Linnartz as Pickles can't face the truth, but you want to offer her solace and hope things may turn out better for her than she expects. Barbara Kingsley's Babs is older. She has seen the world and served herself what she wanted when she wanted it."
She concluded her review with the following line: "Aaron Posner's pre-communist Russian countryside was very intriguing to behold. And the audience certainly thought so."
It's Chekhov without the birch trees. After taking aim at The Seagull with his "explosive" Stupid F*cking Bird,
Aaron Posner
is back with an irreverent contemporary remix of Uncle Vanya. Egos clash, hearts hunger, and souls cry out for meaning in this raw and hilarious reimagining of Chekhov's timeless classic, receiving its New York premiere by the red-hot Wheelhouse Theater Company. Life staggers. Life confounds. Life is beautiful. And LIFE SUCKS. Life Sucks. was first produced by Theater J at the Aaron and Cecile Goldman Theater in Washington, D.C. Wheelhouse's production will feature scenic design by
Brittany Vasta
, costume design by
Christopher Metzger
, lighting design by Drew Florida, andsound design by Mark Van Hare. The Production Stage Manager is
Tim Love
, and the Executive Producer/General Manager is
Visceral Entertainment
-
Michael Chase Gosselin
&
Tim Sulka
. Performances vary week to week. For a complete schedule click here:
www.wheelhousetheater.org
Tickets will go on sale at
wheelhousetheater.org
on Tuesday, February 12th. Preview prices are $20-$59 (not including fees), and regular performance prices are $20-$79 (not including fees).
Related Articles View More Off-Broadway

Stories

Shows
More Hot Stories For You