United Palace To Host Poignant One Man Show From Leland Gantt RHAPSODY IN BLACK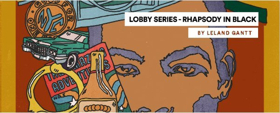 On Tuesday, June 5th, the United Palace of Cultural Arts will host 'Rhapsody in Black,' the autobiographical one-man play written and performed by Leland Gantt (best known for his roles in the Oscar-nominated Requiem for a Dream, Law and Order, and more). Developed at NYC's Actors Studio with Academy Award-winning actress Estelle Parsons as Directorial Consultant, 'Rhapsody in Black' is a searing portrait of Gantt's personal journey to understand and eventually transcend racism in America - following him from his underprivileged childhood in the ghettos of McKeesport, Pennsylvania, to teenage experiments with drugs, to his eventual rise in acting and a bittersweet success that often finds him as the only African-American in the room.
A charming, self-deprecating and at times devastating ode to being marked as "The Other," Gantt's passionate, poignant and Gospel-like delivery earned him a "Best Storyteller" award and Estelle Parsons a "Best Director" award at the United Solo Festival upon its debut in 2014. The Beauty Myth best-selling author Naomi Wolf calls it "one of the most profound documents I have encountered about what it feels like to be African-American in America". LeLand's former co-star - the 6x Academy Award nominee Ellen Burstyn - deems it "a searing portrait of the effects of racism on one multi-talented artist...everyone should see this play."
'Rhapsody in Black' is part of the United Palace's "Lobby Series," which brings intimate performances by local artists to the United Palace's 3-story-ceilinged, ornately decorated, and acoustically rich Grand Foyer. Formerly known as the Loew's 175th Street Theatre, the United Palace is located at 4140 Broadway at 175th Street in Washington Heights. Designed by acclaimed architect Thomas W. Lamb, the space originally opened in 1930 as one of the metro area's five Wonder Theaters, and continues today to be a hub of creative expression and personal growth fusing culture, spirituality, and entertainment.
TICKETS
Free; RSVP via United Palace Website
Seating is limited to 125 guests and is first come, first served.
Recommended for ages 13 and older.
MORE INFO ON UNITED PALACE
Website
Facebook
Twitter
Instagram