Theatre East Premieres PETIE Tonight at Urban Stages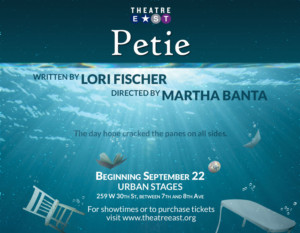 Theatre East's 2017-18 Season kicks off with the World Premiere of Petie from tonight, September 22nd to Saturday, October 7th at Urban Stages, 259 West 30th Street (between 7th and 8th Aves).
An agoraphobic travels the rough terrain of guilt and loss as a mother struggles to hide key details about her son's death from her estranged daughter. As the 10th anniversary of the devastating family tragedy approaches, Bonnie and her daughter, Jesse, will either find new faith in each other, or destroy what little they have left. Petie explores redemption and the oftentimes turbulent relationship between faith and mental health through the eyes of a mother and daughter.
The play, written by Lori Fischer, a 2008 New York University Harry Kondoleon Graduate Award recipient in Playwriting and a 2008-09 Dramatists Guild Fellow includes a cast of Zachary Clark as Rick, Lori Fischer as Bonnie, Arielle Goldman as Jesse, Judson Jones as Daddy, Grayson Taylor as Petie, Emily Verla as KM. They will be under the direction of Martha Banta (The Public Theater, Rattlestick, New York Theater Workshop). The creative team includes, Libby Jensen (Production Manager), Steven Brenman (Scenic Design), Zach Murphy (Lighting Design), Sherry Martinez (Costume Design), M. Florian Staab (Sound Design and Composition), Cath Shelton (Production Stage Manager) and Christa Kimlicko Jones (Assistant Director). Associate producers include, Harvey and Kathleen Guion.
Theatre East stirs the human side of current issues by fostering new plays of social relevance through New York and World Premieres. The 501(c)3 nonprofit theatre company's mission is to advance the dialogue of the shared human experience through works that utilize simple storytelling, providing their community with a platform to deepen their understanding of themselves, each other and the world they share.
The company was founded in 2008 by husband-and-wife producing partners Judson Jones (Artistic Director) and Christa Kimlicko Jones (Associate Artistic Director), along with Joseph Mitchell Parks, after producing such hits as the premiere of Christopher Durang's The Vietnamization of New Jersey (NY Times Critic's Pick), and the premiere of Texas playwright David W. Crawford's Harvest (BackStage Critic's Pick, Smith & Kraus Best New Plays of 2008), as well as earning a spot as producers to watch in 2008 on PBS's Theater Talk. Since its founding, Theatre East has mounted such critically acclaimed New York and World Premieres as Tim Blake Nelson's Eye of God, Cyndi Williams' A Name for a Ghost to Mutter, Daniel McIvor's The Soldier Dreams, Bennett Windheim's Normalcy, Megan O'Brien's The Jungle Book, and Devil and the Deep with original music and lyrics by Air Supply's Graham Russell.
Tickets are $18.00. For more information, visit www.theatreeast.org.
More Hot Stories For You