South Korean Theater Director Dimo Kim To Stage New Musical COMFORT WOMEN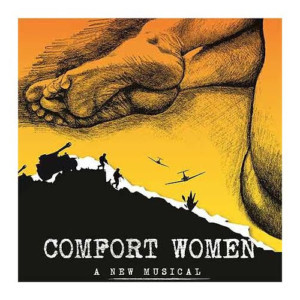 Dimo Kim Musical Theatre Factory, a new theatre company providing more roles for Asian American actors has announced that it will present the Off-Broadway revival of COMFORT WOMEN: A NEW MUSICAL written by South Korean Theater Director Dimo Hyun Jun Kim, Osker David Aguirre, and Joann Malory Miese with music by Bryan Michaels and TaeHo Park on Friday, July 20ththrough Sunday, September 2nd at the Peter Jay Sharp Theatre (416 West 42nd Street). The official opening will be on Friday, July 27th. The production is supported by the Korean Council for the Women Drafted for Military Sexual Slavery by Japan.
COMFORT WOMEN: A NEW MUSICAL first premiered at Theatre at St. Clements in 2015, and was nominated for Best Off-Broadway Musical by BroadwayWorld and has received critical acclaim for shedding a light on the horrific story of 'comfort women' and featured the first all-Asian Off-Broadway cast led by an East Asian native.
Set in Korea under Japanese colonial rule, COMFORT WOMEN tells the story of a Korean teenage girl named Goeun who embarks on a journey to Tokyo to make money for her family, but ends up at a 'comfort station' in Indonesia, where hundreds of teenage girls were abducted and forced to become sex slaves, also known as 'comfort women,' for the Japanese Imperial Army during World War II. The musical evolves around the stories of Goeun and other 'comfort women,' and the audience witnesses how such a tragedy can permanently and painfully transform the life of a young woman.
Based on true war crimes committed by the Japanese Imperial Army, 'comfort women' included girls as young as 14, who were promised with well-paying jobs abroad but instead were taken to islands in Indonesia to forcefully serve as sex slaves for 50 to 100 soldiers a day. Many died from the horrendous mistreatments, and the small number of survivors still alive today are scarred forever, living in shame and reluctant to speak out about what happened to them.
"In the past century, Korea and Japan have dealt with many historical arguments," says Mr. Kim. "Sexual Slavery is one of the most controversial subjects between our two countries. But in the past 70 years, Korea couldn't get an official apology from Japan. I believe that our generation has a responsibility to remind the world of the distorted history of sexual slavery and human rights. But, sexual slavery is not just a political problem between Korea and Japan. It is a global human trafficking issue from other countries as well. Victims from world war 2 are still alive and what's most troubling is that it's still happening in the world."
As for the casting, Mr. Kim explains that in the past 5 years, "Asian actors were cast in only 2 percent of the roles in Broadway and major Off Broadway productions, so I'm very happy to offer this opportunity to 22 Asian actors. I hope this production can be one of the starting points for a golden age of Asian Theatre and help solve this historical problem that previous generations of Asian actors have struggled with."
COMFORT WOMEN: A NEW MUSICAL features Associate Director, Mark Cirnigliaro, choreography by Natanal Hyun Kim and music direction by Tek Goo Kang, set design by Stella Hyun Joo Oh and associate Kelvin Pater, lighting design by Byung Chul Lee and associate Jiyoung Chung, sound design by Tae Jong Park and associate Gahyae Ryu, mixing engineering by Jisu Jang, costumes by Lucius Seo. The show's dramaturgy is Dayoung Jeong, General Manager is Sarah Reynolds, the Managing Director is So Jung Choi, Production Manager is Michelle Strauss and Production manager is ALEXIS NALBANDIAN, Stage Manager is Dennis Ho and the assistant stage manger is MARIKO TAKIZAWA .
This production is hosted by I.A. Lab and Hwarang Entertainment, and is produced by the Dimo Kim Musical Theater Factory, Sejoon Oh, and Matthew Thomas Burda. Associate producers are Janice Yeonju Lee and You-rhee Min. Marketing is by Hyun (Amy) Jae Hong.
Dimo Hyun Jun Kim (Director/Playwright/Executive Producer) is from Seoul, South Korea. He is a proud member of the Stage Directors and Choreographers Society and Chairman of Dimo Kim Musical Theatre Factory LLC. He was Opening & Closing Ceremony Advisory Committee at Pyeongchang 2018 Winter Olympics. Dimo made his Off-Broadway debut in 2015 with Comfort Women: A New Musical (Nominated for best Off-Broadway Musical by Broadwayworld). This marks the first all-Asian off-Broadway cast to be led by an East Asian native. He came to New York with the ambitious aim to make his own Broadway musicals. Off-Broadway: Interview: A New Musical, Green Card: A New Musical, Innermind, Comfort Women: A New Musical. Other selected credits include In The Heights, Richard III, See What I Wanna See, A Midsummer Night's Dream, As You Like It, West Side Story, Advice To The Players, The Cherry Orchard, Godspell, The Upper Lip, Finding My Way Back Home, Promenade, Life Is A Dream, West Side Ballad, Our Town, Art, Joseph And The Amazing Technicolor Dreamcoat, Spring Is Arising and Jesus Christ Superstar. Education: Columbia University (MFA 2021), City College of New York (BA).
Osker David Aguirre (Playwright) is an actor/ writer from New York City who is currently based in LA. Since moving to Los Angeles he has had the privilege of working on many commercials and music videos. His most recent work is a music video called BANSHEE by Lauren Bombay. Previous stage credits include Interview: A New Musical where he made his Off-Broadway debut.
Bryan Michaels (Composer/Lyricist) recent Off-Broadway credits include composer and lyricist for Green Card: The Musical in 2016 and lyricist and book translator for Interview: A New Musical in 2017. He was composer and lyricist for the original 2015 production of Comfort Women, updated songs for the 2018 revival, and is currently writing music and lyrics for Dimo Kim Musical Theater Factory's upcoming Flushing: A New Musical. Michaels' work has been performed and adapted for theaters in NYC, Hancock, NY, and Boston, MA, with new lyrics recently commissioned for a corporate ad campaign premiering in Seoul, South Korea. When not writing, he enjoys spending time in the orchestral pit and has conducted/music directed A Year With Frog and Toad, Spring Awakening, Next to Normal, Shrek, Promenade, Rent, Fiddler on the Roof, Annie, Hello Dolly!, Will Rogers' Follies, Hair, The IT Girl, Redhead, Beauty and the Beast, Cats, Grease, The Wiz, Honk!, Snow White, A Connecticut Yankee, Children's Letters to God, and A Funny Thing Happened on the Way to the Forum, among others.
TaeHo Park (Composer) is a composer and music director in South Korea. He received his BFA degree in Performing Arts Technology from University of Michigan, Ann Arbor, and he made his Off-Broadway debut with Comfort Women: A New Musical. He has also written music for Green Card: A New Musical and scored several independent films. Currently, he is working on an episodic web drama that will premier to Korean and Chinese audiences. In addition to his work as a composer, TaeHo serves as the Chief Strategy Officer to Goodhertz, Inc., a creative audio software company specializing in sound plugins.
JOANNE MIESES (Playwright) is a working director/playwright in film and theatre with a B.A. from The City College of New York in Theatre and English Literature. Born and raised in New York City, she has now relocated to San Antonio, Texas. Joann has co-written Comfort Women: A New Musical which premiered at Theatre at St. Clements in 2015 with the Dimo Kim Musical Theatre Factory, and wrote two one-act plays entitled Muñeca, and The Walk to Your Bedroom. She has also been an Associate Director with the Dimo Kim Musical Theatre Factory for the premier of Green Card: A New Musical in 2016. Joann has worked on short films as both a First Assistant Director and Assistant Director with Last Slice Pictures and Navigo Productions in the last few years.
Performances are on Wednesdays, Thursdays, Fridays and Saturdays at 7:30PM with matiness on Saturdays at 2PM and Sundays at 2PM. There are also Sunday evening performances at 7PM.
Tickets are $39 - $79 and available at https://www.dimokimfactory.org/tickets- by calling Ticket Central at 212-479-4200 or at the Ticket Central box office prior to each performance.
Dimo Kim Musical Theatre Factory is a theatre company based in New York City and providing more opportunities for Asian American actors and theater professionals. Since its foundation in 2015, its staff has been committed to the development and production of entertaining and thought-provoking contemporary musicals that can engage audiences from all over the world. The company stages emotionally engaging stories that deserve to be told in musical form, through collaboration with multi-talented and multi-ethnic artists.
Related Articles View More Off-Broadway

Stories

Shows
More Hot Stories For You