Russia's State Theatre Of Nations Production Of Chekhov's IVANOV At New York City Center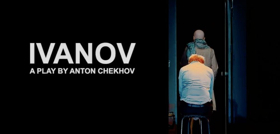 Maria Shclover and Irina Shabshis, Cherry Orchard Festival's co-founders and producers, today announced Russia's State Theatre of Nations will return to New York with Anton Chekhov's Ivanov, his timeless dramatic play about an antihero, a melancholic upper-class man struggling to regain his former glory, June 14 -17 2018, at New York City Center (131 W. 55th Street), as part of the VI Cherry Orchard Festival of the Arts.
The prolific theater and opera director Timofey Kulyabin, best known for his controversial take on Wagner's Tannhäuser at Novosibirsk Opera and Ballet Theatre in 2014, directs an award-winning cast, led by Evgeny Mironov, Chulpan Khamatova, Elizaveta Boyarskaya, and Victor Verzhbitsky. Premiered in Moscow on December 23, 2016, the production was nominated for the prestigious Golden Mask National Theatre Award (the equivalent of the Tony Award) in multiple categories.
Performed in Russian with English supertitles, Kulyabin's daring take on Ivanov retains Chekhov's keen observation, comedic eye for social detail, and instinct for the drama of human contradiction.
The schedule of performances is Thursday, June 14, Friday, June 15, and Saturday, June 16 at 7:30 PM; Sunday, June 17 at 2:00 PM.
The State Theatre of Nations has a special connection to Anton Chekhov, who made his debut as a playwright with this play in 1887 at the request of Fyodor Korsh, founder of the very first private theatre in Moscow, which is now the home of the State Theatre of Nations.
Filling out the cast of Ivanov are Igor Gordin, Dmitriy Serduk, Alexander Novin, Natalya Pavlenkova, Tatyana Shankina, Marianna Schults, and Alexey Kalinin. The set and costume design is by Oleg Golovko, the lighting design is by Denis Solntsev, and dramatic adaptation is by Roman Dolzhansky.
Tickets for the performances are priced at $45. - $155. and are available at the New York City Center Box Office in person or by calling CityTix 212.581.1212, by visiting http://www.nycitycenter.org/tickets or by visiting CherryOrchardFestival.org. Student discounts are available at the box office with valid ID. For group sales, please contact the Cherry Orchard Festival Foundation directly 800.349.0021 or by emailing info@cherryorchardfestival.org
In 2016 Cherry Orchard Festival presented Theatre of Nations in its critically acclaimed run of Shukshin's Stories based on Vasily Shukshin's post-Stalinist stories, under the direction of the Latvian director Alvis Hermanis, at New York City Center and Boston's Cutler Theater. Most recently, in January and February 2018, the Festival presented eight performances in Boston and Chicago of Brodsky / Baryshnikov, a one-man performance conceived and directed by Alvis Hermanis, noted Latvian director of the New Riga Theatre, based on the poems of Nobel laureate Joseph Brodsky, and performed by Mikhail Baryshnikov, an old friend of the poet.