Photo Flash: 'The Guest of Central Park West'
The WorkShop Theater Company, Artistic Director Timothy Scott Harris and Managing Director David Pincus are pleased to announce as its next main stage production The Guest at Central Park West, the 2007 Audelco award winning play, written by Levy Lee Simon, starring John Marshall Jones and directed by Thomas Cote. The production begins previews Wednesday, February 20th at 8:00 pm and opens Monday, February 25th at 8:00 pm.
Performances continue Wednesdays through Saturdays at 8:00 pm through March 15th. Tickets are $18.00 for general admission and $15.00 with current student ID. TDF accepted. For reservations please call 212-695-4173 or visit TheaterMania.com to purchase tickets online. The WorkShop Theater is located at 312 West 36th Street, on the Fourth floor, between Eighth and Ninth Avenues.
"In
The Guest at Central Park West,
African-American Professor Charles Watts is no longer safe in his own home. Every phone call is a potential death threat. Every stranger, a potential enemy. Still, tonight he is celebrating. After receiving the Nobel Prize for his pacifist book, The Eyes of Peace, Charles and his wife, Nina, are going forward with a dinner party in honor of Charles' achievement. The guests are white professors, Eric Engles and his wife Jennifer, whose marital tensions often eclipse the political tensions that mount during the evening. That is until an unexpected guest arrives at this Central Park West address - Terrence Barlow. Terrence is a homeless drifter with a scintillating mind and a violent disposition. Still, Charles welcomes him with open arms to the dismay of his already fearful wife and friends. When Nina's bi-racial daughter Lisa and her boyfriend the white dreadlocked thug rapper Seth arrive, the rage in Terrence leads to life or death proportions. Terrence exposes a different side of the peace loving Charles, and the future of all the guests will be forever altered by the man who was left behind," explain press notes.

The Guest at Central Park West
stars John Marshall Jones who is best known as the loving father, Floyd Henderson on Family Channel's "Smart Guy" (and also FOX network's "John Doe" shot in Vancouver last year). He has compiled an impressive list of credits since coming to Hollywood from Chicago's "Second City Theatre" in 1987. Two months after he arrived, he booked "Good Morning, Vietnam." Since then, he has starred in four television series, nine recurring characters (presently on CBS's "Still Standing", "Navy N.C.I.S." and "Joan of Arcadia"), over 100 television episodic (both sitcom and one hour), 20 A-list feature films and 10 MOW's.
Director Thomas Cote helmed The WorkShop Theater's production of The Devil and Billy Markham which later continued a run through Algonquin Productions. Other WorkShop productions include the premieres of The Jazz Age by Allen Knee, Raisins Not Virgins , When it Rains and Certain Souls. For more info. please visit: www.workshoptheater.org
Photos by Gerry Goodstein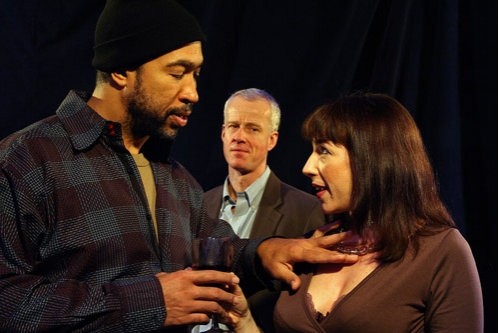 l-r: John Marshall Jones, Jed Dickson and Tracy Newirth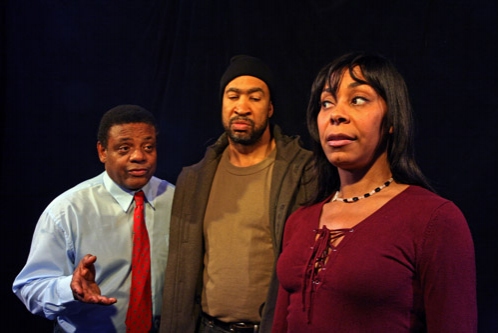 l-r: Harvy Blanks, John Marshall Jones and Trish McCall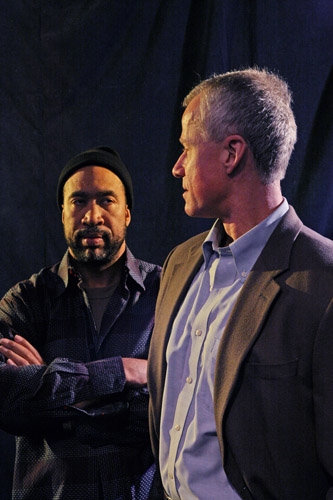 John Marshall Jones and Jed Dickson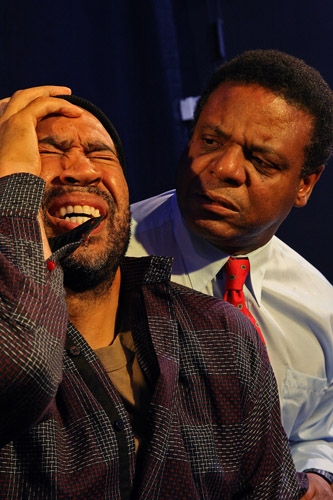 John Marshall Jones and Harvy Blanks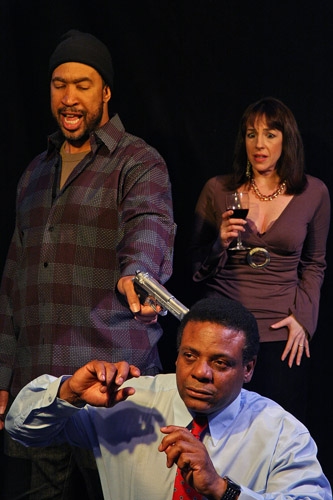 back, l-r: John Marshall Jones and Tracy Newirth (front) Harvy Blanks
Related Articles
From This Author BWW