Click Here for More Articles on The Fantasticks
Photos: 'The Fantasticks' Donate with 'Good Morning America'
On Tuesday, January 15, 2008, Douglas Ullman, Jr. and Julie Craig, stars of the hit Off-Broadway show The Fantasticks, donated coats to their neighbors at "Good Morning America" for the "Warm Coats, Warm Hearts," program, which is dedicated to helping those in need during the cold winter season.
The "Warm Coats, Warm Hearts Drive" launched on December 6, 2007 and will last until January 31, 2008. Donations are accepted at 379 Burlington Coat Factory stores across the country, as well as outside "Good Morning America's" Times Square studio location.
For additional information on Warm Coats, Warm Hearts visit:
ABCNews.go.com/GMA/WarmCoats/story?id=3958397

The Fantasticks is the beloved musical love story by Tom Jones and Harvey Schmidt. Produced by Steven Baruch, Marc Routh, Richard Frankel and Thomas Viertel, The Fantasticks plays at New York's Snapple Theater Center (210 West 50th Street at Broadway) in the newly named Jerry Orbach Theatre. Tickets are $76, with a special $36 ticket price for selected seating on Sunday evening performances, and can be purchased through Ticketmaster.com at
(212) 307-4100
.

The playing schedule for
The Fantasticks
is as follows: Monday at 8 p.m., Tuesday at 7 p.m., Wednesday at 2 p.m., Friday at 8 p.m., Saturday at 2 p.m. & 8 p.m. and Sunday at 2 p.m. & 7 p.m.
For additional information on The Fantasticks, please visit: www.FantasticksonBroadway.com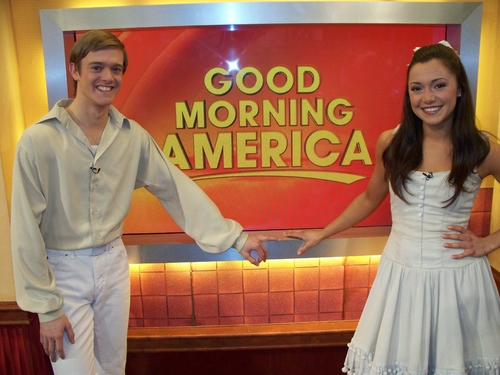 Stars of The Fantasticks: Douglas Ullman, Jr. (Matt) and Julie Craig (Luisa) at the ABC "Good Morning America" studio