Photo Flash: STUCK At The Clurman Theater
The scarlett theatre/film project, Robert E. Schneider and Jack Thomas/Bulldog Theatrical will present STUCK by Jessica Goldberg at The Clurman Theatre at Theatre Row from February 11 - 21. Marshall Pailet (The 49 Project) will direct the 90-minute play starring Anthony Alessandro, Steven Hauck, Kate Kearney-Patch, Kate MacCluggage and Athena Masci.
Set in backwater Middletown, USA STUCK tells the tale of two twenty-three-year-olds, Lula and Margaritah, best friends since they were five years old. They work at a dead-end job at a local video store during the day and hang out in the car at night, wishing they could get out of Middletown. Stifled by their environment, the joy and excitement that the girls once found in their friendship has sadly waned. Margaritah falls in love with an Argentine wheeler-dealer whose politics are as mysterious as his business agenda. Lula hits the bars and ends up with the man of no one's dreams. Both affairs end in despair, and each girl grows increasingly determined to escape the drudgery of their lives. But the price will be higher than either can imagine. Try as they might, they may just be STUCK - for good.
The design team includes scenic designer Brandon Giles, lighting designer Robert Lilly and co-sound designers Drew Fornarola and John Fontein.
STUCK- runs February 11- 21
Tuesdays 7pm, Wednesdays-Saturdays 8pm and Sundays 3pm
The Clurman Theatre at Theatre Row
(410 West 42nd St.?between 9th & 10th Ave)
Ticket are $18 and available at www.ticketcentral.com
or by phone at 212-279-4200.
Photos and more information at www.stucktheplay.com
Anthony Alessandro (Jorge) -- Theatre: A Hatful of Rain at The Actors Studio, Screams and Dances of a Bronx Bear at HERE, Hot Keys at Naked Angels, Boys and Girls and Men and Women at the Odyssey Theatre (LA). Television: Sopranos, Sex and the City, Rescue Me, The $treet, Big Apple, Love and Marriage. Film: Jacobs Ladder, Goodfellas, Night Falls on Manhattan, Mac, The Funeral, and independent films Pacino is Missing, A Little Tenderness, Are They Still Shooting, House of Satisfaction.
Steven Hauck (Charlie) -- Theatre: Irena's Vow on Broadway, The Milliner off-Broadway, The Happy Embalmer for the New York Musical Theater Festival, Art at Geva Theater, Cyrano at Milwaukee Rep and Phantom in Berlin, Vienna and Paris. Film: Confessions of a Shopaholic, "Almost Perfect." TV: "Delocated", Law & Order CI", All My Children.
Kate Kearney-Patch (Mom) -- Theatre: Hannah in The General from America with Corin Redgrave, Alley Theatre, and Lucille Lortel. She appeared nationally (ACT, Huntington, the Kennedy Center) in James Joyce's The Dead as Gretta. Off-Bway and Regional: The Taming of the Shrew, The Last Night of Ballyhoo, Sea Marks, Talley's Folly, Dancing at Lughnasa, etc. She is a Member of the 3Graces Theatre Company in NYC. Kate has also appeared as Soprano Soloist in works by Handel, Faure, Webber, Janacek, etc. Films and TV appearances: Law Abiding Citizen, and The Sixth Sense, Diary of a City Priest (Sundance), Dead Poets Society, Law and Order CI, QVC, ShopNBC, and Hack.
Kate MacCluggage (Margaritah) -- Theatre: Kate most recently played Olga in Three Sisters with The Assembly Theater Project; The Farnsworth Invention (Broadway); King Lear (NY Classical Theater); Evanston, A Rare Comedy (Wolf 358/ HERE Arts Center); Victoria and Frederick for President (NYCFringe/ MOSON); A Midsummer Night's Dream (North Carolina Shakespeare Festival); The Importance of Being Earnest (Portland Center Stage); Noises Off (Denver Center); Twelfth Night and The Cherry Orchard (Chautauqua Theater Company); and Honey Graham in the world premiere of Down Goes Rocky (Bad Plays Festival). Television: All My Children. Film: Natural Causes. She holds a BA from Wesleyan University and an MFA from NYU's Graduate Acting Program.
Athena Masci (Lula) -- Theatre: Carapace Isle (dir. Michele Pawk), The Little Dog Laughed (New Perspectives), Macbeth (New Perspectives), Ovates (Aching Dogs). Film: the forthcoming Finding Home, Carapace Isle (official selection of Big Apple Film Festival), Clubscene, The Invisible Life of Thomas Lynch. Athena's music can be found on iTunes and at www.athenamasci.com.
Jessica Goldberg (Playwright) Plays include: Body Politic, Get What You Need, Sex Parasite, Good Thing, Refuge, (1999 Susan Smith Blackburn Prize), The Hologram Theory, and Stuck. Jessica is a graduate of NYU's Dramatic Writing Program and The Juilliard School. She was a Tennessee Williams Fellow at The University of the South, a recipient of The Le Compte de Nouy stipend, the first annual Helen Merrill Award, and a 2,000 Berrilla Kerr Foundation Award. She has been a resident at The O'Neill Playwrights Conference, New River Dramatists, The Missoula Colony, The New Harmony Project and is a member of The Dramatist Guild and PEN American Center. Film work includes Refuge, Upstate, Absent Hearts for Imagine & Film 44, an adaptation of the film Since Otar Left for Focus Features and The Last Summer of You and Me for Warner Brothers. Her pilot The Prince of Motor City was shot for ABC in 2008. She is currently writing the film adaptation on the book Passing Strange for HBO.
Marshall Pailet (Director) - Theatre: Recent directing credits include The 49 Project (Fringe NYC '09 - World Premiere), Thursday (World Premiere), With Kings in the Back (World Premiere), The 70 Scenes of Halloween, The Darq Knight (find it on YouTube), Bat Boy, Escape Artists (World Premiere) and One Flew Over the Cuckoo's Nest. He has served as the assistant director to Lonny Price. As a writer, he has composed the score to On a Glorious Day (formerly The Chocolate Tree) and Where It's At. Upcoming writing projects include Claudio Brothers, Trinity, Funk Pond, and Jurassic Park: The Broadway Musical. His work has been showcased at the NY Fringe Festival, NYMF, Prospect and TRU (New Voices Finalist). As an actor, he has performed on Broadway in The Adventures of Tom Sawyer, The Sound of Music, and A Christmas Carol. He is a proud graduate of Yale University, and received the V. Browne Irish Prize for Excellence in the Performing Arts in 2009, and the John Thoroun Fellowship for Special Study at Cambridge University in 2007. www.marshallpailet.com.
Brandon Giles (Scenic Designer) - Recent scenic designs include The Small of Her Back (Jaradoa Theater), The White Widow (Passajj Productions). Assistant and associate designs: Serenade (Jaradoa Theater), The Yellow Wood (NYMF, dir BD Wong), Shape of Metal (Origins Theatre, dir Brian Murray). Scenic Painting credits include Groovaloo Freestyle (Union Square Theater) and the short film Freud's Magic Powder. bgilesdesign.blogspot.com
Robert Lilly (Lighting Design) is an up-and-coming lighting designer in the New York City area, and is thrilled for the opportunity to work with such a dynamic company. Recent credits include In Memoriam at the House of Yes and Reconstruction at the Ohio Theater. Robert has recently completed his studies at Purchase College and is excited about future prospects in design.
Drew Fornarola (Co-Sound Design) is a recent graduate of Princeton University and member of the BMI Workshop. Writing credits include College The Musical (NYMF, published by Dramatic Publishing Company), Claudio: A Video Game Musical (opens summer '10, commissioned by the New Musical Development Fund), Uncle Pirate (currently running at Vital Theatre) and Thucydides (published by Samuel French). Sound design credits include Devil Boys from Beyond (Actor's Playhouse) and Circumcise Me (45 Bleecker). www.drewfornarola.com
John Fontein (Co-Sound Design) is a music producer based out of Brooklyn, New York. A recent graduate of Princeton University, John has had CDs released worldwide. Recent Off Broadway: Devil Boys from Beyond (Actor's Playhouse); Circumcise Me (45 Bleecker). During his spare time, John also works as a full time financial analyst.
the scarlett theater/film project (Producer) an organization with the mission of sponsoring theater and film projects that explore the empowerment of young women and examine issues surrounding young women taking control of their lives. STFP accepts tax-deductable donations through Fractured Atlas. www.scarletttheaterfilmproject.com.
Robert E. Schneider (Producer) Theatre Guild: National tours of Shirley Valentine; Stieglitz Loves O'Keeffe; Love Letters; Driving Miss Daisy; Rodgers and Hammerstein's State Fair. Madison Square Garden: A Christmas Carol. With Maria Di Dia, as General Manager: Blue Man Group; Broadway On The Bay (OpSail2000); Broadway On Broadway; Stars in the Alley; Nothing Like A Dame (Phyllis Newman Women's Health Initiative / Actors Fund of America); The Donkey Show; Charles Aznavour On Broadway; Paul McKenna's Hypnotic World; Saint Lucy's Eyes; Dragapella!; Love, Janis; Zanna, Don't!; Nobody Don't Like Yogi; Here Lies Jenny; Address Unknown; The Downtown Plays at Tribeca Theatre Festival; Joy; Bath Party; Hilda; and Sealed For Freshness. Backhouse Productions: GM and Associate GM: Anne Nelson's Savages, Burleigh Grime$. NYMF 2006: Co-Producer of Josh Walden's All Is Love. Producer and General Manager of off-Broadway's Summer '69. Producer for Jaradoa Theater's Serenade; The Small of Her Back; Associate Producer of Shafrika, The White Girl. With Carolyn Rossi Copeland, Robert was most recently General/Company Manager for Flamingo Court at New World Stages; General Manager for the pre-Broadway musical Amazing Grace; and the play Freud's Last Session, coming to off-Broadway this summer. Robert Is a member of Jaradoa Theater (www.jaradoatheater.org), an advisor to Access Theater, is admitted to the bars of New York and New Jersey and is a member of the Association of Theatrical Press Agents and Managers (ATPAM).
Jack Thomas / Bulldog Theatrical (Producer) Jack is a theatrical producer in both London and New York. His most recent production was The 49 Project by Mary Adkins, winner as Best Playwright at the 2009 NY Fringe Festival. Last spring, he was a producer of the Broadway revival of Eugene O'Neill's Desire Under the Elms, directed by Robert Falls. London / West End: Marguerite, an original musical by Boublil and Schonberg, creators of Les Miserables and Miss Saigon, in collaboration with 3-time Academy Award winner Michel Legrand; the 2007 West End revival of Fiddler on the Roof, nominated as Best Revival of a Musical; the 2006 production of Tennessee Williams' Summer and Smoke. In New York, he produced Anna Ziegler's drama Life Science; John Cariani's romantic comedy Almost, Maine; and Stephen Adly Guirgis' Our Lady of 121st Street, directed by Philip Seymour Hoffman, honored as one of the best plays of the New York season in 2003. He spent fifteen years working for The Shubert Organization, and another three years as Vice President at Broadway.com.
Photo credit: Tom Hayes


Kate MacCluggage and Anthony Alessandro

Steven Hauck Kate Kearney-Patch, Athena Masci, Kate MacCluggage and Anthony Alessandro

Athena Masci and Kate MacCluggage

Athena Masci and Kate MacCluggage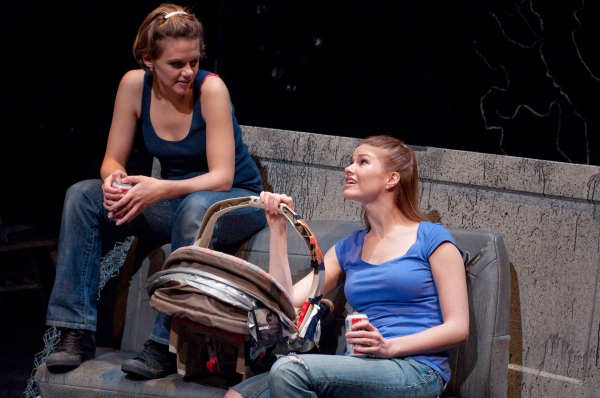 Athena Masci and Kate MacCluggage

Related Articles View More Off-Broadway

Stories

Shows
More Hot Stories For You