Photos: R. Erin Craig and David Rothenberg Honored at Houses on the Moon Theater Company's AMPLIFY 2017 Benefit
Houses on the Moon Theater Company, the New York-based not-for-profit theatre company that "through creative workshops, original performances, and post-show discussions help communities come together by making meaningful connections through the public sharing of their untold stories," honored R. Erin Craig and David Rothenberg and presented the 2017 Leyton Award to Save Our Streets: Bronx at its 5th Annual "Amplify" Benefit on Monday night, October 16th, at Gotham Comedy Club. BroadwayWorld has photos from the gala below!
The festivities started with an open bar with passed hors d'oeuvres & dessert, followed by The Leyton Award presentation, performance excerpts from Houses on the Moon productions, an Open Pledge and Auction, and live music provided by the Juancho Herrera Trio.
"We have been working diligently for the past 16 years to amplify the unheard voice and facilitate conversations with the goal of social change," says Houses on the Moon Theater Company Co-Founder and Artistic Director Emily Joy Weiner. "Partnerships with community are essential to this process and we are honored to partner with individuals and institutions already doing the hard work of social justice and to use our work to provide a creative means to amplify theirs.
She continued: "David Rothenberg, as afounder of The Fortune Society, has been helping the formerly incarcerated reintegrate into society for over 50 years. R. Erin Craig has become a tireless advocate and supporter of the power of theater to affirm the dignity of unheard voices, and Save Our Streets: Bronx is staunching the flow of blood on the streets of our city and creating safe spaces for our youth to thrive. It is our honor and privilege to recognize these three champions of the unheard voice."
For more about Houses on the Moon Theater Company, visit www.housesonthemoon.org.
Photo Credit: Russ Rowland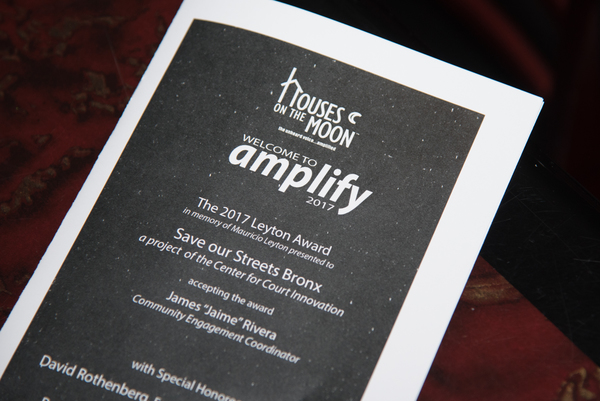 Fifth Annual AMPLIFY Benefit

Jeffrey Solomon (Co-Founder), Emily Joy Weiner (Co-Founder/Artistic Director)

Kevin Conner (Managing Director), Jeffrey Solomon, Emily Joy Weiner

2017 Honorees R. Erin Craig, David Rothenberg

Kevin Conner, David Rothenberg, R. Erin Craig, Emily Joy Weiner, Jeffrey Solomon

Mark Figel, Jeff Solomon, David Rothenberg, R. Erin Craig, Amy Gottlieb, Melissa Springs, Jane Dubin, Jenny Paredes, Jeff Rosenstock, Emily Joy Weiner

Toasting the Honorees: (standing) Jane Dubin, Emily Joy Weiner, Kevin Conner; (seated) Jill Poklemba, David Rothenberg

The Juancho Herrara Trio

Silent Auction Items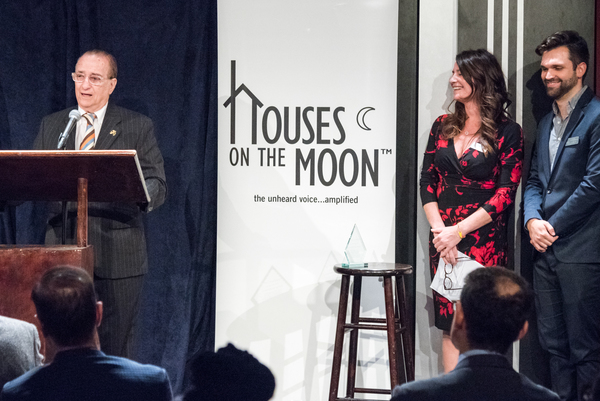 David Rothenberg, Emily Joy Weiner, Kevin Connor

James 'Jaime' Rivera from Save Our Streets Bronx (2017 Honoree)

David Rothenberg, Emily Joy Weiner, R. Erin Craig, James 'Jaime' Rivera

The cast of 'De Novo': Zuleyma Guevara, Camilo Almonacid, Emily Joy Weiner

Jane Dubin, R. Erin Craig, Marcus Potter (director) and his wife, Nicole

Kevin Conner, Jane Dubin, Hal Luftig (producer)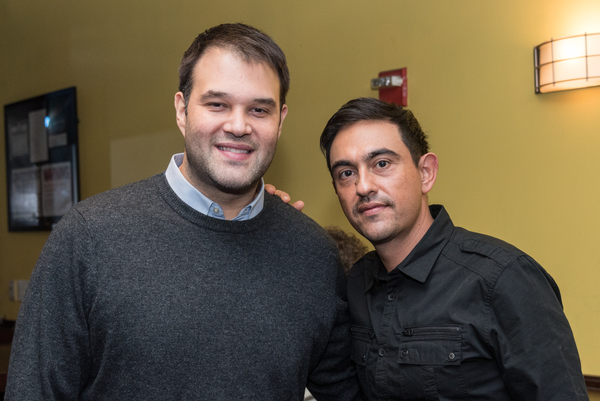 Erick Betancourt (The Assignment), Camilo Almonacid (playwright, The Assignment)

Jill Poklemba (Fortune Society), David Rothenberg, Sherry Goldberg (Fortune Society), Stanley Richards (Fortune Society), Emily Weiner

Fifth Annual AMPLIFY Benefit