Photos: First Look At ALL I WANT IS ONE NIGHT
The Brits Off Broadway season continues at 59E59 Theaters (Val Day, Artistic Director; Brian Beirne, Managing Director) with the US premiere of ALL I WANT IS ONE NIGHT, written by Jessica Walker, with music direction by Joseph Atkins. Produced by Jess Walker Music Theatre, in association with Royal Exchange Theatre Manchester, ALL I WANT IS ONE NIGHT begins performances on Tuesday, June 5 for a limited engagement through Sunday, July 1. Press Opening isThursday, June 14 at 7:15 PM. The performance schedule is Tuesday - Friday at 7:15 PM; Saturday at 2:15 PM & 7:15 PM; and Sunday at 2:15 PM. Performances are at 59E59 Theaters (59 East 59thStreet, between Park and Madison Avenues). The single ticket price is $25 - $35 ($24.50 for 59E59 Members). Tickets are available by calling Ticket Central at 212-279-4200 or online at www.59e59.org.
Paris: 1935. Suzy Solidor, cabaret sensation, steps onto the tiny stage of her nightclub La Vie Parisienne, ready to wow the hippest crowd in town with her sensual songs. She is surrounded by her 225 portraits and high on success, both from her best-selling records and from her status as the most painted woman in the world, captured by the great 20th century artists living in Paris like Tamara de Lempicka, Francis Bacon, Man Ray,
Jean Cocteau
, and Erte, to name but a few. The "gorgeously gifted" (New York Times)
Jessica Walker
(The Girl I Left Behind Me and
Pat Kirkwood
is Angry) stars as Solidor, the "It Girl" of 1930s Paris, whose erotic songs about Sapphic desire captivated and titillated Parisian society. Suzy Solidor's songs were never performed in English prior to ALL I WANT IS ONE NIGHT.
Jessica Walker
is the first and only artist to translate the songs from French. The
Brits Off Broadway
premiere ofALL I WANT IS ONE NIGHT marks the first time US audiences will hear Solidor's alluring songs in English. Joining
Jessica Walker
in the cast are Rachel Austin and
Alexandra Mathie
(
Alan Ayckbourn
's Neighbourhood Watch and My Wonderful Day at
59E59 Theaters
). The Production Stage Manager isSofia Montgomery. Singer and writer
Jessica Walker
's recent performing and creative projects have taken her from the Barbican to the Adelaide Festival to
Brits Off Broadway
New York. Her 2017/18 projects include Not Such Quiet Girls, a new commission for
Opera North
; her play All I Want is One Night, originally produced by the Royal Exchange Theatre Manchester, with further performances at Wilton's Music Hall, the
Hope Mill Theatre
Manchester; a residency at Snape Maltings for Witches Three, her new music theater piece currently in development with composer Kerry Andrew; the UK premiere of Sarah Kirkland Snider's song cycle Penelope with Psappha; a recording of WW1 songs for Enter the Peace Broker (Chrome Radio); her new CD All I Want is One Night - death and desire at the French cabaret (Chrome Media); cabaret appearances at Live at Zedel, Roman River Music Festival, Hargrave Music Festival, Nottingham Theatre Royal and the Machynlleth Festival. She will also be an artist in residence at the 2018 Lichfield Festival. 2016 projects included All I Want is One Night for the Royal Exchange Theatre and The Rattler for Mahogany Opera Group. 2015 included Mercy and Grand - the
Tom Waits
project at the Adelaide Festival with Gavin Bryars, Unborn in America, by Luke Styles and Peter Cant at The Vaults Festival, further performances of
Pat Kirkwood
is Angry at the St James Theatre Studio, and the singer in
Caryl Churchill
's The Skriker with RET and MIF, recorded for BBC Radio 3. 2013/14 stage roles included Gwendolen in Gerald Barry's The Importance of Being Earnest (NI Opera), Nurse/ Harriet in Sunday in the Park with George (
Theatre Du Chatelet
), Gloria, A Pig Tale, by HK Gruber with The Opera Group. Other roles include Gloria in Weill's One Touch of Venus (
Opera North
), The Little Arab in Martinu's Julietta(
Opera North
at the Ravenna Festival), Gigi in School for Lovers (Glyndebourne and Finnish National Opera), Peep Bo in The Mikado (Nationale Reis Opera, Holland), Ninfa in Monteverdi's Orfeo (
Opera North
), Tamiri in Mozart's Il Re Pastore (Musiektheater Transparant), Messenger and Proserpina in Orfeo(The Opera Group), and Cherubino in Le Nozze di Figaro (
Stanley Hall
). Since 2010 she has been touring The Girl I Left Behind Me, a solo piece devised by her and director
Neil Bartlett
, and commissioned by
Opera North
projects, to great critical acclaim. Performances have included a week's residency at the Barbican Pit, the Purcell Room, Howard Assembly Rooms, Sage Gateshead, Brighton Theatre Royal, Aldeburgh Festival, Coutts Arts Festival, the Frome Festival, Buxton Festival, Lowry Salford Quays and Norfolk and Norwich Festival. The piece sold out its
Brits Off Broadway
run at
59E59 Theaters
, was recently published as a play script by Oberon Press, and was released in 2014 as a CD on the Original Cast Recordings label. Her solo show,
Pat Kirkwood
is Angry, originally co-produced by
Opera North
, in association with Royal Exchange Theatre, began life at the Manchester Royal Exchange studio and the Howard Assembly Rooms in October 2012, and has toured ever since, with performances at the St James Theatre, London, the Grassington Festival, the
Richard Burton
Theatre, Cardiff and the main stage of the Royal Exchange. In 2014 it went to
Brits Off Broadway
at
59E59 Theaters
, where it was a New York Times Critic's Pick. In May and June 2013 her cabaret opera - An Eye for an Eye - written with composer David Knotts, premiered at both the Bath and St Magnus music festivals, to critical acclaim. In 2016 Jessica was awarded herPhD with commendation from Leeds University, where she is currently a Visiting Research Fellow. Her practice-led research explored 'The Singer-actor as Creator and Collaborator: a performer-led model for new music theatre works.'

L-R: Rachel Austin, Jessica Walker in ALL I WANT IS ONE NIGHT. Photo by Carol Rosegg

L-R: Jessica Walker, Rachel Austin in ALL I WANT IS ONE NIGHT. Photo by Carol Rosegg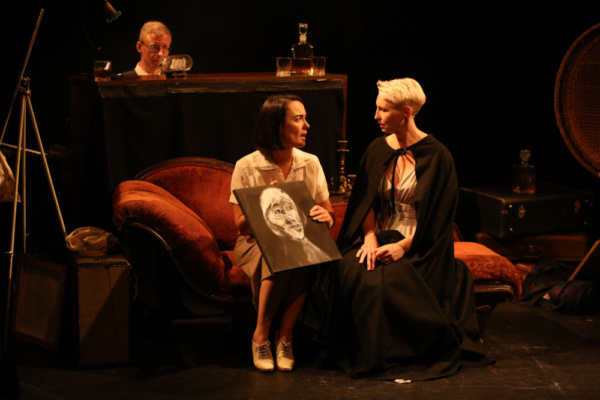 L-R: Joseph Atkins, Rachel Austin, Jessica Walker in ALL I WANT IS ONE NIGHT. Photo by Carol Rosegg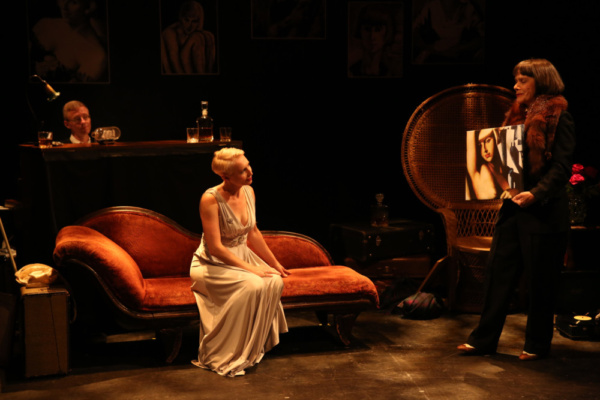 L-R: Joseph Atkins, Jessica Walker, Alexandra Mathie in ALL I WANT IS ONE NIGHT. Photo by Carol Rosegg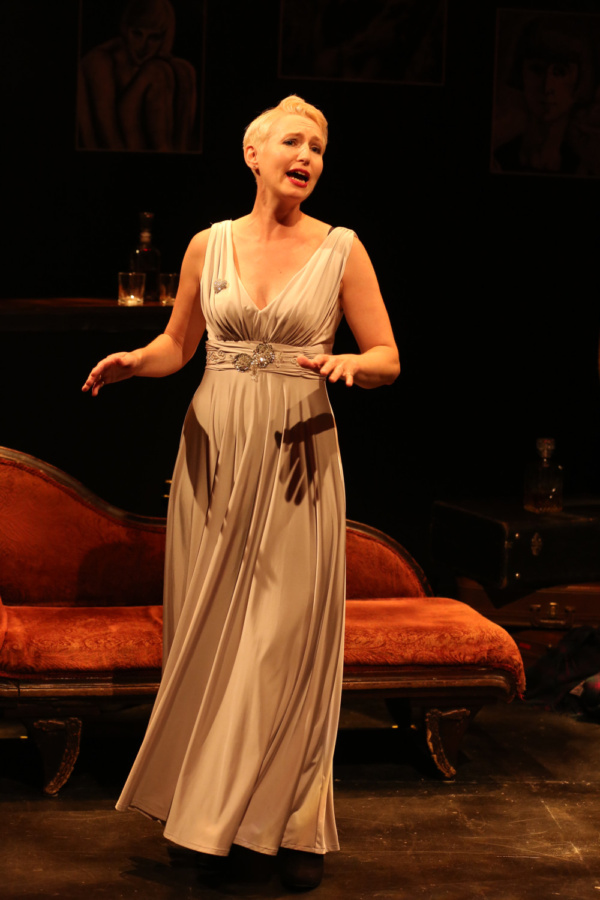 Jessica Walker in ALL I WANT IS ONE NIGHT. Photo by Carol Rosegg

Joseph Atkins in ALL I WANT IS ONE NIGHT. Photo by Carol Rosegg

Jessica Walker in ALL I WANT IS ONE NIGHT. Photo by Carol Rosegg