Photo Flash: FOR LOVERS ONLY Rings NASDAQ Closing Bell
The stars of the new Off-Broadway musical FOR LOVERS ONLY (Love Songs...Nothing But Love Songs) rang the NASDAQ closing bell in Times Square this past Friday, May 15th. Introduced by NASDAQ Managing Director Michael Del Grosso, the cast and Musical Director Ken Lundie addressed market-followers from around the world via satellite feed and the ceremony was broadcast live on the NASDAQ jumbotron looming over Times Square at Broadway & 43rd Street.
FOR LOVERS ONLY opened on May 11th at New World Stages to rave reviews led by the Associated Press who exclaimed, "This musical cavalcade is a lot of fun, reminding The Audience that 'Love is a Many-Splendored Thing!'"
Conceived by Nancy Friday, FOR LOVERS ONLY presents a dazzling array of love songs from pop to Puccini, from Broadway and around the world, interspersed through a fast-paced evening, directed and choreographed by Christopher Scott, with musical direction by Ken Lundie. The five-member cast features Glenn Seven Allen, Monica L. Patton, Dominique Plaisant, Trisha Rapier, and Kevin Vortmann.
Performances of FOR LOVERS ONLY are Friday at 7:30 p.m., Saturday at 9 p.m., Sunday at 7 p.m., and Monday at 8 p.m. Tickets are available through Telecharge.com or at 212-239-6200. New World Stages is located in the heart of the Theater District at 340 West 50th Street (between Eighth & Ninth Ave.)
FOR LOVERS ONLY is presented Off-Broadway by Eric Krebs and Sara Lundie.

CHRISTINE HOPE, Kevin Vortmann, Kevin Greene, Monica L. Patton, Dominique Plaisant, Ken Lundie, Trisha Rapier, MARK AKENS, Glenn Seven Allen

The FOR LOVERS ONLY company cheers the NASDAQ closing bell.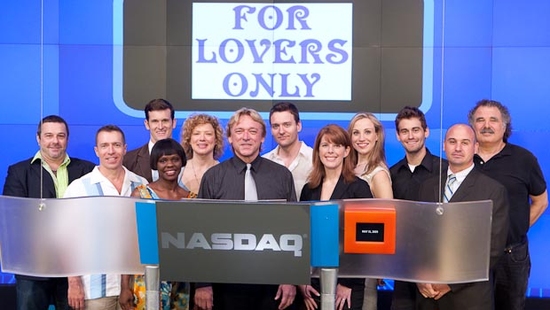 Musical Director Ken Lundie (front & center) surrounded by L to R: Director Christopher Scott; Associate Music Director MARK AKENS; cast members Kevin Vortmann, Monica L. Patton, Dominique Plaisant, Glenn Seven Allen, Trisha Rapier, CHRISTINE HOPE, Kevin Greene; NASDAQ Director MICHAEL DEL GROSSO; Producer Eric Krebs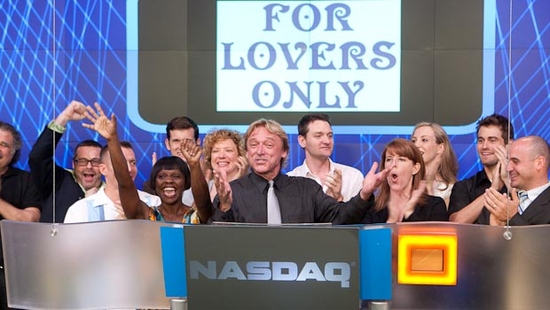 Musical Director Ken Lundie (front & center) surrounded by L to R: Director Christopher Scott; Associate Music Director MARK AKENS; cast members Kevin Vortmann, Monica L. Patton, Dominique Plaisant, Glenn Seven Allen, Trisha Rapier, CHRISTINE HOPE, Kevin Greene; NASDAQ Director MICHAEL DEL GROSSO; Producer Eric Krebs
Related Articles View More Off-Broadway

Stories

Shows
More Hot Stories For You