Photos: David Pittu, Anne Kaufman Attend The Man Who Came to Dinner
David Pittu and Anne Kaufman (daughter of George S. Kaufman) attended the first preview of Off-Broadway's THE MAN WHO CAME TO DINNER starring Jim Brochu and Cady Huffman this past Saturday, November 26th. After the show, they congratulated the cast and happily posed for photos.
The award-winning Peccadillo Theater Company is presenting the Off-Broadway debut of Moss Hart & George S. Kaufman's classic American comedy. The official opening is this Sunday, December 4th at Theatre at St. Clement's, 423 West 46th Street (between Ninth & Tenth Aves.)
THE MAN WHO CAME TO DINNER opened at the Music Box Theatre on October 16, 1939 and ran for 739 performances. In the hilarious comedy satire, celebrated critic and radio personality SheriDan Whiteside slips on an icy doorstep while on a December lecture tour. Confined for several weeks of recovery at the Midwestern home of the utterly conventional Mr. and Mrs. Stanley, he proceeds to turn the family's life inside out with his incessant demands, long-distance phone calls and parade of eccentric celebrity guests. As Whiteside's secretary Maggie says, "He would see his mother burned at the stake if that was the only way he could light his cigarette!"
Jim Brochu received the 2010 Drama Desk Award for Best Solo Performance for his portrayal of the legendary Zero Mostel in Zero Hour. Since its premiere in 2006, he has been touring the country with the show, garnering both unanimous critical raves and major theatrical honors. In addition to the Drama Desk, Jim Brochu won the Ovation Award in Los Angeles (Best Play), the Carbonell Award of South Florida (Best Actor) and the Helen Hayes Award in Washington, DC (Best Actor). A native of Brooklyn, he made his Broadway debut as Christopher Sly in The Taming of the Shrew. He is the author of ten plays including the hit Off-Broadway musical The Last Session written with partner Steve Schalchlin, which he also directed. His caricature hangs on the wall of the legendary Sardi's Restaurant, a tribute to a 40-plus year show business career as an actor and playwright.
Cady Huffman is a Tony Award winner for her performance as Ulla in The Producers and her other Broadway credits include The Will Rogers Follies (Tony nomination), La Cage aux Folles, Bob Fosse's Big Deal, and Dame Edna: The Royal Tour. Her films include The Company Men, Romance & Cigarettes, Hero, The Nanny Diaries and Dare. Cady is a regular judge on the Food Network's "Iron Chef America," having been described by host Alton Brown as the "Kitty Carlisle Hart of Kitchen Stadium." Other TV appearances include "The Good Wife," "Frasier," "Mad About You," and "Curb Your Enthusiasm."
Under the direction of Obie Award winner Dan Wackerman, the 24-member cast of THE MAN WHO CAME TO DINNER also features Amy Landon, Joseph R. Sicari, Dave Bobb, Ray Crisara, Ira Denmark, Scott Evans, Thursday Farrar, Kevin Fugaro, Jenna Gavigan, Kristin Griffith, Einar Gunn, Susan Jeffries, Kristine Nevins, John Seidman, Carolyn Seiff, Jay Stratton, Tony Triano, Susan Varon, Reggie Whitehead, DaRon Lamar Williams, and John Windsor-Cunningham.
Founded in 1994, The Peccadillo Theater Company is a not-for-profit arts organization dedicated to the rediscovery of classic American theater, particularly those works which, despite their obvious literary and theatrical value, are not regularly revived. Peccadillo's most recent production was its critically acclaimed revival of the George Abbott/Arthur Schwartz/Dorothy Fields musical A Tree Grows in Brooklyn.
THE MAN WHO CAME TO DINNER will play a limited engagement through December 18th and the performance schedule is Tuesdays & Wednesdays at 7 pm, Thursdays through Saturdays at 8 pm, with matinees Saturday at 2 pm and Sunday at 3 pm. Tickets are $25 and are available by calling 212-352-3101 or through www.ThePeccadillo.com.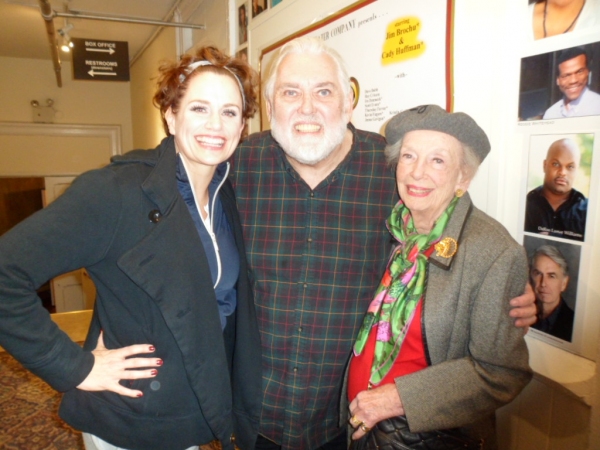 Cady Huffman, Jim Brochu, Anne Kaufman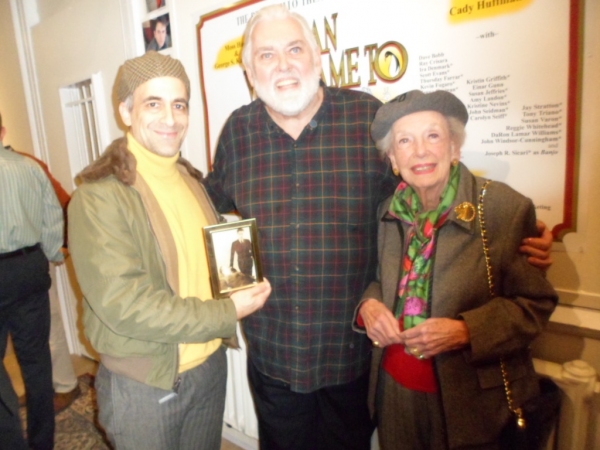 David Pittu, Jim Brochu, Anne Kaufman