Click Here for More Articles on ANDREW LLOYD WEBBER
Photo Flash: Daniel MacIvor's HIS GREATNESS At FringeNYC
Adam Blanshay & Lyric Productions, in association with The Present Company, presents the U.S. Premiere of multi Award-winning playwright Daniel MacIvor's HIS GREATNESS - based on a potentially true story about two days in the last years of the life of playwright Tennessee Williams - as part of the 13th Annual New York International Fringe Festival with five performances only, between August 14-30 at the Cherry Lane Theatre (38 Commerce Street) in Manhattan.
Three men, a great American playwright, his trusted and loyal assistant, and a young Canadian street hustler, find themselves together for two days in a hotel room in Vancouver. HIS GREATESS is a voyage through the mind of a great American playwright - potentially Tennessee Williams - presenting the man as he's never been seen before, grasping at straws of his former glory, pleading for some form of rebirth.
Directed by Tom Gualtieri, HIS GREATNESS features a cast of Peter Goldfarb (a Helen Hayes Award nominee for OLD WICKED SONGS) as The Playwright; Dan Domingues (recently seen Off-Broadway in NIGHT SKY opposite JorDan Baker) as The Assistant; and Michael Busillo (recently seen Off-Broadway in the Abingdon Theatre Company's TEXAS HOMOS).
Design team for HIS GREATNESS is: Tania Bijlani (Set Design); Seth Reiser (Lighting Design); Ciera Wells (Costume Design).
Daniel MacIvor has been creating new theatre since 1986. He was for 20 years artistic director of da da kamera, an international touring company based in Toronto. His many theatre credits include: SEE BOB RUN, NEVER SWIM ALONE (winner of the NY International Fringe Festival Overall Excellence Award), YOU ARE HERE, IN ON IT (winner of a GLAAD and a Village Voice Obie Award), HOW IT WORKS, etc. With Daniel Brooks he created the solo shows HOUSE, HERE LIES HENRY, MONSTER and CUL-DE-SAC. In 2006, five of his plays were published as "I Still Love You" - NEVER SWIM ALONE, THE SOLDIERS DREAMS, YOU ARE HERE, IN ON IT, and A BEAUTIFUL VIEW) - and won him the Governor General's Award for Drama). MacIvor was recently Playwright-in-Residence at the Banff Playwright's Colony where he developed his new play COMMUNION and a new screenplay for Bruce McDonald Called 45's.
Tom Gualtieri is a playwright, lyricist, actor and director. He was assistant director for RIGHT YOU ARE (National Actors Theatre starring Tony Randall, Penny Fuller and Maria Tucci). He has written two short musicals - THE SUPPER AT ELSINORE (with Joy Son) and LAST CALL, MY DARLING (with William Wade for Raw Impressions #18) as well as the plays ME...AND MEDEA, CASA BLANCHE OR THE CRUEL KIND, THE GARDEN OF THE EARTH (about The Donner Party tragedy) and THAT PLAY (Midtown Theatre Festival, The Belt Theatre and Ithaca's The Kitchen Theatre). Gualtieri was Head Writer for 2005's 50th Annual Drama Desk Awards, penning material for Harvey Fierstein and a variety of other stars. His acting credits include: SOUTH PACIFIC, THE NIGHT OF THE HUNTER, PRIVATES ON PARADE, DRAGAPELLA!, A MIDSUMMER NIGHTS DREAM, THE RIVALS, CLOUD 9, and is an original cast member of Off-Broadway's NAKED BOYS SINGING.
Producing credits for Adam Blanshay include: Scott Nevins' ONE NIGHT STAND (New World Stages), Scott Nevins' RECE$IONI$TA &CELEBUTANT (National Tours), and the upcoming: DR. ZHIVAGO, THE MUSICAL (Associate Producer). His directing credits include: Associate Director on PIAF: LOVE CONQUERS ALL, (winner of the 2007 FringeNYC Award for "Outstanding Musical,"). Addition credits include: THE BLACK MONK (Theatre Row/Beckett Theatre), THE SECOND TOSCA (45th Street Theatre), CLEAN (Urban Stages), A WOMAN OF WILL (Daryl Roth Theatre); OPERA: LA BOHÈME, TOSCA (Regina Opera, Brooklyn NY), LE NOZZE DI FIGARO (Modus Opera, NYC), LES CONTES D'HOFFMANN, LE MÉDECIN MALGRÉ LUI (IVAI, Tel Aviv). Mr. Blanshay also directed the most recent Montreal revival of Andrew Lloyd Webber's EVITA (Moyse Hall).
HIS GREATNESS will perform at the Cherry Lane Theatre (38 Commerce Street) as part of the 13th Annual New York International Fringe Festival, on the following dates: Monday, August 17 at 10:00pm; Saturday, August 22 at 7:00pm; Monday, August 24 at 7:00pm; Thursday, August 27 at 3:45pm; and Saturday, August 29 at 12noon. General admission tickets are $15; advance tickets available online, beginning July 24, at www.fringenyc.org, or by calling 866-468-7619.
For more information on HIS GREATNESS visit www.Fringenyc.org or www.HisGreatnessPlay.com.
Photo Credit: Neilson Barnard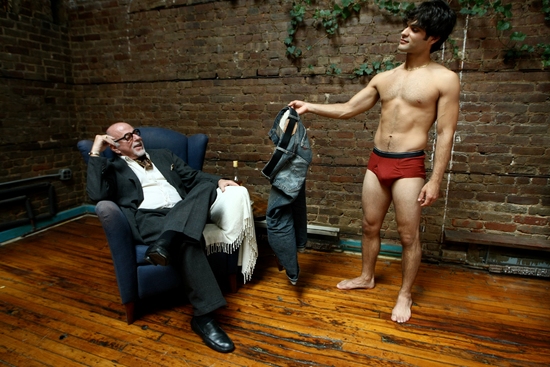 Peter Goldfarb and Michael Busillo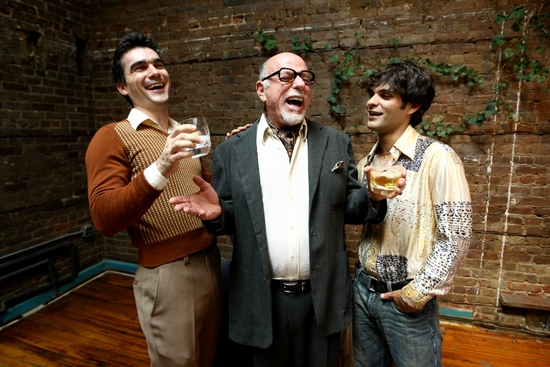 Dan Domingues and Peter Goldfarb and Michael Busillo

Michael Busillo and Peter Goldfarb

Tom Gualtieri (Director), Dan Domingues ("The Assistant"), Michael Busillo ("The Young Man"), Peter Goldfarb ("The Playwright") and Adam Blanshay