Click Here for More Articles on AVENUE Q
Photo Coverage: 'Don't Quit Your Night Job' Valentine's Edition
"Don't Quit Your Night Job," the critically acclaimed comedy variety show featuring a revolving cast of Broadway's brightest performing without a net, kicked-off the new year at their monthly home The Zipper Factory (336 West 37th Street, between 8th & 9th Avenues) on Thursday, February 14 at 11:30PM. Proceeds go to the Open Doors Theatre Development Fund.

Featuring Co-Creators Steve Rosen (The Farnsworth Invention), David Rossmer (Fiddler on the Roof), Sarah Saltzberg (Spelling Bee) and Dan Lipton (The Coast of Utopia). With special guests Christian Anderson (Avenue Q), Derrick Baskin (The Little Mermaid), Nicole Bocchi (Mary Poppins), Tara Copeland ("30 Rock"), Jared Gertner (Spelling Bee), Asmeret Ghebremichael (Legally Blonde), Jason Kravits (The Drowsy Chaperone), Grammy Winner and Oscar nominee Michael McKean (The Homecoming) Ashley Morris (Die Mommie Die), Maurice Murphy (Spelling Bee), Tony winner Sara Ramirez ("Gray's Anatomy"), Jimmi Simpson (The Farnsworth Invention), plus musical guests David Josefsberg (The Wedding Singer) and Jeff Gurner (The Lion King) with Damien Bassman (Next to Normal) on the drums. Stage Managed by Melanie Morgan (Curtains).

Open Doors is the Theatre Development Fund's theatre arts mentoring program for high school students, and was started in 1998 by TDF with playwright Wendy Wasserstein. Its goal is to explore the relevance of theatre in the lives of today's youth.
Visit "Don't Quit Your Night Job" on MySpace at www.myspace.com/dontquityournightjob. The next "Don't Quit Your Night Job" is scheduled for Thursday, March 27.

Photos by Peter James Zielinski

Maurice Murphy, Asmeret Ghebremichael and Derrick Baskin rouse the crowd with the opening theme-song


Co-host David Rossmer collects words for a madlib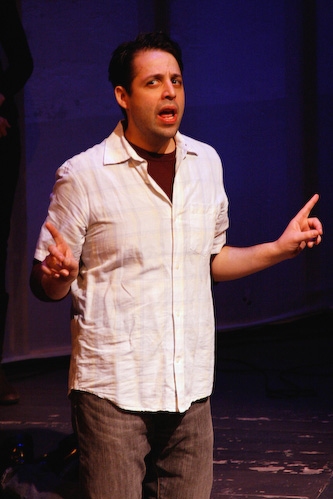 Co-host Steve Rosen as Baby Bear


Co-host Sarah Saltzberg

David Rossmer and Jason Kravits as patient and doctor, recreate a scene from the fictional play Stranded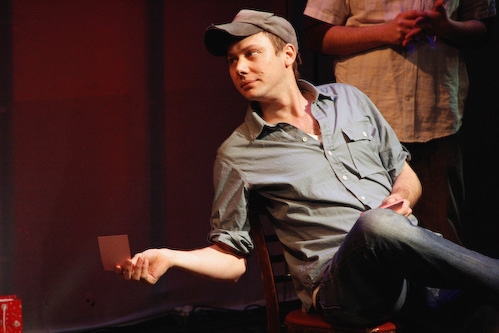 Jimmi Simpson sizes-up the competition in Celebrity Dating Game


Brynn O'Malley wins the Quitty Award for the Most Unintentionally Sexually-Suggestive Line in a Show


Ashley Morris channels Oprah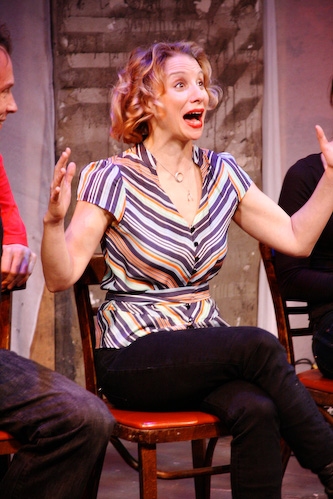 Sarah Saltzberg imitates Richard Simmons


Michael McKean, formerly of Spinal Tap, entertains the crowd with an original song about "Sweeney Todd"


Nicole Bocci performs a scene from August: Osage County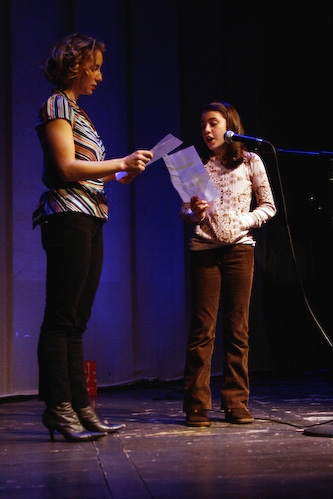 Sarah Saltzberg and Nicole Bocci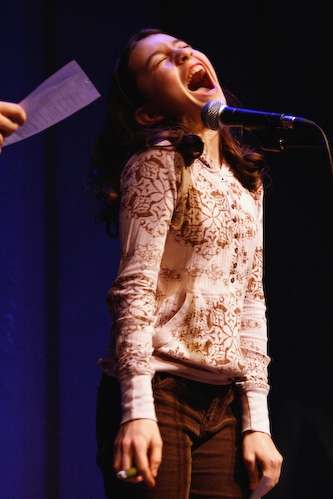 Nicole Bocci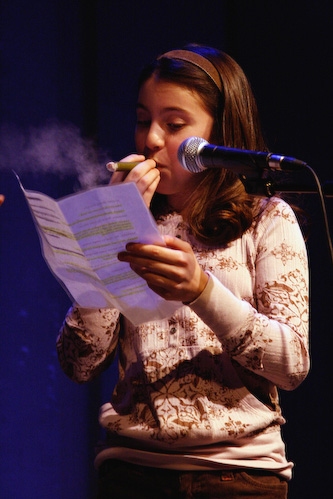 Nicole Bocci

Sarah Saltzberg and Nicole Bocci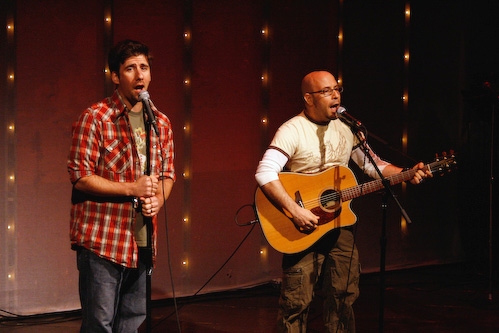 David Josefsberg and Jeff Gurner sing about the "potential" of childbirth


Steve Rosen and David Rossmer host a theatre talk-show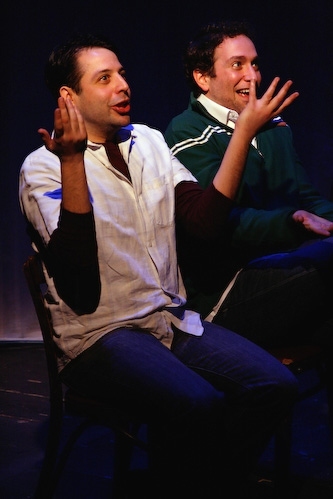 Steve Rosen and David Rossmer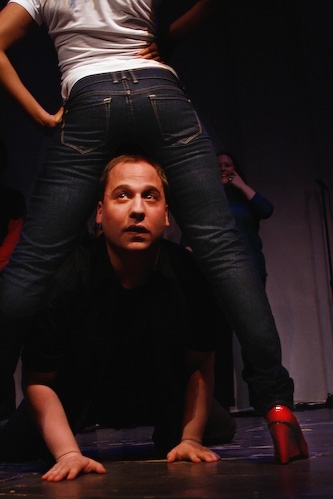 Jared Gertner goes spelunking into Asmeret Ghebremichael

Sarah Saltzberg (as Hillary Clinton), Jason Kravits and Christian Anderson (as Barack Obama) unite

Sarah Saltzberg (an evil ground-hog) terrorizes villagers Tara Copeland and Jason Kravits

Ashley Morris, a genetically-mutated fish/seal, and devil-worshiping ground hog Sarah Saltzberg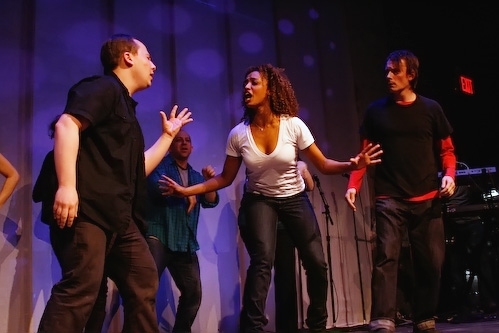 Jared Gertner, Asmeret Ghebremichael (as syrup-queen Mrs. Butterworth) and Christian Anderson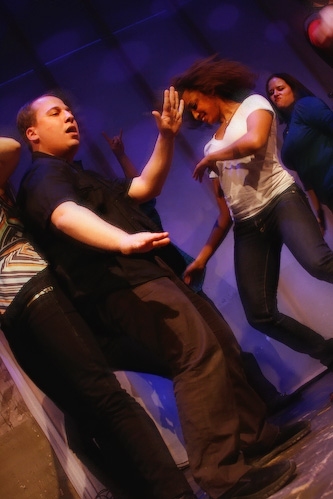 Jared Gertner and Asmeret Ghebremichael celebrate the wonders of breakfast!


Sara Ramirez, as musical guest, provides a hilarious rendition of "The Man I Love"


Music Director Dan Lipton

On drums, Damien Bassman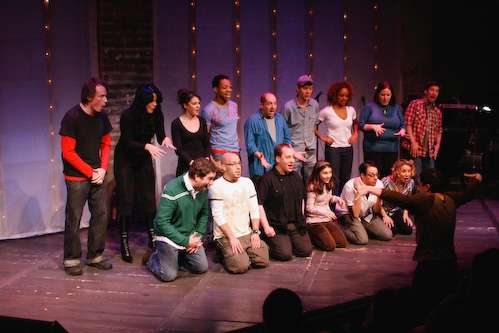 The cast of Don't Quit Your Night Job
Related Articles
As an Equity actor, Peter is photographing the industry from the inside out. He has performed in numerous shows regionally, sung a duet with Richard (read more...)