Off-Broadway's DIASPORA to Host Talkback Series with Cast, Guest Artists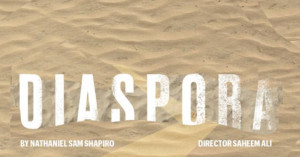 Diaspora, the new Off-Broadway show by playwright Nathaniel Sam Shapiro, which follows young Jews on a Birthright trip - a journey back to Israel to connect with their heritage - announced a series of talkbacks with the cast and prominent Jewish notables.
The discussions are designed to take up the themes of Jewish identity, heroism and tradition central to the show, which runs through December 23 at the Gym at Judson theater in the West Village. Diaspora is directed by Saheem Ali and produced by Shapiro's Red Moon Theater Company.
The first talkback by Rabbi Michael Paley, held on Sunday, was a success and it will be followed by the following weekly discussions:
- Sunday, November 26, directly after the 7 p.m. show-the cast of Diaspora
- Sunday, December 3, directly after the 7 p.m. show-Thane Rosenbaum
- Sunday, December 10, directly after the 8 p.m. show-Yonit Friedman
- Sunday, December 17, directly after the 8 p.m. show-Josh Schneider and Aviva Rowley
The play grows out of deeply personal experiences of the author, and issues that he-and indeed many Jews-have been grappling with over time. Shapiro explains: "What is the essence of the Jewish spirit? Who are our heroes? And how do we of the Diaspora connect with Israel and our past? I felt that Masada, with its link through the heritage trips of today, was the perfect place to examine these issues and advance the discussion."
Diaspora stars Serena Berman, Connie Castanzo Ava Eisenson, Quinn Franzen, Tom McVey, Maggie Metnick, Joe Tapper and RJ Vaillancourt.
Diaspora is not associated with or endorsed by Birthright Israel.
ABOUT THE SPEAKERS:
Yonit Friedman is an interdisciplinary theatre artist and activist. She's worked with various theatre companies around New York City, and is currently developing a new musical about the White Rose, a student resistance movement under Nazi Germany. She also organizes with IfNotNow, a movement working to end American Jewish support for the Israeli occupation.
Rabbi Michael Paley is the Scholar in Residence and the Director of the Jewish Resource Center of the UJA-Federation of New York. Prior to his arrival at UJA, he was a professor of Jewish studies and Dean at Bard College, and the Vice President of the Wexner Heritage Foundation where he remains a member of the permanent faculty. For many years, Rabbi Paley served as the University Chaplain at Columbia University. Rabbi Paley was the founding director of the Edgar M. Bronfman Youth Fellowships in Israel, a program which brings together outstanding students from diverse Jewish backgrounds. He also served as the Jewish Chaplain at Dartmouth College.
Thane Rosenbaum is a novelist, essayist and law professor, the author of numerous books of fiction and nonfiction including the novels, The Golems of Gotham, Second Hand Smoke and, most recently, How Sweet It Is!. He appears frequently in such publications as the New York Times, Wall Street Journal, Washington Post, LA Times, Haaretz, Times of Israel, Huffington Post, and the Daily Beast, among other national publications. He hosts The Talk Show at the 92nd Street Y. He is a Distinguished Fellow at New York University School of Law, where he directs the Forum on Law, Culture & Society. www.thanerosenbaum.com
Aviva Rowley is a ceramicist/artist/florist from Brooklyn, New York. She graduated from Cooper Union in 2011 with a BFA. She has been finding nature in Brooklyn her whole life and stubbornly refuses to leave New York-thus forcing her to create an indoor jungle. She also feels very strange writing in the third person.
Josh Schneider is an advertising creative into post-realism, intersectionality, poetry and shoegaze. His band, Shmutz, never plays shows and he's published a couple poems. Birthright was one of the most infuriating experiences of his life.
Founded by Nathaniel Sam Shapiro, Red Moon Theater Company presents artistic works that challenge and provoke through mode, content and delivery: theater that introduces new worlds, new ideas and new forms. Through engagement with issues of our time, the company hopes to expose audiences to deep-seated truths. It is dedicated to the production of new plays and musicals of expansive constitution, standing on the shoulders of tradition and taking audiences into new territory. In a world where technology provides spectacle from around the globe in an instant, theater must rise to the competition and project its own distinct performative power. Diaspora is its first New York production.