ORANGE IS THE NEW BLACK's Marsha Stephanie Blake Joins Lisa Lampanelli's STUFFED; Cast Complete!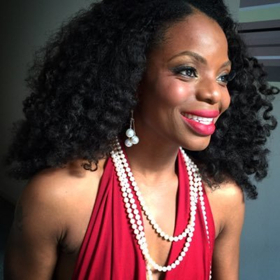 Comedian Lisa Lampanelli and producer Rachel Karpf announced today complete casting for Lampanelli's new play, Stuffed, opening Off-Broadway this fall in a new production at the Westside Theatre (Downstairs, 407 West 43rd Street), following a limited NYC run last fall at WP Theater.
Marsha Stephanie Blake (NYTW's Othello, Orange is the New Black) and Eden Malyn (House of Lies, Orange is the New Black) will join previously announced cast members Golden Globe nominee Nikki Blonsky (New Line Cinema's Hairspray) and Lampanelli. Directed by Jackson Gay (These Paper Bullets!), Stuffed begins previews Thursday, October 5, and will officially open on October 19. Additional material was contributed to the play by Ashley Austin Morris.
"I am beyond thrilled to have these amazing and talented women joining Stuffed," said Lampanelli. "It is so important to me to show how complicated relationships with food and body image impact all kinds of people, and I am honored to have Marsha Stephanie and Eden alongside me and Nikki to share the humor and the heartbreak in these stories."
Marsha Stephanie Blake was most recently seen onstage as Emilia in Othello at NYTW (with Daniel Craig and David Oyelowo), and has appeared on Broadway in The Merchant of Venice with Al Pacino and Joe Turner's Come and Gone for which she received the Paul Green Award from Tony Kushner. Her Off-Broadway credits include An Octoroon and Marie Antoinette at Soho Rep, Luck of the Irish at LCT3, and Hurt Village at Signature Theatre (for which she won an Audelco Award). Her film credits include Person to Person and Crown Heights (Sundance Film Festival Audience Award 2017) and the upcoming Wilde Wedding. Her television credits include "Orange is the New Black" (SAG Ensemble Award), "Getting On," "The Good Wife," "Blacklist," "The Big C," "Elementary," "Girls," and "Odd Mom Out."
Eden Malyn's stage credits include Bad Jews (The English Theatre Frankfurt), Vanya and Sonia and Masha and Spike (Portland Center Stage), Behind Closed Doors (Theatre 80 St. Marks), Erasing Eight (Detroit Repertory Theatre), The Cherry Orchard (Oasis Theatre Company), High Ceilings (The Hayworth Theatre Los Angeles), and Desperate Writers (The Edgemar Center for the Arts). Her television credits include "Orange is the New Black," "American Horror Story," "Castle," "House of Lies," and "Criminal Minds: Suspect Behavior." Her film credits include Alex and Jaime, Maybe Someday, Thanks for Dying, Deadheads, and the upcoming feature film Mike, Mike Tan.
The four characters in Stuffed are a lifelong dieter, a bulimic, a confident overweight gal, and a permanent size-zero. The play features Lampanelli's famously irreverent voice, signature wit, and an extra-large scoop of razor-sharp insight into the crazy-making world of our relationships with food. With Lisa onstage, alongside this talented cast, Stuffed doesn't shy away from tough questions like: Is eating an ice cream sandwich in the shower as emotionally fulfilling as it sounds? When it comes to jeans, what's better -- muffin top or camel toe? And, if Oprah, the most powerful person in the world, can't conquer her food issues, what can the rest of us do but laugh as we try?
The creative team for Stuffed includes set design by Antje Ellermann (Dear Elizabeth), costume design by Jessica Ford (These Paper Bullets!), lighting design by Amith Chandrashaker (FADE), sound design by Elisheba Ittoop (Duat), and casting by Stewart/Whitley.
The New York premiere of Stuffed was produced in 2016 by WP Theater, formerly known as Women's Project Theater (Lisa McNulty, Producing Artistic Director, Maureen Moynihan, Managing Director) and directed by Jackson Gay.
The performance schedule for Stuffed is as follows: Monday at 7pm, Tuesday at 7pm, Thursday at 7pm, Friday at 8pm, Saturday at 2pm and 8pm, and Sunday at 3pm and 7pm. Tickets range from $75-$85, with premium tickets available from $95-$105.