Irish Rep's Immersive THE DEAD, 1904 Returns Tonight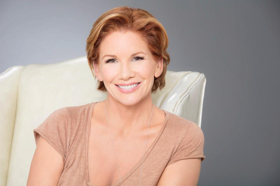 Irish Repertory Theatre and Dot Dot Productions, in association with The American Irish Historical Society, present the return engagement of The Dead, 1904 - an immersive adaptation of James Joyce's classic story, "The Dead," adapted by the Pulitzer Prize winning Irish poet Paul Muldoon (Moy Sand and Gravel) and novelist Jean Hanff Korelitz (Admission, You Should Have Known).
Directed by Irish Rep co-founder Ciarán O'Reilly, The Dead, 1904 was one of last season's most sought-after tickets with a fully sold-out run and will now return for seven weeks only. Previews began November 18th, 2017, with opening night set for tonight, November 30th, for a limited run through January 7th, 2018.
The cast will be led by Golden Globe-nominee Melissa Gilbert ("Little House on the Prairie") as "Gretta," and will feature Kimberly Doreen Burns (Finian's Rainbow) as "Mary Jane," Peter Cormican (Rothschild & Sons) as "MR. Brown," Rufus Collins (The Royal Family) as "Gabriel," Terry Donnelly (Crackskull Row) as "Mrs. Mallins," John Treacy Egan (Nice Work If You Can Get It) as "Bartell D'Arcy," Aedin Moloney (When I was a Girl I used to Scream and Shout) as "Molly Ivers," Clare O'Malley (Creed) as "Lily," Megan Loomis (Woody Sez) as "Miss Daly," Patti Perkins (The Full Monty) as "Aunt Julia," and James Russell (Shining City) as "Freddy Malins" and Patricia Kilgarriff (Steel Magnolias) as "Kate Morkan".
THE DEAD, 1904 will be staged in the c. 1900 townhouse of The American Irish Historical Society (991 Fifth Avenue, New York) on the Upper East Side for an audience of just 57 people per night. The production will travel over three floors of the building, which has been restored to period decoration. Rooms used will include the lobby, parlor, dining room and upstairs library.
A holiday meal, inspired by descriptions of the feast in Joyce's story, has been created by Great Performances, one of the city's most celebrated caterers, to be served to cast and audience alike in the townhouse's elegant dining room. Wine, stout, and spirits will be served with the meal.
The menu for THE DEAD, 1904, prepared on-site daily for each show by Great Performances, features: Roast Turkey Breast Stuffed with Sprigs of Parsley & Herbs; Beef Tenderloin with Fig & Cocoa Glaze; Mashed "Floury" Potatoes; Cranberry & Pineapple Relish; Dried Figs; Artisanal Raisins served on the vine & Smoked Almonds; and Bread & Butter Pudding with Vanilla Custard.
THE DEAD, 1904 was adapted from the final novella in James Joyce's 1914 short story collection, Dubliners, and tells of a disillusioned man named Gabriel Conroy, who, along with his wife Gretta, attends a holiday party in 1904 Dublin, thrown at the home of his two elderly aunts. Throughout the evening guests sing, dance, eat and drink while outside snow gently falls, and Gabriel and his wife contemplate their pasts, futures, happiness, life and ultimately, death.
The production team features costume design by Leon Dobkowski (The Weir), lighting design by Michael Gottlieb (The Home Place), sound design by M. Florian Staab (Curvy Widow), properties & interior design by Deirdre Brennan (The Burial at Thebes), and hair and wigs by Robert-Charles Vallance (Jitney). Choreography is by Barry McNabb (Finian's Rainbow), with Stephen Gabis (Present Laughter) serving as dialect consultant and Mark Hartman (Pageant - The Musical) as music consultant.
One of the most acclaimed short stories of all time, "The Dead" was previously adapted as a film by John Huston (The Dead, 1987) and as a 1999 Broadway Musical (James Joyce's THE DEAD) which won the 1999 Tony Award for Best Book of a Musical. This will be the first immersive adaptation.
THE DEAD, 1904 will be produced by Irish Repertory Theatre and Dot Dot Productions in association with the American Irish Historical Society, along with producers Kathleen Begala and Laurie Eustis.
For more information about Irish Repertory Theatre visit www.irishrep.org.