Tony Yazbeck to Lead John Doyle's THE CRADLE WILL ROCK At Classic Stage Company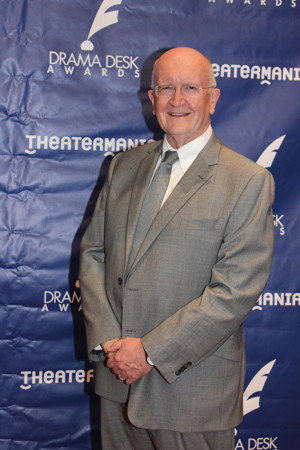 Classic Stage Company presents Marc Blitzstein's allegorical play in music The Cradle Will Rock, directed by John Doyle, March 21 - May 19, 2019.
The cast features Ken Barnett ("Mozart in the Jungle," Fun Home) as Editor Daily, Eddie Cooper (The Resistible Rise of Arturo Ui, This Ain't No Disco) as Junior Mister, Benjamin Eakeley (She Loves Me, Cabaret) as Reverend Salvation, Tony Award nominee David Garrison (Dead Poets Society, The Visit) as Mr. Mister, Ian Lowe (Murder for Two, Nikolai and the Others) as Yasha, Kara Mikula (Allegro, White Christmas) as Sister Mister, Olivier Award winner Lara Pulver (Gypsy in London, "Sherlock") as Moll, Sally Ann Triplett( Sweeney Todd at Barrow Street, The Last Ship) as Mrs. Mister, Rema Webb (The Color Purple, Violet) as Ella, and Tony Award nominee Tony Yazbeck (On The Town, Prince of Broadway) as Larry Foreman.
A Depression-era indictment of rampant capitalism told almost entirely in song, The Cradle Will Rock maintains a twinkle in its eye while bearing sharp fangs. The 1937 premiere of this story of American class tensions-directed by Orson Welles-was famously shut down on the eve of opening night by federal authorities over so-called "budget cuts," commonly considered a thin veil for fears of the play's pro-labor stance. The artists involved rebelliously circumvented its cancellation, making for one of the most memorable stories in 20th Century Theater history.
While Blitzstein's libretto is very much a product of its own 1930s political context, The Cradle Will Rock pulses with immediacy in an era of expanding economic inequality and policy for purchase. CSC's 2018-2019 season began with The Resistible Rise of Arturo Ui, Bertolt Brecht's allegory about the rise of fascism via a charismatic tyrant; this spring, it closes with an all-American Brecht-and-Weill-inspired work, which carries a message of defiance built into its very title.
Despite The Cradle Will Rock being an unwavering work of political theater, director John Doyle notes: "There are actually quite a few laughs. It's like an American piece of German cabaret-rough and ready-like something you would do in a pub, and I think there's something really thrillingly exciting about that. Of course it's not all laugh-a-minute pastiche. Blitzstein gets at the heart of how people act when the world doesn't treat them well-when they haven't got enough money, when they can't get food stamps. He is saying that people will rise up; there comes a point when people say 'no, enough.'"
The creative team includes scenic designer John Doyle, costume designer Ann Hould-Ward, lighting designers Jane Cox and Tess James, and music supervisor Greg Jarrett.
The Cradle Will Rock takes place in Steeltown, USA, where laborer Larry Foreman struggles to unionize fellow steel workers against mounting attacks from a greedy industrialist, a certain Mister Mister. As a cross-section of society shows up in a night court, the extent to which Mister Mister has bought the support and control of nearly all people-the editor of the local newspaper; the preacher; the doctor; artists-and institutions becomes brazenly apparent.
Created by Blitzstein through the Federal Theater Project, the Orson Welles-directed premiere production of The Cradle Will Rock was scheduled to open at Broadway's Maxine Elliott Theatre-but was shut down by the WPA (which itself had been catching heat from conservatives) just before. Armed guards arrived at the scene, blocking use of the theatre and ensuring no one could bring costumes and sets elsewhere. The day of the opening, Blitzstein, Welles, and producer John Houseman quickly found another venue-and performers and audience members traveled on foot, 20 blocks uptown, to the much larger 1,700-seat Venice Theatre. In something of a thematically complicating twist, the actors' union had restricted the cast from performing the play onstage in a non-Federal Theater Project-sanctioned venue-but nothing barred them from performing the pro-union play offstage, from the audience. It was a collaborative master-work of circumvention: Blitzstein played piano from the stage as costume-less, prop-less, but no less spirited actors sang from the audience and gave life to The Cradle Will Rock.
Performances of The Cradle Will Rock take place at Classic Stage Company (136 E 13th St, New York), with previews beginningThursday, March 21. The production opens Wednesday, April 3 and closes Sunday, May 19. Performance times are Tues.-Thurs. at 7pm, Fri.-Sat. at 8pm, and Sat.-Sun. at 2pm.
There will be a Saturday Symposium April 27, Tuesday Talkback April 16, and a Student Matinee for Thursday, May 9.
Tickets are currently on sale to members and the general public. Members receive the best prices, flexibility, exclusive benefits, and invitations to special events throughout the season. Memberships begin at $50 ($25 for Students). For more information visit classicstage.org or call 212.677.4210.
Single tickets ($75 previews, $80 post opening, $125 prime) can be purchased at classicstage.org or 212-352-3101(or toll free 866-811-411).