Click Here for More Articles on GLORIA: A LIFE
DeLanna Studi, Joanna Glushak, and More to Join Christine Lahti in GLORIA: A LIFE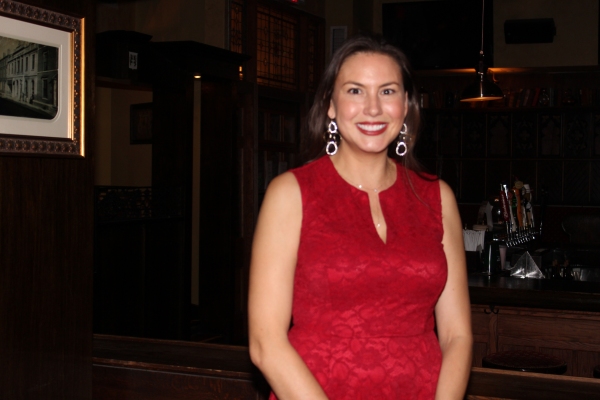 Rehearsals begin today, Tuesday, September 4, in New York City for Gloria: A Life, a new play about Gloria Steinem. The full company has been announced for the production, which features a female cast, writer, director, creative and producing team.
GLORIA: A Life will begin previews Tuesday, October 2, 2018, and open Thursday, October 18, 2018 at the Daryl Roth Theatre on Union Square (101 East 15th Street at Park Avenue South).
"Gloria Steinem has broken down barriers for women around the world across five decades of activism," Ms. Roth commented. "It is my honor to be presenting her story with this incredible team of artists."
GLORIA: A Lifeis written by Tony Award-nominee Emily Mann(Having Our Say), and is directed by the visionary Tony Award-winning Diane Paulus(Waitress, Pippin).
GLORIA: A Life brings us a richly detailed tapestry about one of the most inspiring and remarkable women of our time. Five decades after Gloria Steinem began raising her voice for equality and championing those of others, her vision is as urgent as ever. Gloria's life's work and philosophy on the necessity of conversation as a catalyst for change offer us all a path forward in a way that only live theater can. The first act is her story; the second is our own.
Act One focuses on Ms. Steinem's personal life and activism, and Act Two is a Talking Circle in which the audience will be invited to carry the themes of the play into a conversation of their own. This exciting and unique production offers a new form of communicating through theatre.
Joining previously announced Oscar, Emmy and Golden Globe winner Christine Lahtias Gloria Steinem, will be DeLanna Studi(And So We Walked, August: Osage County) as Wilma Mankiller and others, Patrena Murray (Venus, The Death of the Last Black Man) as Florynce Kennedy and others, Joanna Glushak(War Paint, A Gentlemen's Guide to Love and Murder) as Bella Abzug and others, with other roles to be played by Liz Wisan (Other Desert Cities, These Paper Bullets!), Francesca McKenzie (As You Like It, Othello, Our Lady of 121st Street), Fedna Jacquet (Ain't No Mo,The Tempest/Henry V), and Brittany K. Allen (True Right, Minor Character).
The creative team features scenic design by Amy Rubin (Miles for Mary, Nobody Loves You), costume design by Jessica Jahn(One Night..., Love, Loss and What I Wore), lighting design by Jeanette Yew (KPOP, Fruit Trilogy), sound design by Leah Gelpe (Mary Jane, Slowgirl), and projection design by Elaine J. McCarthy (Notes from the Field).
Casting director is Tara Rubin, CSA (The Band's Visit, Indecent). Production manager is Mary Duffe (Ecipsed, The Normal Heart). Production stage manager is Ana M. Garcia (Fiddler on the Roof, It Shoulda Been You). Act 2 coordinator is Laura Fischer (The Last Scene, The Laramie Project). Creative consultants are Amy Richards (PBS's "Makers: Women Who Make America") and Kathy Najimy ("Veep," "Younger").
Joining Ms. Roth on the producing team will be Jenna Segal (Small Mouth Sounds, What We're Up Against), Elizabeth Armstrong (Indecent, Fun Home), Sally Horchow (Meteor Shower, Small Mouth Sounds), Janet Kagen (Natasha, Pierre and the Great Comet of 1812, On the Town), and Alix Ritchie (Hello, Dolly!, Indecent).
Tickets are on sale at www.gloriatheplay.com. From October 2 through October 21, performances are Monday and Tuesday at 7:00 PM,Wednesday at 2:00 and 8:00 PM, Thursday at 7:00 PM, dark on Friday, Saturday at 2:00 and 8:00 PM and Sunday at 3:00 PM. Starting October 23, performances are Tuesday at 7:00 PM, Wednesday at 2:00 and 8:00 PM, Thursday at 7:00 PM, Friday at 8:00 PM, Saturday at2:00 and 8:00 PM, and Sunday at 3:00 PM.