DO YOU FEEL ANGER? Extends Through April 27 at the Vineyard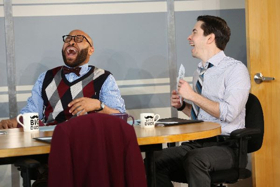 Vineyard Theatre Artistic Directors Douglas Aibel and Sarah Stern announce that the New York premiere of Mara Nelson-Greenberg's Do You Feel Anger?, directed by Margot Bordelon will extend to Saturday, April 27.
DO YOU FEEL ANGER? Opened Tuesday, April 2.
In Mara Nelson-Greenberg's dazzling dark comedy, Sofia (Villarin) is hired as an empathy coach at a debt collection agency -- and clearly, she has her work cut out for her. These employees can barely identify what an emotion is, much less practice deep, radical compassion for others. As they painstakingly stumble towards enlightenment, someone keeps mugging Eva (Hill) in the kitchen, and ?the unspoken dynamics of ?their seemingly blithe workplace culture become increasingly unsettling. This absurdly funny ?and potent ?new play, directed by Margot Bordelon, reminds us that change is not always easy, and may come with unexpected costs.
PANEL - Do You Feel Anger?
Saturday, April 13th at 5:00 PM
This panel of special guests will explore anger, empathy, and male vs. female behavior and conditioning in our culture. The panel will be hosted by Laura Heywood (aka @BroadwayGirlNYC), and panelists include Paula England (sociologist, author, and professor at NYU) and Andrew Reiner (author, columnist, and professor at Towson University). The panel discussion is free and open to the public; a ticket to the performance is not required. To RSVP, visit www.tinyurl.com/DYFA-panel
Laura Heywood is a professional enthusiast: a multi-faceted radio and television host, consultant, performer, pundit, and writer widely recognized for her commitment to positivity. Through her social media persona @BroadwayGirlNYC, Laura has become "Broadway's most influential fan" (CBS This Morning) and "the most vocal and visible supporter in the business" (Forbes). In 2018 she worked as the in-house Broadway expert and Video Package Supervisor on the 72nd annual Tony Awards. She has worked in fields ranging from sports radio (San Francisco Giants) to commercial acting (Dove's Campaign for Real Beauty) to celebrity talent booking (Sirius XM), always bringing a point of view of contagious joy. As a social media expert, Laura has worked with Actors Equity, the American Musical & Dramatic Academy, FOUND: The Musical, Grant Thornton, the National Alliance for Musical Theatre, the Kilroys, and multiple Tony- and Grammy-Award winners and nominees. She volunteers regularly and is on the Board of Directors for the national arts & education non-profit Story Pirates. Her radio show, "Laura Heywood Interviews," is available at DNRstudios.com/laura and on podcast platforms everywhere.
Paula England is Professor of Sociology at New York University. She was previously a professor at Stanford University. Her research and teaching focus on gender inequality, the changing family, and the changing sexual scene in the younger generation. She is the author of two books and over 100 articles. In 2018 she was elected to the National Academy of Sciences. @EnglandPaula
Andrew Reiner teaches in the Honors College and English department at Towson University, where he teaches the seminar, "The Changing Face of Masculinity." His writing about masculine identity has appeared often in The New York Times, as well as in the Washington Post Magazine and Italy's la Repubblica. He has been interviewed on National Public Radio (NPR), the Canadian Broadcasting Company (CBC), and for The Guardian, Men's Health Magazine, the Washington Post, and Forbes, among other media outlets. He is presently working on a book for HarperOne publishers -- due out next spring -- about contemporary masculinity which explores, among other things, why emotional authenticity will lead to greater well-being and resilience for boys and men.
Tickets for Do You Feel Anger? can be purchased online at vineyardtheatre.org, by phone at 212-353-0303, or in person at 108 East 15th Street.
Photo by Carol Rosegg