CITY OF HOPE Premieres Off-Broadway Tomorrow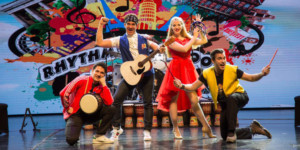 FunikiJam World Music will produce the Off-Broadway premiere of the new family musical, "City Of Hope," Saturday, February 9, 2019 at the Actor's Temple Theatre. "City Of Hope" will play Sundays through February 17th.
"City Of Hope," is a award-winning production co-created by Brian Barrentine, showcasing the colorful songs of FunikiJam World Music, featured in the wildly popular Funikijam music classes, birthday parties, events, and Off-Broadway family musicals (New York Times Pick, "7 Things to Do With Your Kids in N.Y.C. This Weekend").
New Orleans. Paris. Detroit. In "City of Hope,"Captain Jam and the Agents of Jam go undercover as a construction crew in order to help with disaster relief. They embark upon a mission to New Orleans, Paris, and Detroit where they learn how music developed from African roots evolved into a beloved form of artistic expression around the world. This original musical features a six-member cast with live band, vibrant original music, and lots of audience participation, presented as part of the FunikiJam Family Musical 2018-2019 Season.
Each season, the guitar-wielding Captain Jam and his live band of musicians, storytellers, and dancers take to the stage and invite the audience to embark upon a musical adventure across the globe, providing children the opportunity to come up on stage, play a drum solo, and sing into a microphone. By the end of every performance, imagination, live music, colorful costumes, and plenty of audience interaction have helped Captain Jam complete the three-part FunikiJam mission: to have fun, to jam, and to learn about the world.
Joining Barrentine's "Captain Jam," are Tyler Fuentes and Charlene Morris. Production design/technical supervision is byMaarten Cornelis. Music production byJoe Mazza,with Music Video byMikel Paris. The live band features Serena Miller (bass), Katrien Van Riel (bass),Nygel D. Robinson (trumpet),Ryan McCurdy (lead keyboards and conductor), andDan Delarose (sound).
"This show is truly one of a kind," says Barrentine. "Our 20th Anniversary Season of FunikiJam Off-Broadway is going to educate, entertain, and enliven the lives of parents and children everywhere!"
"City Of Hope" performs Saturday, February 9, 2019 at 3:30pm at the Actors Temple Theatre, 339 West 47thStreet, New York, NY, 10036, and Sundays at 11:00am through February 17th. Tickets are on sale for $37.50.
Off-Broadway Tickets can be purchased at: www.funikijam.com/offbroadway
For additional information visit: www.funikijam.com.
More Hot Stories For You