BWW Review: WE LIVE BY THE SEA at 59E59 Theaters Entertains and Informs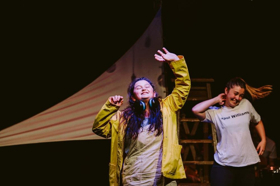 "Stories are no good unless someone tells them."
By Hannah in We Live By The Sea
The New York City premiere of We Live By The Sea is now on stage at 59E59 Theaters through Sunday, May 6. The production kicks off the Theaters' Brits Off-Broadway 2018 festival. Directed by Alex Howarth, the play is devised and produced by Patch of Blue and also produced by The Hartshorn-Hook Foundation. It is an insightful portrayal of a teenager on the autism spectrum that shouldn't be missed. This is a show that both entertains and informs.
We Live By The Sea tells the story of Katy whose sole caregiver is her older sister, Hannah. Katy maintains a set of comfortable routines and has an imaginary companion dog, Paul Williams. She also has a real love for fantasy stories and the nearby beach with its waves. But, Katy's difficulties include being bullied and she often struggles to cope with her emotions. Yet, when a new neighbor, Ryan befriends Katy and Hannah, there are surprises in store for all of them. Katy's tale is one of love, understanding, and acceptance. As she says in a presentation she makes at her school, "I think you could like me if you did a different kind of thinking."
The troupe of actors brings this well-crafted show to life with true authenticity. Alexandra Brain is stunning in the demanding role of Katy. The cast also includes the talents of Tom Coliandris as Ryan, Lizzie Grace as Paul Williams, and Alexandra Simonet as Hannah. The storytelling is enhanced by a live electronic musical score. The musicians are Josh Flowers and Julianna Zachariou.
The Creative Team has done a top job of bringing We Live By The Sea to the stage with lighting design by Rachel Sampley and video design by Will Monks. The Composers are The Mason Brothers, the Videographer is Amelia Wall, and the Stage Manager is Sofia Montgomery.
We Live By The Sea is a heartfelt show that will raise people's awareness of people on the autism spectrum and the struggles that are often faced by handicapped people and their families. We applaud 59E59 Theaters and the National Autistic Society for their support in the creation of this outstanding and significant piece of theatre.
We Live By The Sea runs for 90 minutes with no intermission. It will be performed on a limited engagement at 59E59 Theaters (59 East 59th Street, between Park and Madison Avenues) through Sunday May 6. The performance schedule is Tuesday - Friday at 7:15 PM; Saturday at 2:15 PM & 7:15 PM; Sunday at 2:15 PM. The single ticket prices range from $25 - $35 ($24.50 for 59E59 Members). Tickets are available by calling Ticket Central at 212-279-4200 or online at http://www.59e59.org/.
Photo Credit: Kate Pardy