BWW Review: Epic Theatre Ensemble's THE WINNING SIDE Battles Moral Issues with Charm and Poise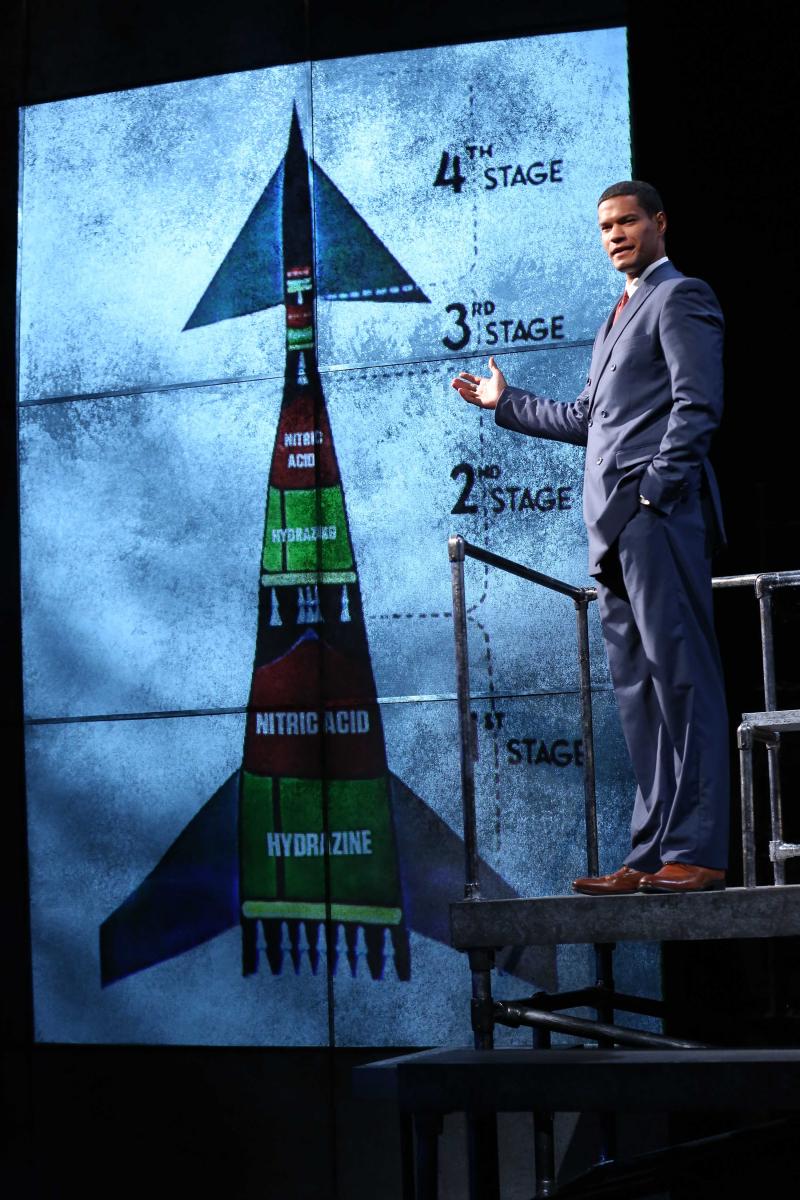 Epic Theatre Ensemble is currently presenting The Winning Side by James Wallert at The Acorn Theatre/Theatre Row. The play tells the story of Nazi Germany scientist Wernher von Braun and his role in building the rockets that took an American man to the moon. Through time (and space) The Winning Side presents a portrait that effectively balances moral issues and positive outcomes.
The play begins with the audience meeting Werner von Braun (Sullivan Jones) as he welcomes everyone to the show and kicks off the action countdown style. We then move back and forth in time watching him accept the Langley Medal, then watching him meet the woman he would fall in love with in Paris 1943, back and forth until he lands in America to begin a new life, the United States government's secret weapon in the Space Race.
Von Braun's life story is complicated to say the least. He began his career working for the Nazi's building rockets that would eventually bomb the Allies and take hundreds of lives. When the war came to a close, he was part of Operation Paperclip, a classified program in which German scientists and techs were brought to the US to work for the government.
The Winning Side tackles the question of just how much is forgivable in the face of utility. Von Braun was a registered member of the Nazi party, held the rank of Major in the SS, and undeniably contributed to Germany's war effort. The character claims it was all a matter of expediency; he joined the party so he would be allowed to work, the SS position was rather honorary. He claims he just wanted to be a scientist and do his work no matter the consequences or outcome of his discoveries.
The play never forces an opinion on the viewer, rather it presents moral arguments from both sides. Von Braun was a brilliant scientist and had a place in history on the merits of his work. Yet one can't deny that he even if he was not a perpetrator in the Nazi effort, he was at least complicit. It's an impossible question to say the least and could perhaps use stronger storytelling but avoiding manipulation is certainly an accomplishment.
James Wallert's text would risk falling flat, though the ending in particular deserves kudos for its powerful impact, without the excellent company of actors bringing it to life. Sullivan Jones is as enigmatic as his character, at once likable and worrisome in his perfectly clean-cut appearance and explanations. He leads the play with remarkable presence and ease. Melissa Friedman is passionate and powerful as Margot, shooting from righteous fury to pained vulnerability. Godfrey L. Simmons, Jr. plays Major Taggert and provides a solid opposite for Jones's von Braun.
Every other role in the play (not an exaggeration) is played by Devin E. Haqq who deserves commendation for sheer charm alone. Whether playing entertainment magnate Walt Disney or taking a bathroom break as Lyndon Johnson or threatening as Heinrich Himmler, Haqq is effortless and playful. One thing is for sure, you will love seeing him strut out on stage and wonder who he'll be next.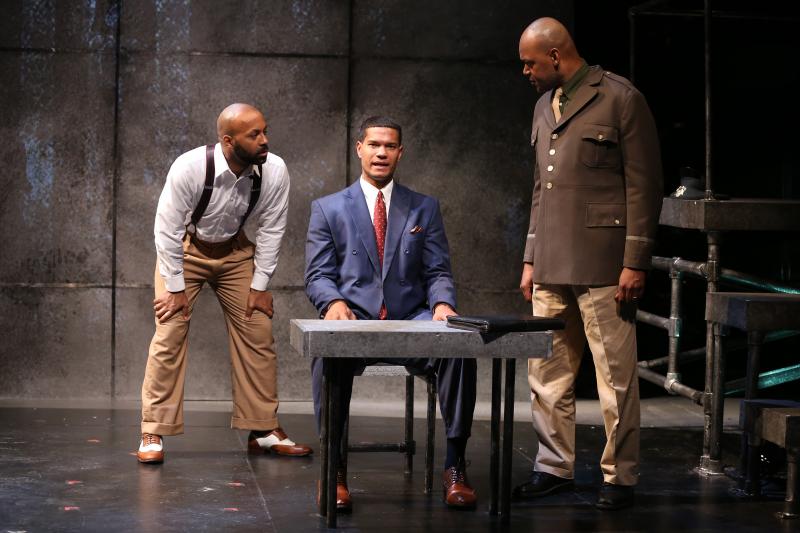 Ron Russell's direction could perhaps be stronger but effectively gets the message across and gives the actors room to interpret. The set and projections by Chika Chimizu are both impressive and world-building, providing just enough to feel like a Paris apartment and a NASA launch site. Himmler's arrival was particularly effective as the flowers of Margot's apartment were washed in red and Cat Tate Starmer's lighting design darkened the space and the mood.
Diego Daniel Pardo's dialects are perhaps a bit off at times but are largely successful and should be commended for their subtleties. Jones as von Braun even manages to soften his German accent after the character has spent a great deal of time in the US, a thoughtfully realistic element.
The Winning Side is not lacking and certainly makes a conversation out of a difficult topic. There is room for growth and tightening - indeed it begins to feel long though nothing is out of place - but in the end it tells a fascinating story and provides an excellent, poignant evening of theatre.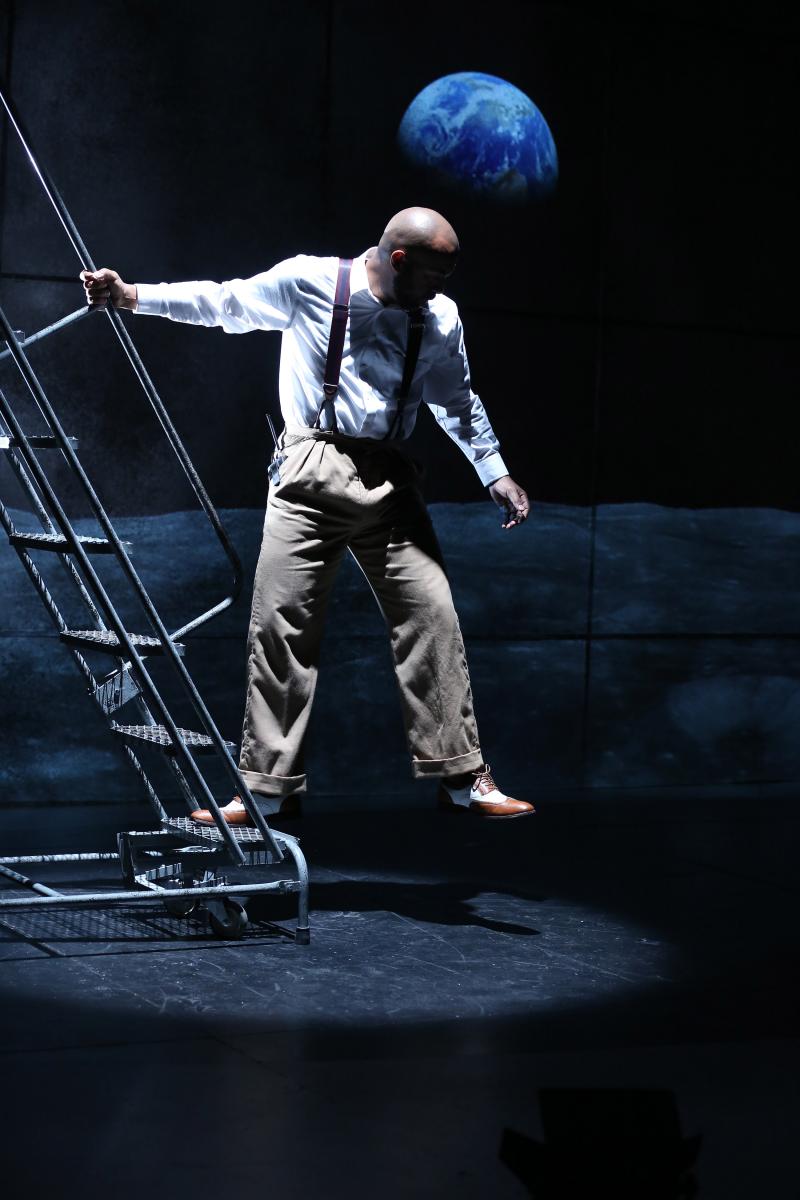 The Winning Side runs through Sunday, October 28 at Theatre Row. Tickets are $35 for the first week (October 10-14) and $45 thereafter. Tickets can be purchased at http://www.epictheatreensemble.org/the-winning-side/.
Photo Credit: Carol Rosegg