BWW Interview: Jonathan Tindle and POTOMAC THEATRE PROJECT 31ST Repertory Season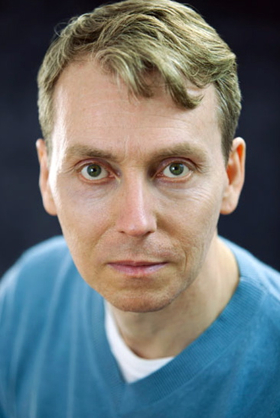 PTP/NYC's (Potomac Theatre Project) 31st repertory season runs from July 11 - August 6 in a limited Off-Broadway engagement at The Atlantic Stage 2 (330 West 16 St.). This season's Off-Broadway line-up includes two shows.
The professional stage premiere of Howard Barker's 1985 BBC film, Pity In History, directed by PTP's Co-Artistic Director Richard Romagnoli. Religion, art, class and patriotism clash in Pity In History, a riveting drama by iconoclast writer Howard Barker. First produced as a teleplay by the BBC in 1985, Pity In History updates Britain's 17th century Civil War to present day in a sexy, brazen and remarkably funny examination of a society rife with competing ideologies.
A revival of
Tom Stoppard
's
Arcadia
, directed by PTP's Co-Artistic Director
Cheryl Faraone
.
Arcadia
has been called one of the most "powerful and relevant stories of our age" by The Guardian. The play's many elements include Byron versus science, the Enlightenment versus the Romantics, pure reason versus sheer randomness - and, says one character, "It's all because of sex."
Pity In History
and
Arcadia
form a powerful repertory, especially resonant in this combative and aggressive time. The plays foreground cogent debate, literacy, understanding and humanity.
Broadwayworld.com had the pleasure of interviewing one of this season's cast members, Jonathan Tindle who will play Murgatroyd in Pity in History and Ezra Chater in Arcadia.
Jonathan Tindle
's stage credits include PTP/NYC:
No End of Blame, Scenes From an Execution,
Pentecost.
Other NYC credits include:
Roger&Tom
(HERE);
Not All Korean Girls Can Fly
(EST);
The Bacchae 2.1
(Flea);
Welcome to Our City
(Mint);
Maud: The Madness
(NYIT Award nomination, PTE). Regional credits include: world premiere of
Keith Reddin
's
Some Brighter
Distance
(City Theatre, Pittsburgh);
The Swan
(
Helen Hayes
Award nom'),
The Chemistry of
Change
(Round House);
Bed Among The Lentils
(
Helen Hayes
nom'),
Three Sisters, The
Bacchae
(
Studio Theatre
);
Mrs. Warren's Profession
(
Helen Hayes
nom' Washington Stage Guild) and productions at the Kennedy Center, Eugene O'Neil Theatre Center, LA Theatre Works, Merrimack Rep, Signature, Shakespeare Theatre and Virginia Stage. Film credits include
Delenda, Dovid Meyer, Second Born, The Hunley, Full-Moon Fables
(Peer Award),
The
Gentleman, The Day Lincoln Was Shot
. TV: "I Love You But I Lied," "Person of Interest," "The Blacklist," "Boardwalk Empire," "Wired City," "Law & Order," "All My Children," and tragic super hero Cat-Man-Dude in soon to be released "The Tick."
What was your first acting experience?
Seeking to get me out of the house my mother signed me up to audition for OLIVER when I was 11. I got the role but was so nervous I wet myself in the wings on opening night. I was hooked. After that I joined youth theatres and was out of the house most of the time! My big professional break came when I was cast as Dionysus in a new adaptation of THE BACCHAE at The Studio Theatre, DC. It was a bloody, sexual, provocative and controversial production that garnered a lot of attention, good and bad. David Richards in The Washington Post likened my performance to Peter Pan, and 'a canary with a basso-profundo chirp'. It was an early lesson on reviews. But I wasn't deterred. And neither, thankfully were casting directors. I cut my theatrical teeth in DC, which is a great theatre town.
Tell us a little about your theatrical education.
My theatrical education has really been just to do it. I've been doing it since I was a child. I didn't go to school. I don't have a degree. I don't say that with pride. I have nothing against education. It just wasn't an option. I've taken classes, of course. But there's really no substitute for just doing it. Knowing what the primary colors are, how to mix pigment and what the vanishing point is, is an important foundation but doesn't teach you how to paint. You learn by doing. And of course you watch others doing and learn and steal from them. That's education.
Who were some important mentors or those that may have inspired your career as an actor?
I was very fortunate to work with two very strong director/teachers at seminal points in my life. The first was Jonathan Holloway when I was a teenager. He gave me discipline and focus and encouraged me to pursue this thing professionally. Then Joy Zinoman in my early twenties, with whom I studied at The Studio Theatre Acting Conservatory in Washington DC, taught me the vocabulary, and an approach to process. She pushed and nurtured me to the next level. And she trusted me enough to cast me in a lead role in that THE BACCHAE production that launched my professional career. Beyond that there are so many actors, painters, dancers, and candle-stick makers whom I've encountered along the way who've inspired and influenced me in so many ways, without their even knowing. Too many to remember let alone list.
Tell us a little about working at PTP/NYC.
When I first saw PTP in DC in the eighties I knew I wanted to work with them. I think it was Howard Barker's THE CASTLE. It was visceral and exciting; the kind of theatre that takes a stance; has intellectual heft; demands something from its audience, and gives back in spades. Subsequent seasons - Athol Fugard, Howard Brenton, Sara Daniels, Lanford Wilson, Robert Chesley, Harold Pinter, etc, etc, reinforced this. I auditioned, and a couple times was offered roles, but for one reason or another it never worked out. I moved up to NY in 2000. Then four years ago after they had also moved their summer residency form DC to NYC, Cheryl asked me to read for David Edgar's wonderful play PENTECOST. This time it worked out. It was a great experience. This is now my fourth season with PTP. It's my artistic home.
We rehearse three weeks in bucolic Middlebury VT, on the campus of Middlebury College, and then come in to New York for a residency Off Broadway at Atlantic Stage 2. Many of the cast and crew are students in Middlebury's theatre program. They're involved with all aspects of the productions - sewing costumes, running sound, asm-ing, hanging lights, doing laundry, etc, etc. It's hard work but an invaluable learning opportunity. And they get to work with professional actors in an Off Broadway run. You learn by doing.
I know that you are playing several roles this summer at PTP/NYC. What are some of the challenges of assuming multiple parts?
Actually we laugh that I am only playing one role in each play this season. The last two years I played seven or eight different roles in one production! This year I am kinda spoiled. In PITY IN HISTORY I don't even have to remember blocking. I'm wheeled around the stage on a gurney the entire play.
I love playing two such different characters. Mr. Chater in ARCADIA and Murgatroyd, in PITY IN HISTORY. Chater is a delightfully blundering, blustery, lovable dolt. Cukolded left right and always a couple steps behind, whilst thinking himself ahead. He's a familiar character - the clownish fop - and affords the actor the chance to revel in the fun of physical comedy and farce. Our wonderful costume designer Mira Veikley, and Costume Director Marcia Provoncha have constructed a costume that reflects and enhances this stuffed-shirted dandy. I'm having a ball. The challenge here is almost mathematic. Timing in any comic scene is primary, but in farce (ARCADIA as a whole is not a farce but my scenes really are) even more so. It's a like a clock - very delicate, all the moving parts have to be in sync. Director Cheryl Faraone is skilled at the choreography and attention to detail. Stoppard is perhaps the finest living English language playwright and ARCADIA is perhaps his most perfect play, and my favorite play. So, it doesn't get any better. Oh, wait - and I'm getting paid! LOL
Murgatroyd, in PITY IN HISTORY is a victim of the circumstances of war. He joined the army as a cook in order to steal the soldiers rations (which he claims is accepted practice), but ends up collateral damage. He's very angry about that. He demands an explanation from God (as well he should) - "It stands to reason, bullets should be deflected from the cooks!"
I enter at speed, on a gurney through the fog of war, bleeding profusely, singing "I'm dying, I'm dying". It's quite an opening. Barker's a gritty, visceral, funny, raw, writer. Director Richard Romagnoli and I have utilized the Brechtian flavor apparent in the role. There are even elements of Vaudeville in Murgatroyd's flamboyant raging against the dying of the light. He aint going quiet! It's a challenging role not least physically. When I realized I was going to be lying down the entire play I thought it was going to be relaxing. But it turns out to be a surprisingly physical performance, and the gurney is bare steel. Costume designer Danielle Nieves very kindly built padding into my costume to protect my bony ass.
What would you like audiences to know about the upcoming season?
This is PTP's 31st season! For 31 years PTP has been producing exciting provocative challenging, controversial and entertaining work. And this year's no different. This is theatre to make you think as well as amuse, arouse and move. ARCADIA is hysterically funny, whip smart and profoundly moving. If you don't laugh and cry you have no pulse. PITY provokes questions about the value and cost of art to society. Both plays are timely and timeless. If readers haven't attended a PTP/NYC production they really should. But then I would say that, wouldn't I, lol.
Anything else, absolutely anything you want BWW readers to know.
For more info you can visit http://www.potomactheatreproject.org/. Like PTPNYC on Facebook and follow them on twitter @ptpnyc.
Photo Credit: Courtesy of Jonathan Tindle