A JEWISH JOKE Ends Off-Broadway Run Due to Actor Illness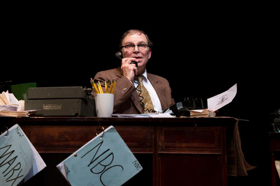 The Roustabouts Theatre Co. (San Diego, CA) presentation of the Off-Broadway premiere of A Jewish Joke, a drama about comedy, co-written by Marni Freedmanand Phil Johnson, performed by Mr. Johnson and directed by David Ellenstein has ended its engagement prematurely due to actor illness. Named "Best Drama" (2016 United Solo Festival, NYC), performances of A Jewish Joke began performances on Thursday, March 7, 2019. It enjoyed an official opening night on March 13, 2019 and was scheduled to play a limited engagement through March 31, 2019 at Theatre Row (410 West 42nd Street - between 9th & 10th Avenues).
"There are a lot of Yiddish expressions in A Jewish Joke," notes Sher Krieger of The Roustabousts Theatre Co. "Here's one that we hadn't planned on using: Mann Tracht, Un Gott Lacht - Man Plans, and God Laughs. We're all laughing again now as Phil recovers from emergency surgery. Thankfully he's doing very well, however we have had to cancel our last few performances of *A Jewish Joke*. We look forward to coming back to New York with another wonderful production."
In A Jewish Joke, Bernie Lutz is a curmudgeonly Jewish comedy screenwriter from MGM, who comes up against the Communist blacklist in 1950's Hollywood. Now, he has to decide what's more important - his friends, or his livelihood? Armed with stories about the great era of Jewish humor, this poignant solo dramedy is about one American's fight against one of the darkest moments of the mid-20th century. A Jewish Joke began in San Diego and has toured regionally with critically-acclaimed engagements in Chicago, St. Louis, Louisville, and New Haven.
The creative team for A Jewish Joke: Aaron Rumley (production design), Jordyn Smiley and Peter Herman (costume design), and Matt Lescault-Wood (sound design). Michael Joseph Ormond is Production Stage Manager. Rebecca Crigler is General Manager.
Photo Credit: Clay Anderson